Greater skepticism on the political and intellectual levels is emerging as Prime Minister Pushpa Kamal Dahal Prachanda's trip to India draws near.
Despite the fact that the political leadership in India has not made any unclear or dubious statements, sensational material about Nepal being hostile to India and close to China has been widely disseminated by the Indian media. Former top bureaucrats, diplomats, and officials have already started the debate over the visit focusing on geopolitical issues.
The scenario in Nepal is comparable to that in India. The political elite and members of parliament take more and more anti-Indian positions. It is not unusual that communist parties have a majority in the House of Representatives.
"We will not cede even a single inch of our territory in the border dispute, and we have no desire to take even a single inch of our neighbor's territory. This will be explained throughout the dialogue with India," said Prime Minister Pushpa Kamal Dahal Prachanda. He responded to a question in the House of Representatives by saying that nothing will be done to undermine Nepal's unity and national interest.
In response to a question from CPN-UML member Raghuji Panta about whether talks about the 1950 Nepal-India Treaty and the protection of Nepal's border and territory would take place during the PM's visit to India, Prime Minister Dahal has reaffirmed that Panchasheel, or the five principles of peaceful coexistence, serve as the foundation for Nepal's foreign policy. According to him, the national interest will be taken into account as Nepal's foreign policy was progressed.
Former prime minister and CPN-UML leader KP Sharma Oli expressed concern about PM Dahal's desire to preserve the national interest and said that his government could not return the Nepalese territory of Kalapani and Limpuyadhura, which had been included in the country's new map during his time in office.
As foreign minister NP Saud began consultations with former foreign ministers, foreign secretaries, and others from different walks of life, media reports indicated that their suggestions were also close to the prime minister and the main opposition leader.
Despite this atmosphere, recently efforts have been made in both the countries to update outdated narratives that were based on mistrust and suspicion.
There have been significant improvements in relations between the two nations, particularly in the area of energy commerce, since a secretary-level meeting between Nepal's Bharat Raj Paudyal and India's Vinay Mohan Kwatra. In a move, India allowed Nepal to export its electricity to India. India has also shown a good gesture to allow Nepal to export limited amount of electricity to Bangladesh.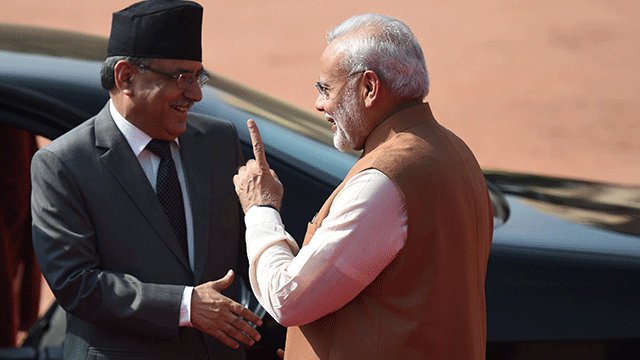 The start of Nepalese energy export to India from last year represents a turning point in the bilateral relations, despite the fact that there are still some restrictions in place. In compared to other countries, Nepal and South Asian nations like Bangladesh, Bhutan, and Sri Lanka have benefited considerably from India's economic growth.
India has also demonstrated itself to be a decent neighbor and partner. Indian External Affairs Minister Dr. Subrahmanyam Jaishankar made it plain at his recent meeting with Nepalese Foreign Minister N.P. Saud in Bangladesh that India will give Nepal all the help it needs.
Being a rising global power residing next to hostile neighbor along Nepal's border, India places a high priority on security issue in Nepal. India still lacks confidence in Nepal's security situation.
Even if there has been an improvement in relations between the two nations' security establishments, India still demands a solid assurance from Nepal. However, Nepalese political figures must show via their words and actions that their country cannot undermine India's security.
Leaders in Nepal frequently disregard India's security concerns. Examples of insensitivity to India's interests include the construction of the projected giant international airport non Nijgadh and other such infrastructures near to its border.
Leaders in Nepal are pressing for Nijgadh to be built despite its proximity to the flood-prone central region of India. The project's high financial cost makes it fiscally unviable for Nepal.
India must also comprehend Nepal's own geological constraints about its 1400 km border with China. Change can be effected through increasing mutual understanding and confidence through appropriate action.
Indian Anti-Nepal
There is widespread skepticism and suspicion of Nepal due to her relationship with China, following the lead of the Indian media sources. Academics and former bureaucrats from India expressed their serious concern about Nepal's involvement, accusing the Nepalese leadership of aligning itself with China against Indian core interests.
Kanwal Sibal, a former foreign secretary of India who also held the position of deputy head of mission in the Indian embassy in Nepal from 2000 to 2002, accused Nepalese leaders of favoring China in a recent tweeter argument.
"Palace said Nepal was non-aligned between India and China, Ex-FM B. Thapa and present FM Saud said the same thing. Oli issues a new map of Nepal with Kalapani coinciding with China's aggression in Ladakh. I agree on majority of Nepalis value special India ties but not all," tweets Kanwal Sibal. Veteran Indian diplomat Sibal said that Nepal is even more difficult for us than others."
While senior Indian diplomat Sibal criticizes Nepal of failing to assist India, communist leaders in Nepal Oli, Prachanda, Madhav Kumar Nepal, and some other rightists have also expressed a similar opinion.
Some contend that diplomats, such as Sibal in his most recent interview, represent India's bureaucratic leadership's misperceived attitude toward Nepal. Along with Sibal, a large number of ex-diplomats and government representatives from India have been spreading false information about Nepalese in India.
Given their statements and actions' fundamental flaws, Indian authorities have accused Nepalese political leaders of being unreliable and untrustworthy. They claimed that leaders in Nepal have accepted all of India's demands while in power. They fought all of India's attempts to gain or lose power.
Nepalese Anti Indian
Nepalese communist leaders like Pachanda, Oli, Madhav Nepal, Dr. Baburam Bhattara, and their comrades have little respect for the shared culture, regions, and civilization of Nepal and India because they were raised in communist schools where Mao, Lenin, and Stalin were read.
All communist groups emerged, chanting anti-Indian epithets that attacked shared culture, civilization, and religion. The grim reality is that the majority of those advocating against India are graduates of Jawaharlal Nehru University (JNU) in India.
The disputed land of Limpuyadhura was never claimed by King Mahendra or his two predecessors, despite accusations from Indian authorities that he was a pioneer of anti-Indian promotion of China. Common ancestries remain the basis for monarchies.
"Retired senior bureaucrats, like Kanwal Sibal, must ensure that their views are appropriate and do not worsen the neighborhood's already problematic ties. Such careless remarks probably make it harder to build deep relationships, tweets Arup Rajouria.
Two Nation, One Civilization
Nepal and India, which are separated by a formal border but share the same terrain of the Indian subcontinent, have close religious, cultural, and civilizational ties that run deep inside their respective societies.
India and Nepal are thus politically distinct nations that belong to the same civilization. Nepal and India have very unique and distinct relations because China is Nepal's neighbor and the two nations share a long border.
The policymakers of Independent India have handled Nepal by focusing more on the geopolitical issue that places it in the orbit of China and ignoring the relationship between its culture, religion, and civilization. Some of India's earlier practices not only gave rise to more anti-Indian organizations but also shattered the fundamental tenets of Nepal's shared civilization.
The results of the previous policies were stated by the Nepalese leadership, their supporters in the public, and the media.
Since there are pragmatists in both India and Nepal working to restore relations, they are pursuing aspects of a common civilization. People like Navita Srikant in India perceive the connections between India and Nepal's cultures and civilizations. "India-Nepal communities exemplify the cultural linkages between the two countries. Despite obstacles, the linked nature of relationships endures, tweets Navita in response to a recent interview with Kanwal Sibal. "India has since 2014 evolved in prioritizing neighborhood first and strengthening relationships with South Asia and South East Asian Countries. I am so glad that the mindset of great difficulties with neighbors and expression as "Nepal is even more difficult for us than others" does not hold water today.
The geopolitical narrative that currently dominates Nepal-India relations is founded on mistrust, misinformation, and suspicion. Pushing deeply ingrained cultural similarities between two nations' populations at the bilateral level could eventually improve tense relations.
Due to their open borders, Indian and Nepalese citizens can travel freely to religious sites without encountering any barriers or hesitations. Thousands of Nepalese are traveling to Haridwar, Badrnath, and Kedar as the Chardham Tirtha Yatra session gets underway, while thousands of Indians are visiting Pashupati and Mukti Chhetra. Nothing is impossible to have intimate political and state-to-state relations if common people in both countries can achieve it.
Nepal and India share a common civilization and a common interest. As a result, neither Indians nor Nepalis can consider going against each other. In reality, they must cohabitate.