Despite the fact that you signed initial of the Nepal-India power deal in the presence of both Prime Ministers three months ago, it has yet to be approved for final signing by the Indian Cabinet. The delay in signing the agreement has raised concerns among Nepalis. What are your thoughts?
There is no cause to doubt the deal's final agreement. It is natural for a long-term trade agreement to take a few months. There is no reason to dispute the agreement now that both Prime Ministers have openly declared it. I am confident that Nepal and India will sign the deal shortly.
What justifies your high expectations and level of confidence?
First, after extensive discussions and years of negotiations, the agreement was signed by two secretaries of energy. Most critically, the commitment to the deal has been made public by the prime ministers of both India and Nepal. This historic agreement was reached by the two nations in the interests of their people.
How frequently do you discuss the problem with your counterpart? How does he respond?
The Indian Power Secretary and I have been in touch frequently, and they are supportive of the deal. The cabinet's approval will take some time because it is a technical issue. The process is taking some time. Since Nepal has resolved the problems, the Indians are examining some specific details, such as how Dell will move with the implementation stages. This is a natural occurrence. The agreement won't encounter any problems at the implementation stage if it is finalized after taking stock of all the difficulties. There should be no question regarding the final approval of the energy deal because the prime leaders of both India and Nepal have officially stated their intention to complete the agreement that the energy secretary began.
What exactly do these agreement processes entail?
This is a 25-year deal with a goal of exporting 10,000 MW in 10 years time frame. Based on the progress within that time frame, the Joint Steering Committee (JSC) co-chaired by the two energy secretaries will be setting subsequent targets for the remaining period of the agreement. The Indian Power Secretary and I have maintained regular communication, with him providing continual updates on the situation. The pact will be signed after following all appropriate procedures. Even though the deal is already in the Indian cabinet, some details need clarification. The final agreement will be signed shortly in Kathmandu.
What is the reason for the delay then?
Because of the contract's long duration, the other party must examine every detail of the contract. The delay is expected since there must be specifics. Additionally, avoiding obstacles during implementation is in our best interests for the future. It won't hurt to wait a few more months. I have a constructive stance on the need to fully explain the agreement before it is signed as energy minister. There won't be any more waiting. We will sign the final paper creating a formal program and invite the Indian electricity secretary to Nepal.
The Ministry of Energy, Water, and Irrigation has been unable to obtain a proper position in the discussions despite being a significant UNFCCC stakeholder. How will the Ministry's involvement be noticed at the COP 28 given that several crucial topics pertaining to water and energy will be covered?
The Ministry will participate in COP 28 in a very active manner. We have been arguing that Nepal should be the main nation in the transition to sustainable energy since we got back from attending COP 27. We have been speaking out about this problem.
What's the rationale for this?
Numerous evidence supports our claim. At COP 28 in the UAE, we will advocate for the establishment of a Clean Energy Transition Fund via the LDC group. COP 27's main topic was the Loss and Damage Fund. Given the current energy crisis, LDC countries like Nepal must establish a sustainable energy transition fund before implementing a sustainable energy policy. If such a fund is created, Nepal will be eligible to receive funds from it.
Why does Nepal need to raise such an agenda through LDC?
Nepal is a source of clean energy because hydropower generates 100 percent of the country's energy. Because the installation of large-scale storage hydropower is capital expensive, Nepal requires assistance in developing such a project. Nepal will gain immensely from the establishment of a Clean Energy Transition Fund.
Since Nepal already has surplus energy, why do you need large storage projects?
Of course, Nepal already has a plenty of renewable energy that will last for many years. However, we intend to construct the reservoir project in order to deliver clean hydropower to both India and Bangladesh. Nepal will be eligible for resources from such a fund because it is an LDC with a negligible contribution to carbon generation. Because the nations in our region emit massive amounts of carbon, Nepal has a fantastic potential to develop clean hydropower and reduce emissions. We require the assistance of our development partners.
How do you see the possibility of mobilizing the various green funds that already exist?
As Nepal expands green hydropower across the country and increases generation, the transmission and distribution systems must be expanded as well. Nepal will require significant financial resources to accomplish this. Nepal requires the assistance of development partners such as the World Bank's Green and Climate Fund and the Asian Development Bank in this regard. They should prioritize Nepal. Nepal must construct both national and international transmission lines. As a result, Nepal requires financial assistance. Nepal is already in the process of transitioning to a zero-emissions energy system. Nepal, on the other hand, will make a significant contribution by providing clean energy to the area and lowering emissions. Nepal can help lower our neighbors' emissions by exchanging electricity across borders. Nepal may thus become a country that not only decreases emissions locally and regionally, but also contributes globally. Through the LDC group, Nepal should offer a renewable energy transition fund.
In the last four years of your tenure as the Energy Secretary, Nepal has moved towards an energy transition from reducing fossil fuels to increasing the use of clean energy. How do you define transition?
We must not lose the current momentum in favor of renewable energy. Nepal was an energy deficit country four years ago, but we are now an electricity surplus country. With the widespread use of electricity in cooking, transportation, and other industries, Nepal's reliance on petroleum products is beginning to wane. This is a significant shift. However, there will be numerous hurdles ahead. We have reduced supplies by fully removing load shedding. Quality and dependable power sources are in high demand right now. People demand more dependable and higher-quality power.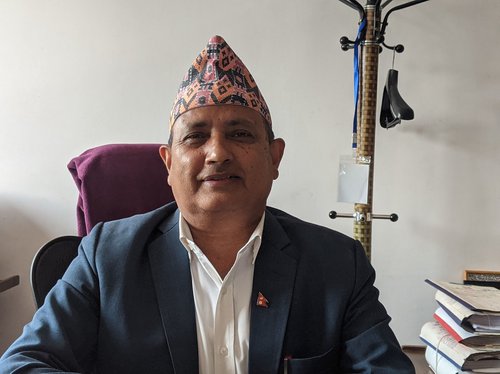 What are the challenges now?
Of course, we have excess capacity. The moment has come for us to improve the quality and dependability of our supply. More resources must be invested in smart grids, transmission, distribution, and automation. We have already begun discussions with our development partners. We must also continue to expand our generation capacity. Our massive 43,000 MW generation capacity will greatly contribute to addressing India's and Bangladesh's clean energy needs. Because climate change is a global concern, we must consider not only about our own country, but also about the world. As a result, the group of LDCs and developing countries will simply take up our issue. We are achieving our neighbor's goal. We must also demand money from the region through carbon trading. Carbon trading is currently limited to small and micro-hydro levels. Nepal urged that India consider paying for the carbon footprint generated by Nepal's clean energy in a recent secretary-level conference.
The ministry is also taking up the issue of carbon trading in parallel?
Yes, this is a critical issue for Nepal as an LDC. By supplying renewable energy, we help other countries reduce their emissions. Nepal should be honored for its efforts.
What will the future energy scenario be?
The Ministry will continue to expedite Nepal's transition from a deficit to a surplus country. We are in the midst of developing a 10-year strategy through 2035. Our plan will concentrate on how to increase generation, transmission, and distribution while accounting for power trading. This idea will help Nepal's clean energy effort even more. We're also considering reopening the PPA, which has been closed for quite some time. This is essential in order to increase output. We will shortly open the PPA to sign more projects. We are developing domestic and regional markets. Bhutan has previously stated its intention to purchase 9000 MW of power from Nepal and Bhutan. India intends to import huge amount of hydropower from Nepal and Bhutan in order to meet its 500 Giggawatt target by 2030 as her available hydro potential is not enough and Solar and wind power has already been over generated deteriorating system stability.