Kathmandu as a quintessential modern day metropolis faces many planning and infrastructural challenges. The city currently has a population of 2.5 million, which is growing at the rate of 4 percent every year. A rising population will put even more pressure on the city's inadequate and fractured infrastructure.
 For any visitor, one of the most striking parts of the city is not just the remarkable buildings, palaces and monuments, or the sea of people milling through narrow lanes of Asan and Indrachowk, but the vast expanse of the open space right in the middle of the city. For a city that is as densely packed as Kathmandu, Tundikhel signifies a natural bowl, an urban oasis. For a city that revels in consuming vast amount of agricultural lands for development purposes, Tundikhel sits as the last visage of development anomaly.  And for a city that is as unplanned as it can be (remember the post-earthquake chaos), Tundikhel is an asset out of bounds from all the real estate greed for the large part of recent history. The image of Tundikhel that travelled around the world during the 1990s and into the new century is that of a political and humanitarian centrestage. That's certainly how I viewed Tundikhel during the years I lived away from it.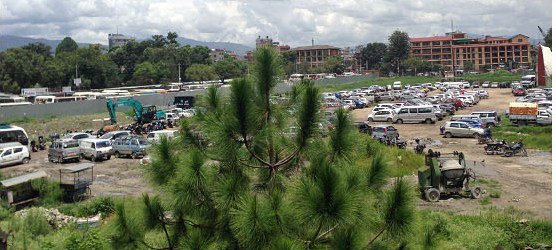 Khula Manch turned into a parking dump
 It is now shocking to see Tundikhel pushed into the brink of material extinction. In what can be deemed as a direct threat to its fundamental quality – openness and access, Khula Manch has been turned into a parking dump. Claimed as a temporary fix to relocate the old bus park, Kathmandu Municipality has authorized the use of Khula Manch for parking for at least another 3 years from 2017 until the completion of the construction of a 12-storey tower. The vast openness of Khula Manch has been divided into two sections at the moment, one for buses and one for private cars and motorcycles. Very soon the scattered green could easily turn into a tarmacked space.
 The move has generated muted opposition from civic bodies. Lack of opposition however does not mean consent. The move is atrocious according to the city planners and architects, not least because it is an eyesore; or, that it causes significant inconvenience to pedestrians due to vehicles turning in and out; and not even because the constant honking of horns has directly affected patients in the nearby Bir Hospital, but because the decision signifies violation of the values, spirit and meaning of the city's one of the unique historical space. Six months ago the Guardian published an article on Kathmandu, praising the city's no horn policy – 'The car horn is uncivilized: how Kathmandu's streets went quiet'. This proud policy pledge that put Kathmandu on a global map, has been seriously undermined by this new move.

 Granted we are a country that has public space and its significance at the bottom of our priorities. We have grown accustomed to the heavy-handed and authoritarian misappropriation of space (whether public or not) to suit the vested interest, without saying a word. The Army Headquarter in the southern part of Tundikhel and its slow takeover of the land between Rangashala and Shahid Gate is a blatant reminder of the urban militancy in a conflict-ridden country. The barricaded Rani Pokhari is another reminder of how with the passage of time, denial of access to an amenity leads to a point of oblivion. Likewise, the introduction of entry fee in Ratna Park signifies yet another control mechanism driven by profiting from a common property resource. In this series of dystopian visions, Khula Manch, the symbol of urban Nepal's political freedom, has now been turned into a parking lot to facilitate Kathmandu Municipality's development aspirations for the old bus park.
 There can be no doubt that the advent of modernity, economic growth and advancement in technology, bring new challenges to a city that is, according to World Bank, one of the fastest growing cities in Asia. The ascendency of number of vehicles in the city has ironically coincided with the ever-growing pressures on space.  More and more spaces in the city are now claimed by vehicles, whether for parking or for accommodating growing number of vehicles on the road. Over the past decade, we have seen buildings demolished and lives disrupted to accommodate extra lanes for vehicles, from Dillibazar to Jawalakhel to Ring Road. This classic retrofitting has caused gradual takeover of space (private or public) by vehicles, all in the name of progressive planning.  While cities in many Asian and European countries, roads are reclaimed for pedestrians, Kathmandu does the opposite. Until 1962, all streets in the medieval city centre in Copenhagen were filled with cars and all the squares were used as car parks. Today the city has over 96 000 m2 (of which 33 % is street and 67% city squares) of car-free space. Car dominated cities such as London is now contemplating pedestrianizing Oxford Street after the introduction of near draconian but highly successful congestion charges in its central areas.
 In Kathmandu many empty spaces in the city have been targeted as an object of modernizing reforms. Is it simply a matter of convenience for the institutions involved, or is it generating revenue. In either case, converting open space with rich history into a parking lot is a sign of regressive planning that turns an urban gem into an industrial wasteland. Ironically, this is a policy-myopia with far-reaching implications on the citizen rights. Beyond urban aesthetics, the diminishing open spaces and squeezed sidewalks and footpaths by the ubiquitous parking of motorcycles and cars signifies the city's democracy going into reverse mode. The city is suffering a form of entropy whereby the distinctive or special is converted into ordinary. Its essential qualities, which celebrate equality and access are being eroded. Nowhere this is made more real than the powerful imagery of conversion of Khula Manch into a parking space.
 The prevailing institutional mindset and cultural practice thus needs a shake up. Have all other avenues been explored? Is there a genuine reason for buses to remain parked at the heart of the city? Has there been an assessment of its impact on environment, health, road safety, heritage and quality of life? What Kathmandu needs today is a counter movement such as re-greening; pedestrianizing; reclaiming; revitalizing & renouncing (vehicles)? Imagine the perimeter roads in Tundikhel pedestrianized, trees planted, fountains introduced and the traffic taken off this 'Urban Park' and restricted at Shahid Gate to the south, Jamal to the north and Bagh Bazaar to the east.
 Traffic free Tundikhel, a discerning technocrat might think, is a preposterous idea. Point them to the directions of many high-density cities around the world, who have introduced traffic-free precincts banning private car through-traffic. Strasbourg is one of them. Finland is another. Prague is the new entry in the block. If you've ever meandered through the streets of Kathmandu dreaming of how magnificent the city could be without the steady buzz of motocycles, wailing buses and honking tuk tuks, you're not alone. If you are troubled by the regressive planning at Khula Manch, this is time to act.