Chairman of Global IME Bank Chandra Prasad Dhakal and Devendra Poudel, newly elected member of House of Representatives from Baglung 2 constituency jointly opened Global IME Bank's branch office in Burtibang.
According to a press release issued by Sunita Sharma Dhakal, Marketing & Business Promotion Global IME Bank Limited, Mayor of Dhorpatan Municipality Deb Kumar Nepali opened ATM of the bank in a program.
Addressing the program, chairman of the Global IME Bank Dhakal said that the bank has been working with a vision to bank for all establishing the branches all over Nepal. He said that the bank has been providing loan in agriculture sector and remittances services in remote parts of Nepal.
Attended by office bearers of Baglung Chamber of Commerce and leaders of various political parties, Dhakal said that the banking service is a key to the development of remote parts of Nepal.
According to a press release, the bank has 113 branches, 127 ATM, 14 revenue collection counters and 59 branchless offices throughout the country. The bank has representative office in India, United Kingdom and Australia.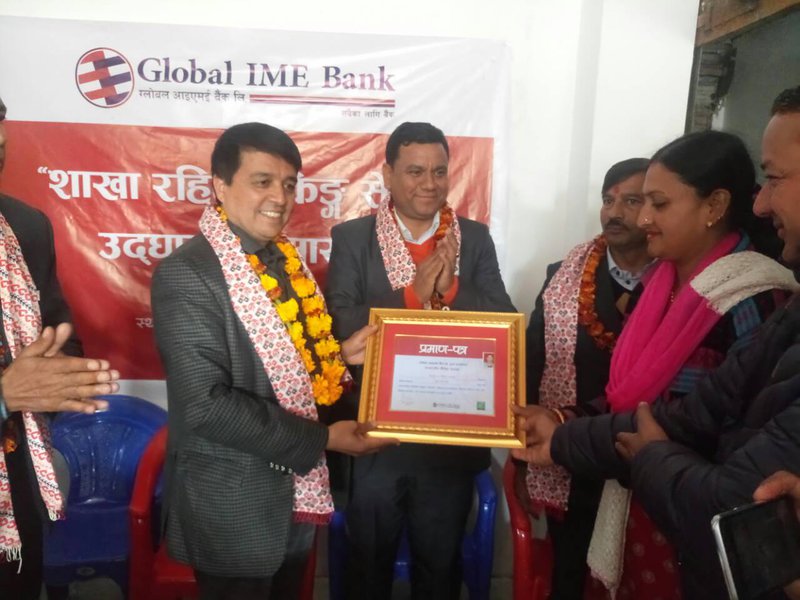 Similarly, chairman Dhakal also opened two branch-less service in Paiunpata and Bihupokhari of Baglung Municpality. He distributed representative certificate to Usha Rani Sharma and Mahendra Pun of respective areas.