The Indian Library (IL) by type 'missionary library', presently known by the name of Nepal Bharat Library established in 1951, obviously contributes to the Indian public diplomacy as it is run by the Indian diplomatic mission (Embassy of India) in Kathmandu. The role of missionary libraries like the IL provides platforms for the common people from all walks of life to interact with the Indian diplomats/authorities and vice versa, as a part of the public diplomacy, ultimately contributing to the diplomatic relations between India and Nepal. Its objective is to enhance and strengthen cultural relations and information exchange between India and Nepal.

Let's see who says what (based on 16 interviewees from different backgrounds) about the IL's public diplomacy and its role in strengthening Indo-Nepal relations.
IL Old Members – Experience Sharing:
Bijay Prasad Regmi, Ex-CDO: During the premiership of late Matrika Prasad Koirala following the Rana regime, Pt. Jawaharlal Nehru had visited Nepal. Meanwhile, there was a rumour of establishing the IL. Once it was set up around 1951/52, its popularity grew tremendously. Other embassies also started opening libraries mostly in Kathmandu.
There used to be direct public contact at our level unlike today limited to merely the upper levels. Presently, merely political leaders have had access to the HOM and contact is focused on the central level only. Therefore, I don't see any public diplomacy.
It depends on politics for the relations between two countries. The Indians used to hold the Nepalese people with deep affection but it lacks today. May be, because the world has changed into globalization.
Gyanu Walker Poudyal, Ex-Chief Programme Manager, Radio Nepal: I came to know how a country could manage expenses for the development of her language, literature, culture and arts, which is worth learning but Nepal is failing to do so. There has been a good result of the books gifted by the IL to countryside libraries but those books are found to have been misused— taken away one after another.
The IL seems successful in the propagation of Hindu religion but as Nepali I am worried about not being able to utilize it. The objective of the Indian Government looks holy/worthy which we have failed to make use of it.
Certainly, the IL has played a crucial role in the development of Indo-Nepal relations. Its books have substantially inspired me to travel to India and meet my spirit. It has contributed to preventing the trivial issues from growing and improving the relations.
Harischandra Lal Singh, Writer/Editorial Consultant: I don't have any opinion on the topic of diplomacy. I meet my friends who are affectionate to provide me magazines and books as desired. They respect me as an author. I am impressed with their polite behaviour.
The public diplomacy, as a matter of fact, will abundantly have an impact on the relations between the two countries. Different kinds of users visit here in search of various books and the staff members notify me about the status (availability or not) of good materials. Such satisfaction helps cement the relationship between the organization / staff members and the clientele.
Rama Singh, Life Care, Sundhara, Kathmandu: Public diplomacy seems to have been degenerating. Generally, laymen do not have agenda as that of diplomats. Therefore, if the Indian and the Nepalese issues were manifested in the knowledge of capable citizens asking them to take leadership initiative, there would no longer be anti-feelings towards each other.
If the role of citizens and the library users becomes good, it will definitely support the relations between the two countries. The distribution of greeting cards during the Nepalese festivals, for example, may pacify the hostile feelings.
IL Old Non-Members – Experience Sharing:
Shailendra Kumar Singh, Associate Prof. of English, Padma Kanya Campus, TU: There is a very strong, transparent and visible flavour of the public diplomacy. Otherwise, why should the Embassy invest? There is an existence of diplomatic relations between India and Nepal. To promote the bilateral relations, the library is a means. Unless there is a reflection among people to people level, there is no meaning at all in other high levels. Civil society has to be guided by good-will. It is a tool to bring the civil society together. It gives a good platform for the programme organizers. Its role in intellectual growth is notable. There is an interest but healthier self-satisfaction from the investment in the library. Creating good-will towards India is a part of the public diplomacy. 
IL's public diplomacy can do a lot more. It is just giving continuity and may continue in the same way. It has so many prospects to achieve but lacks something imaginative in flavour. Just gathering of political and upper level personalities is insufficient. Therefore, various programmes are worth organizing for common people, students and teachers after office hours which will leave good impressions on them and in turn it will help earn much more recognition.
Surya Adhikary, Maipi, Naya Bazaar, Kathmandu: Indeed, there is a flavour of the public diplomacy. I wish it ran as an academic institution rather than being under the diplomatic mission.
This library's public diplomacy will have a bit of a role in strengthening Indo-Nepal relations with some positive and other negative attitudes. Open border, languages and culture have made both these countries close. By the means of library, there may have been some improvements and some negative impacts on some prevailing issues.
Purna Bahadur Manandhar, Jhose-23, Basantapur, Kathmandu: I am unaware of the public diplomacy as my purpose is to visit for study and leave. I am also unknown about the very idea of the library's public diplomacy having any role in strengthening Indo-Nepal relations.
Harihar Man Singh, Ex-Eye Specialist, Military Hospital: I don't have any idea about the flavour of the Indian public diplomacy in this library. However, its public diplomacy will have a role in strengthening Indo-Nepal relations because users come here to read.
IL Programme Speakers – Experience Sharing:
Madhav Prasad Ghimire, National Poet of Nepal: It is the cultural/friendly relations that Nepal and India have been enjoying. There is a continuity of visiting Pashupati from Vishwanath and visiting Vishwanath from Pashupati. In case of any break in other relations, cultural relations keep on sustaining. Because of the library, further relations between the citizens of two countries are flowering. The establishment of library has further deepened cultural exchanges.
Tulasi Diwas, Life Member, Nepal Academy: Such library plays a role in furthering relations spiritually among the grass roots rather than high level personalities. In connection with the hearty relations being strengthened by any country, particularly neighbouring country, the IL has been able to maintain people-people relations spontaneously rather than instructionally.
Public diplomacy, of course, plays a role in promoting country-country relations. I am of the opinion that the programmes organized by the grass-roots people will help more deepening such relations than by the elite people.
Anonymous, Mediaperson, Kantipur FM: The Indian public diplomacy is so deeply rooted that it is no longer on surface. Diplomatically, it is maturing. I was an Indian citizen married to a Nepali national, which is one of the examples relating to the successful Indian public diplomacy.
Undoubtedly, the public diplomacy generated by the IL will have positive impact on Indo-Nepal relations. Having reached there (IL), I found a cordial environment. It seems any person who visits there for the first time cannot help being impressed with an amicable atmosphere. If the creations of litterateurs are translated from the languages of Nepal into Hindi and vice versa, it will help develop further relations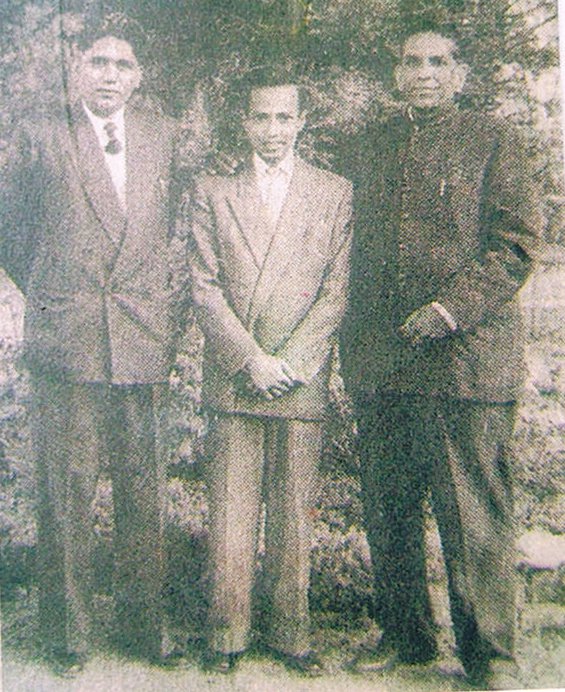 .
Indian Ambassador Bhagwan Sahay at right, Cultural Attaché Dr. Shiv Mangal Singh "Suman" at left, and the NBSKfirst Chief Librarian Shankar Lamichhane (Nepali national) in the middle around 1956.
Imtiyaz Wafa, Litterateur, Biratnagar: Public diplomacy should be good. Nothing else other than the library is good in terms of the Indian public diplomacy in Nepal and its role in furthering Indo-Nepal relations.
IL Programme Audience – Experience Sharing:
Laxman Lamichhane, Ex-Administrative Chief, Nepal Academy: Public diplomacy has to be inherent as the programmes are being organized for the common people. It does prevail. But the public diplomacy is a political/high level affair.
That institution does definitely have an impact on the relations between two countries as the books by intellectuals available there are not elsewhere and the gathering is also of like-minded people. I learnt Hindi from the books available there.
Bisu Kumar KC, Registrar, Nepal Copyright Registrar's Office: That institution (IL) is the symbol of diplomacy. The presence of personalities from various backgrounds during the programme reflected the public diplomacy. Earlier, there was a trend of organizing programmes at the libraries run by the diplomatic missions and it was natural to sense the public diplomacy while the interaction took place.
Naturally, it (public diplomacy) further strengthens the relations between India and Nepal as the participants were not only from the governmental institutions but even from the grass-roots level. It immensely supports the relations between them with spontaneous touch rather than diplomatic style—the latter limited to hearing and seeing.
Manoj Neupane, Litterateur, Biratnagar: The programmes organized do have the flavour of the Indian public diplomacy in Nepal but it is not adequate. Public diplomacy that depends on relations between the programme organizers and audience doesn't seem effective. In spite of Nepali in India and Hindi in Nepal, the kind of bridge that should have been to link these two isn't helpful at all. In addition to the programmes organized here, it would be better if there were customs of the Indian litterateurs visiting here and the Nepali litterateurs visiting there. Encircled by India from three sides, Nepal would like to maintain the status quo. However, the mixed cultural relations have to be still empowered by the institution (IL).
There are positive roles of programmes for supporting the relations. Such programmes create an environment for understanding and implementing the relations. If the programmes are straightforwardly run— the diplomats will be inspired by the grass roots; the relations between the two countries will be nurtured; the connections will be facilitated; and the citizens of two countries will be brought to the same platform— it will help heighten the relations.
Merina Smriti (Mamata), Editor-in-Chief, Kalash: Certainly, there is a probability of strengthening Indo-Nepal relations out of the public diplomacy demonstrated through the programmes run with sentiments, reverences and hospitalities that are prerequisite. I have gained so many inspirations from India. Songs/literary events and talk programmes about relations bring each other together.
Though we have spiritual relations with India, there are not enough members in that library. There should be a qualified personality responsible for contributing to Indo-Nepal relations. It would be better to make briefings about their relations at the outset of any programmes.
Essence of the Findings
Among those 16 clientele of IL interviewed, 10 (62.5%) asserted (with 'Yes' reply) the existence of the IL's public diplomacy, 4 (25%) remained neutral (with 'Neutral' reply) and 2 (12.5%) did not find so, and 11 (68.75%) believed that the IL's public diplomacy had an impact on strengthening Indo-Nepal relations, 3 (18.75%) remained neutral and 2 (12.5%) did not think so (with 'No' reply).
In this sense, we can come to the conclusion stating that over 62% (10/11) of clientele believed in the vitality of the IL's public diplomacy and its strength in augmenting Indo-Nepal relations; over 18% (3/4) of clientele favoured remaining neutral; and the rest of exactly 12.5% (2/2) of clientele came up with a negative reply.