Food and Cash For Livelihood and Reconstruction
Pramila Ghale, 25 is one of the user group member working under both cash for asset and food for asset program has bitter and difficult experiences of the 2015 earthquake. Ghale, who is also a woman ward member of Darche Rural Municipality Ward 3, Uhiya village witnessed destructions of shelter, foot trail, bridges, drinking water taps and irrigation canals. Lack of food was one of the most painful experiences for her.
Most of the people in these villages rely on subsistence agriculture. Maize, millet and potato are the major crops whereas beans and vegetables are partially grown in some part of villages. Moreover, the villages have poor market access due to harsh geographical terrain. Only, Laprak and Gumda have road access. The situation aggravated after earthquakes, forcing people to live under higher incidence of poverty and food insecurity.
For those with lack of adequate food, employment and livelihood options, PRRO project implemented by Goreto Gorkha in partnership with UNWFP, PWRDF and LWF Nepal was a boon. Like Ghale, mother of a 3-year-old girl child many others were benefitted.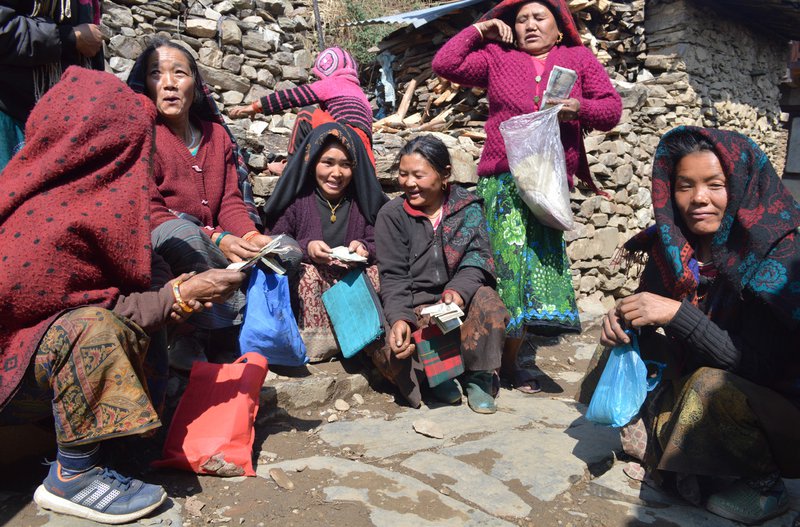 During the last month of pregnancy, Ghale faced a lot of difficulty due to the lack of food. For a few months, her family members collected food from the community. However, after implementation of PRRO, the situation has improved.
"With the destruction of foot trail, wooden bridges and water sources by earthquake, our village faced huge problems. As there were no foot trails and bridges, we were disconnected with the rest of Nepal. As we could not fetch food from Arughat, we lived on our own food for many months," said Ghale. "Although many NGOs, INGOs came to us to provide support and relief in the two years period, no tangible changes had been made. After the project launched under PRRO, people in our village found the hope of revival," said Ghale.
Normally, one can reach Uhiya by two days of trekking from Arughat, northern town of Gorkha where the bus service used to be available during winter. With the onset of monsoon, Uhiya village is cut off from the rest of Nepal, including Gorkha. It takes three days to reach the place now.
With the inception of the project last year, our village has seen massive reconstruction and upgradation of foot trails, wooden bridges, drinking water and drainage. As local people were involved in the reconstruction and rehabilitation of infrastructure, built with earthquake resilient skill and technology, there is now a pool of masons with capability to maintain the trails, bridges and other buildings in Uhiya.
"PRRO was our life saving program for last one year. The project not only rehabilitated our infrastructure but also provided employment to our people who were able make money to purchase food," said Ghale. "With the renovation of foot trails and wooden bridges, we are connected to the rest of Nepal. Our mule can carry food items to our village and carry our own productions like potato beans and millet to the city. The speed and capacity of carrying food has gone up," said Ghale.
With its model involving local user groups and elected representatives in all stages of program planning and design, PRRO has become popular in the rural areas of Gorkha. "Our Rural Municipal Council members have already decided to request District Coordination Committee, Gorkha to take initiative to negotiate with supporting partners UNWFP and LWF Nepal to extend the programs for some more time," said Ghale. All the villagers consider PRRO as their own program.
Ghale holds the view that this is one of the most exclusive programs which covers people from all walks of life, including women, single women, elderly, people with disability, dalits, marginalized and others.
Like Ghale, 1,692 households comprising 7,614 populations benefitted from diversified livelihoods interventions ensuring their food security and 750 households developed their institutions and achieved access to bank facilities.
According to the report, of the total households targeted 1,692 highly food insecure households achieved diversified livelihood options benefitting of 7,614 populations. Similarly, 750 households of the total households established their local institutions achieving access to banking facilities. This has enabled low-income people of the community developing saving habit and credit operation.
Dr. Subash Gurung, Sustainable Livelihood Development Coordinator, LWF Nepal said that the project has laid foundation for resilient livelihoods of the people affected by earthquake linking relief and recovery to long term development.
PRRO Restores Community Assets
For the past two and half years, people living in Khorla village of Darche Rural Municipality ward 3, faced a very hard time to cross the village. As the earthquake destroyed the nearby wooden bridge, the village was cut off from the rest of other villages during the monsoon.
With the partnership of UNWFP, PWRDF, and LWF Nepal, Goreto-Gorkha, an implementation partner of Protracted Relief and Recovery Operation (PRRO), restored the wooden bridges. With the completion of the bridges, the locals felt a sigh of relief.
"With the reconstruction of a wooden bridge, our village has been reconnected with the rest of other villages. This is a positive news for a remote area like ours," Shanta Gurung, 30, ward member of Dharche-3. After Gorkha earthquake in 2015, along with houses, foot trails, community buildings and water taps, Khola village also lost a few bridges, which were lifeline to the people during the rainy season.
"We are very much obliged to WFP, PWRDF, LWF and Goreto-Gorkha as they came to us with food and cash to restore our much needed infrastructure and helped fulfill our household needs including food," said Gurung.
"When our people were in desperate need of food to feed the family, the project delivered us food items and they agreed to provide cash for work in second phase as demanded by the community," said Gurung. "As ward members of local level, we are requesting the Village Development Committee to replicate the projects run through the PRRO in our areas. It showed that a small investment can make a lot of difference in the rural life," said Gurung.
With the demand of the community, for the community and by the community, PRRO projects showed how earthquake resilient projects can be constructed to benefit the large number of rural population.
Shanta Gurung is one of the beneficiaries of PRRO, one of the major earthquake operations of LWF Nepal in Gorkha partnership with UNWFP. The project covers five remotely located northern wards of two Rural Municipalities namely Laprak, Gumda, Kashigaun, Uhiya and Sirdibas.
Under the modality of cash based interventions like cash for asset and food for assets, the project provided employment to food insecure households contributing to their food security. Under the project, community's productive assets destroyed by the earthquakes will be rehabilitated.
"One of my family members worked 40 days in each first and second phase. After completing 20 days' work, my house got 75 kilograms of rice and 13.5 kilograms of yellow beans. In other 20 days, we received similar amount of food," said Gurung.
As planned, like Gurung 2, 772 households of five northern villages received the benefit through FfA and CfA intervention in Sirdibas 3, of Chumnubri rural municipality and Uhiya 3, Kashigaun villages of Darche Rural Municipality and CfA/FFA intervention in Laprak, and Gumda villages of Darche rural municipality in Gorkha District.
Reconstruction of Water Tap Ends Water Scarcity
The newly reconstructed Chamakharkha drinking water scheme provides potable water to 109 households. Before the construction of this scheme, these households had to stay in long queues in front of the limited taps for hours. Under this scheme, a new source of water was utilized, a reserve tank of 12,000 liters was constructed and five new taps were added across the settlements of Chamakharkha, Kashigaun.
Monitored by the Site-Engineer, the construction is well planned. With proper engineering advice and monitoring during the construction, the water tap can resist any shocks bigger than 2015.
One beneficiary of the project is Sukmaya Gurung. She mentions that the addition of new taps in her settlement has considerably decreased her and her children's time in fetching water for daily usage.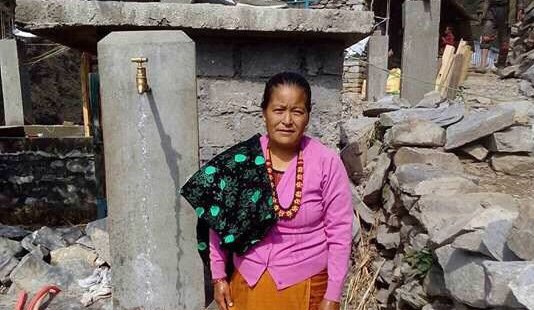 She utilize the saved time in productive activities such as working in the vegetable garden, attending meetings, etc. My three children have more time to play and do their homework". Gurung said she is thankful to the project and expects that in the near future safety railings will be constructed in one of the treacherous trails connecting her village.
Gurung shares that she feels much safer now with her newly built tap and other infrastructures in the village. With the reconstruction of a new taps much stronger than the past, Gurung thinks that she will not have to face the crisis of safe water as earlier.
Courtesy: LWF Nepal