What is the role of the Japanese Monarch in the administration of the government and in public life in Japan?
Japan's Constitution stipulates that His Majesty the Emperor is the symbol of Japan and the symbol of the unity of the Japanese people. The Emperor performs only acts provided for in the Constitution and has no political role.
During my career, I have the privilege of serving as a Chamberlain to His Majesty the Emperor. I felt on my skin at the Imperial Household Agency that His Majesty prays for the prosperity of the nation, the well-being of the people, and world peace 365 days a year, rain or shine, even though it is not widely publicized.
The Japanese Imperial Family enjoyed a long and close relationship with the Royal Family of Nepal in the past. Their Majesties the Emperor Emeritus and Empress Emeriti visited Nepal twice as Crown Prince and Crown Princess, in 1960 and 1975. The visit in 1975 was to attend the coronation of His Majesty King Birendra. A couple of Himalayan cedars planted then by Their Majesties have grown tall at my residence in Kathmandu, giving me the sense of responsibility as the Ambassador of Japan to this fascinating country every morning.
His Majesty the current Emperor also visited Nepal in 1987 as Crown Prince. As His Majesty loves mountaineering ("trekking" in this country), he visited Pokhara, took photos of Mt. Machhapuchhre and women drawing water at Sarangkot. This made the start for His Majesty to get involved in the water problem of the world.
Furthermore, in 1997, His Imperial Highness Prince Akishino inaugurated the Buddhist pavilion at the National Museum of Nepal in Kathmandu, which was expanded with Japan's financial support. In this way, the Imperial Family of Japan has close relations with Nepal.
Just as Nepal uses the Bikram Sambat calendar, Japan has its own tradition, in which the name of era changes with each reign of the Emperor. "Reiwa", the current era, began in 2019 A.D., or 2076 in Bikram Sambat, and means "Beautiful Harmony". At the beginning of "Reiwa," the Right Honorable Mrs. Bidya Devi Bhandari, President of Nepal, visited Japan and attend the Ceremonies of the Accession to the Throne of the Emperor. It was a historic event for both countries as the first Nepali President under the new constitution celebrated the new Japanese Emperor on his enthronement.
Your Excellency, how do you evaluate Nepal-Japan relations since the day of its establishment?
Official diplomatic relationship between Japan and Nepal was established in 1956, the year a Japanese climbing party became the first in the world to summit Mt. Manaslu.
The history of people-to-people exchange, however, is nearly twice as long. Buddhist monk KAWAGUCHI Ekai, was the first Japanese to visit Nepal in 1899. Only three years later, in 1902, eight Nepali students were dispatched as the first Nepali to Japan for their study. Consequently, the last year, 2022, was the 120th Anniversary of International Student Exchanges between Japan and Nepal. The number of Nepali students studying in Japan is about 19,000 now, ranking third by country. Here in Nepal, I met many people who returned to Nepal after studying in Japan on scholarships from the Japanese Government. These returnees are playing significant roles in various fields such as government or public sectors, research, educational or medical institutions, and private companies, supporting the development of this country, Nepal. I am truly glad to see that the seeds of people-to-people exchanges through "education," which were planted 120 years ago, have blossomed over the years.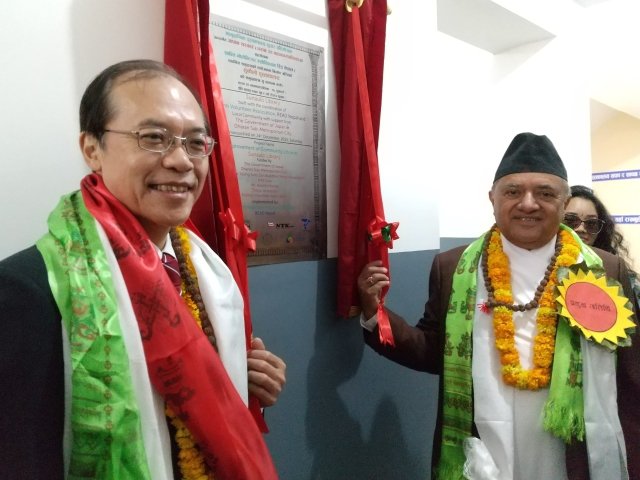 Japan and Nepal have a long and multi-layered history of exchange at the imperial and royal houses level, government-to-government, and private levels. Along with government Official Development Assistance (ODA) such as infrastructure support, human resource development, and earthquake reconstruction, to name a few, there are many beautiful stories of interaction between the people of the two countries. It can be said that the current friendship between the two countries has been fostered by the accumulation of these multiple factors.
Would Your Excellency highlight how Japan made such wonderful development both economically and technologically in a short span of time? Are such techniques applicable in the case of Nepal's development?
I believe that Japan's post-war recovery was the result of both the spirit of self-help in the Japanese people as well as the assistance from the international community, including the World Bank and the Government and Relief in Occupied Areas (GARIOA) Fund/ Economic Rehabilitation in Occupied Areas (EROA) Fund. This experience has formulated Japanese assistance philosophy, i.e., "human resource development is the foundation of nation building" and "support for self-help efforts (Not give fish but teach how to catch fish)."
As for Nepal's development, I believe that what is essential is not "techniques," but "the spirit" to achieve development. Nepal's development depends on the will of the people and the government of Nepal itself. It is admirable that Nepal is making strenuous efforts in democracy for its fundamental structural socio-economic transformation aiming at graduating Least Developed Country (LDC)status in 2026, the year happens to be the 70th anniversary of our diplomatic relationship. Japan is more than happy to cooperate with Nepal to this effect. Even if it might be a long way to go, it is important to accumulate a success one by one, just like a Sherpa slowly but steadily, step by step, climbs up to the summit of Sagarmatha .
Which area of development in Nepal does Your Excellency choose to provide assistance to the upliftment of Nepali society?
Japan has been providing a diverse menu of support for Nepal's development in various sectors, without any geopolitical bias. I believe it is the strength of Japan's assistance.
Above all, the support I see as particularly important is human resource development and technical cooperation that makes particular use of Japanese characteristics and experiences.
For example, Japan has been supporting the Nagdhunga Tunnel Construction Project. This project is an infrastructure project, and it is a new challenge for Nepal as it is the first road traffic tunnel in this country. At the same time, it is also an opportunity for the Nepali people working on the site to gain knowledge and skill in road tunnel construction, thus truly leading to the development of human resources of Nepali construction sector. In Japan's projects, there is technology transfer. We are doing it for the sake of Nepal.
Based on a support from donors, I hope that Nepal thinks carefully how to utilize such support and linking it to Nepal's further development. I look forward to Nepal's careful project preparation and close cooperation with Japan in the implementation phase. After all, the economic cooperation provided to Nepal is funded by the Japanese taxpayers' money, so it is highly expected to be used effectively, making a difference.
What steps should Nepal and Japan take in promoting trade and business relations between these two countries? What role do you suggest for the Nepal Japan Chamber of Commerce and Industry in the promotion of industries and trade?
In discussing the promotion of trade and investment, it is important to note that Nepal should attract Japanese companies' interest with its charm. Japan has a market economy system so Nepal has to win the competition in terms of business profitability among countries in the world. Many economists, both Nepali and international, agree that Nepal has a great potential, such as astonishing natural beauty for tourism, huge water reservation for electricity, geographical advantage in between the two fast glowing giant neighboring markets, and so on. The question is how to make the best use of them. Short answer is to make a business friendly environment.
It's up to Nepali side, but Japanese government is assisting human capacity building in young Nepal government officials and I feel the growing interest in the Japanese private sectors on the Nepali people as indispensable workforce or "manpower" needed to sustain Japanese society. It will certainly contribute to the development of economic relations as well.
As I have already suggested to the representatives of commerce and industry of this country, the World Exposition 2025 (Expo) scheduled in Osaka, Kansai, Japan is one of coming golden opportunities. As Nepal has declared its participation in the Expo, I really hope Nepal to fully utilize this precious opportunity to promote the high potential, assets and charm that Nepal possesses to Japan and to the world.
What suggestions do you offer to promote the tourism industry in Nepal?
Except perhaps for some professionals with a specific and strong purpose for visiting Nepal, such as mountain climbers, safety and convenience are the most important considerations for Japanese tourists. Unfortunately, we witnessed sad aircraft accidents last May and this January. The January accident in particular received a great deal of attention in Japan. The only way to overcome or dispel these shocking impressions is to improve safety standard and continue to operate safely on a daily basis.
Tribhuvan International Airport (TIA) used to be Nepal's only international airport and the gateway from Nepal to the rest of the world, with a certain risk level. I think it should be more widely known to Nepali people that Japan has shared its experience and technology to improve the safety of TIA. Japan has provided a surveillance radar, facilities and expert guidance on Air Traffic Control, etc. We have also provided regional airports with aviation lighting and advanced solar power generation systems. The air safety and handiness of newly opened international airports such as Gautam Buddha Airport and Pokhara Airport, as well as many domestic airports, play a great role for the tourism industry in Nepal. We know there is a certain risk of life in mountain climbing, but there should be no risk in air travel.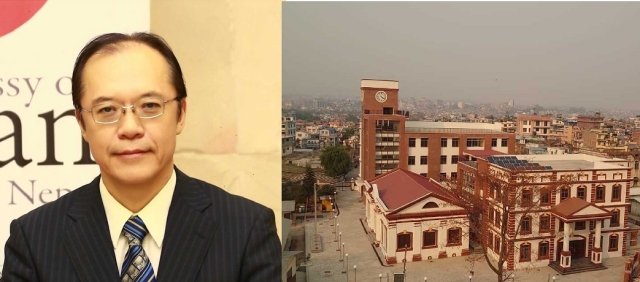 What is the average percentage of the population in Japan which is Buddhist? What plan does the Government of Japan have for the development of Lumbini?
Japanese people's flexibly incorporates several religions, including Shinto and Buddhism, into their daily lives. As you walk the streets of Japan you will find many Buddhist temples and Shinto shrines. According to the Religious Yearbook, the number of Buddhist in Japan is approximately 83 million. However, in fact, if the number of each religion is added up, the total is about 1.4 times the population of Japan. In other words, there are many people who are counted to more than one religion in the statistics.
In Lumbini, a master plan for the preservation and development of the Lumbini area was drawn up in the 1970s as a project by the United Nations, with the cooperation of Japanese architect Mr. TANGE Kenzo. To date, the Lumbini Development Trust (LDT) has been working to realize the plan.
Since the Tange Plan was based on the situation before Lumbini became a World Heritage Site, now UNESCO is supporting the development and implementation of an integrated master plan that could address the protection of the site as a World Heritage Site. As part of this, since 2008 Japan has been providing support through the Japan Trust Fund. We are currently in the fourth phase of the project.
We hope that the site of Lumbini and the surrounding area will be properly protected and developed sustainably with the cooperation of the local community. In this way Lumbini, an ancient Buddhist pilgrimage site, can continue to host visitors from around the world.
Many Japanese NGOs are actively launching programs in Nepal in order to contribute to the welfare of Nepali people. How do you assess their contributions in the promotion of people to people contact between the two countries?
Japanese NGOs are making significant contributions by providing community-based grassroots supports throughout Nepal. It's beyond easy description. They are conducting activities utilizing the knowledge and experience of their respective organizations in various fields, such as disaster prevention, health care, education, and agriculture. The Embassy is providing them with financial, technical and even spiritual supports.
Cooperation with Nepali NGOs and local people is also essential when Japanese NGOs are implementing projects on the ground. Such cooperation is based on a relationship of trust between Japanese NGOs and the people of Nepal. On that point, I often appreciate Nepali people's goodwill.
On the other hand, it cannot be denied that international NGOs face various challenges to operate in Nepal due to the rules and regulations. For example, there are various constraints related to the management of project funds and it usually takes a long time to obtain a project agreement to implement a project.
The activities of Japanese NGOs in the project areas are highly appreciated, and I hope that the implementation and cooperation systems of various related organizations will be strengthened and improved so that Japanese NGOs can continue to fully leverage their capabilities in this area. I am saying this as a true friend of Nepal.
Do you wish to convey any message to our readers regarding further promotion of the ties between the two countries?
Since my arrival as Ambassador in Nepal, I have felt that the Nepali people have always had a strong affinity and interest in Japan, even during the period when COVID-19 prevented us from meeting in person, and when it was difficult to travel to Japan, and finally during the period when things gradually returned to normal. That is very encouraging and welcoming for us. I believe that there are multiple commonalities, multi-layered relationships, and a long history between Japan and Nepal that have nurtured our friendship as it stands today.
As I said before, the next milestone year for us would be 2026. That year marks the 70th anniversary of the establishment of diplomatic relations between Japan and Nepal, and is also the year by which Nepal plans to graduate from LDC. I look forward to seeing the rich and multi-layered relationship between our two countries further develop and strengthen over coming years.
As an Ambassador, while I am fully enjoying my stay here, I am determined to do what I can to ensure that the friendship between Japan and Nepal will continue to be a beautiful and harmonious.
(Reproduced from Look Nepal)