I am deeply honored to be here and share a few words at this significant event.
On behalf of FNCCI, the apex body of Nepal's private sector, and the entire business delegation, I extend my warmest greetings to you all. I want to express my heartfelt gratitude to the governments of China and Nepal and the embassies of both countries for their support in organizing this event.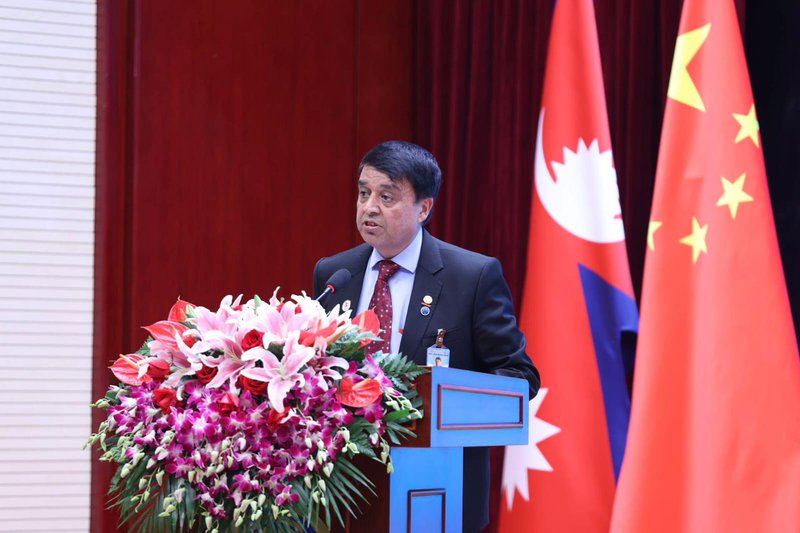 I also extend my sincere thanks to CCPIT for their longstanding partnership with FNCCI and their role in organizing this event.
I would like to thank the Prime Minister, the Hon'ble Commerce Minister of China, and the Ministers of the Government of Nepal for gracing this occasion with your presence. Your participation is a testament to the strong friendship and economic cooperation between Nepal and China.
Nepal and China have shared a close neighbors for centuries, and in recent years, our economic ties have grown significantly. China has become one of Nepal's largest sources of foreign direct investment (FDI).
The Nepal-China Business Summit serves as a timely platform for discussing ways to further strengthen our economic cooperation. This summit brings together business leaders from both countries to explore opportunities for investment, trade, and technology transfer, and I am confident that it will lead to concrete outcomes that will benefit both Nepal and China.
The government, led by the Prime Minister, is actively working to revitalize the economy by creating a more conducive business environment. Our external sector, including foreign exchange reserves and balance of payments, is quite comfortable. Our foreign exchange reserves are sufficient to cover prospective merchandise and service imports for 12 months.
While Nepal may seem small when compared to our larger neighbors, globally, we are the 49th largest country in terms of population.
Over the past 25 years, the percentage of people living below the poverty line has decreased from 38% to 17%, demonstrating an increase in the purchasing power of our people and highlighting the potential for trade and investment.
Nepal enjoys non-reciprocal and exclusive treaties with India, providing duty-free access to Nepalese products in India. Similarly, Nepalese products have duty-free access to China, as well as to the EU, US, Canada, Australia, and other developed countries. This opens up opportunities for investment and production in Nepal with the potential for global exports.
China is Nepal's second-largest trading partner. While we import 16% of our total goods from China, our exports to China remain modest.
However, Nepal has proven to be a trusted destination for Chinese investment, with Chinese investment accounting for over 35% of the total approved foreign direct investments.
Multinational companies operating in Nepal have enjoyed a favorable rate of return on their investments.
Nepal is committed to further opening up to foreign investment, technology transfer, public-private partnerships, and investment-related policies to attract both global and regional FDIs. We anticipate a boost in FDI inflows from China, maintaining China as the largest source of FDI for Nepal.
FNCCI has established an FDI help desk to provide one-window facilitation support to foreign investors. We plan to expand this service to further support potential investors and existing companies.
Nepal boasts a demographic dividend with a vibrant and hardworking young population, with a median age of 24. Additionally, Nepal is rich in water resources, with around 90% of our hydropower potential untapped.
I invite the business community to invest in Nepal's hydropower sector, both for domestic consumption and export to neighboring countries including China.
Beside this, the popularity of Chinese electric vehicles in Nepal highlights the need for expanded hydropower capacity to support EV charging infrastructure. This offers a significant opportunity for Chinese private sector investment in Nepal's hydropower development.
Nepal's hospitality industry is ready to welcome Chinese tourists, with numerous standard hotels catering to their needs. This year has seen significant progress in tourist infrastructure, with two new international airports, Bhairahawa and Pokhara, operational in major tourist destinations. We look forward to support from the Government of China in operating direct flights to these airports.
Apart from hydropower, tourism, and manufacturing, the ICT sector and ICT-enabled services are expected to experience high demand post-Covid-19, with opportunities in e-commerce, digital payment, logistics services, and distance learning.
Investment in tourism infrastructure, such as cable cars, theme parks, and resorts, holds great promise in Nepal.
Nepal is rich in various minerals like limestone, coal, talc, red clay, granite, marble, gold, and gemstones. Additionally, it has valuable construction resources such as aggregates, sand, gravel, dimension stone, and decorative stones, which require investment and expertise.
Following the Covid-19 health crisis, there is a growing connection with nature, creating tremendous potential for herbs, herbal products, and organic agricultural products from Nepal, both globally and in China, to boost immunity and promote good health.
We are confident that facilitating cross-border trade and ensuring the smooth movement of goods and people is crucial for bilateral socio-economic integration. The removal of trade barriers, including non-tariff measures, along with the full implementation of the Trade Facilitation Agreement, will lead to increased mutual benefits from bilateral trade.
The financial sector in Nepal is another emerging sector for investment. Notably, several commercial banks with foreign investment, including Standard Chartered Bank, SBI, and Everest Bank, have established a robust presence and demonstrated strong performance in the market. Nepal maintains substantial trade relations with China, accounting for approximately one-fifth of our imports. However, there are no Chinese banks operating in Nepal. In light of this, we strongly recommend that a Chinese bank consider forging partnership with Nepali banks or establishing its own operations in Nepal. Such a strategic move would significantly facilitate and enhance bilateral trade and investment activities between our two countries.
FNCCI and CCPIT are actively planning various activities to strengthen economic ties between our two countries.
We are delighted that Rt. Hon'ble Prime Minister Mr. Pushpa Kamal Dahal has graced this program today to encourage private sectors from both Nepal and China.
The bilateral agreements to be signed during this visit, both at the government and private sector levels, will facilitate trade, investment, and enhance economic cooperation between our two countries.
Lastly, on behalf of FNCCI and the entire Nepalese business community, I would like to invite the Chinese business community to explore further opportunities for doing business in Nepal, both in conventional and emerging sectors.
Collaboration in trade, tourism, infrastructure, education, mines and minerals, financial sector, energy, and agriculture can shape a brighter future for both countries. Together, we can unlock opportunities, strengthen ties, and contribute not only to Nepal and China but to the regional prosperity.
FNCCI, as the apex private sector representative body in Nepal, is always ready to cooperate on all fronts to further promote economic relations between Nepal and China.
Dhakal is a president of Federation of Nepalese Chamber of Commerce And Industry. Excerpts of his statement delivered at Nepal-China Business Summit In Chinese capital Beijing. It was taken place during the visit of Nepalese Prime Minister.