For the people living in the earthquake active zone like Nepal, there is a good news as technology introduced after devastating 2008 quake alerted people up to 71 seconds before in recent tremor in Sichuan. China's Early Earthquake Warning System Gives People Life-Saving Seconds To Prepare For Tremor
 According to an article published in South China Morning Post, people across Sichuan were given vital seconds to prepare for recent deadly earthquake thanks to China's early earthquake warning system.
"Developed by the China Earthquake Administration in the wake of the 2008 magnitude 7.9 quake in Wenchuan, which left more than 80,000 people dead, the system alerted some people in the region more than a minute before the initial tremor struck in Jiuzhaigou County," writes South China Morning Post.
China's earthquake early warning system gave people in neighbouring towns and cities precious seconds to prepare.
In the provincial capital Chengdu, about 300km from the epicentre, people were notified of the impending quake a full 71 seconds beforehand, via messages sent to their mobile phones or transmitted via public address terminals, mainland media reported.
Chengdu resident Yang Libing said she was working late when she heard the warning, reported as saying in The Beijing News reported on.
"[There was a] sudden sound like an air defence alarm," then a "woman's sharp voice reading the countdown [to the quake]", she was quoted as saying.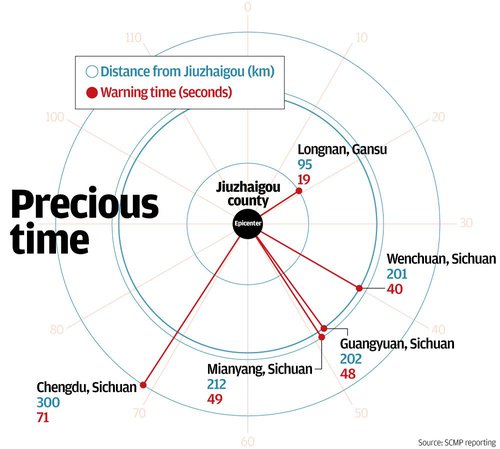 About 10 seconds later the whole building began to shake, the report said.
In Wenchuan, about 200km south of Jiuzhaigou, people were given 40 seconds' notice of the impending tremor, according to Science and Technology Daily, while people 95km from the epicentre in Longnan, Gansu province, got 19 vital seconds to prepare.
Similar early warnings of between five and 38 seconds were sounded in 11 schools in six cities across Sichuan, Gansu and Shaanxi provinces, while local governments posted alerts on nearly 20 different microblogging accounts.
The China Earthquake Administration has so far invested about 2 billion yuan (US$300 million) on the early warning and quick intensity reporting system. Similar to those used in other quake-prone countries, like Japan, Mexico and the US, the system works by detecting the P-waves created by an earthquake. These are fast moving, but mostly harmless waves that give a warning of the slower moving, but far more dangerous S-waves that follow.
As the waves are picked up by a network of seismographs, so the alerts are sent out of the pending tremor.
China's earthquake administration plans to have 15,000 monitoring stations across the country by 2020, particularly in key areas such as Sichuan, Gansu and Yunnan provinces.
While the exact timing of quakes can't yet be predicted, the early warning system allows people to take immediate action that could potentially save their lives, said Dr Timothy Sim Boon-wee, an associate professor at Hong Kong Polytechnic University who specialises in earthquake risk management.
The effectiveness of the early warning system also depends on people knowing what to do in an emergency situation, he said.
"This means, would they take the right action in a matter of a few seconds? Or would they panic and, say, jump off a building? This requires education and training for the public," he said.
One of the best things people can do is employ the "duck, cover and hold" method, he said, referring to the idea that people should duck down on the floor during an earthquake, take cover under sturdy furniture or against a wall, and hold onto furniture until the shaking stops.
Chinese tour guide who was also caught up in 2008 Sichuan earthquake survives after prying open lift door with bare hands
While no one can say how many lives might have been saved as a result of the early warnings sent out on Tuesday, the system's value cannot be understated.
According to a report by Wang Tun, founder of the Sichuan-based Institute of Care-Life, a government-backed organisation set up after the 2008 quake, an estimated 20,000 to 30,000 lives could have been saved if there had been an early warning system in place in Wenchuan at the time.
"We need to keep working on EEW [early earthquake warning] systems so we can have earlier and accurate [warnings]," Sim said.
But he added that alerts alone will not save people. There also needs to be a scheme to improve building standards in rural areas so that people's homes don't collapse so easily when a tremor strikes.
"Earthquakes do not kill. Buildings kill," he said.
The Chinese government said earlier it plans by 2020 to retrofit or rebuild houses for at least 18 million farmers to better withstand earthquakes.
Currently, just 6 per cent of residential properties in rural areas conform to anti-seismic design requirements, according to the China Earthquake Administration.
South China Morning Post