As soon as the switch was on for Nepal's largest wind-solar hybrid power system in Chisapani, Ward No 1 of Hariharpurgadhi Rural Municipality of Sindhuli District, east of Kathmandu, the local people celebrated the event, featuring modern and traditional dances, songs and feasts.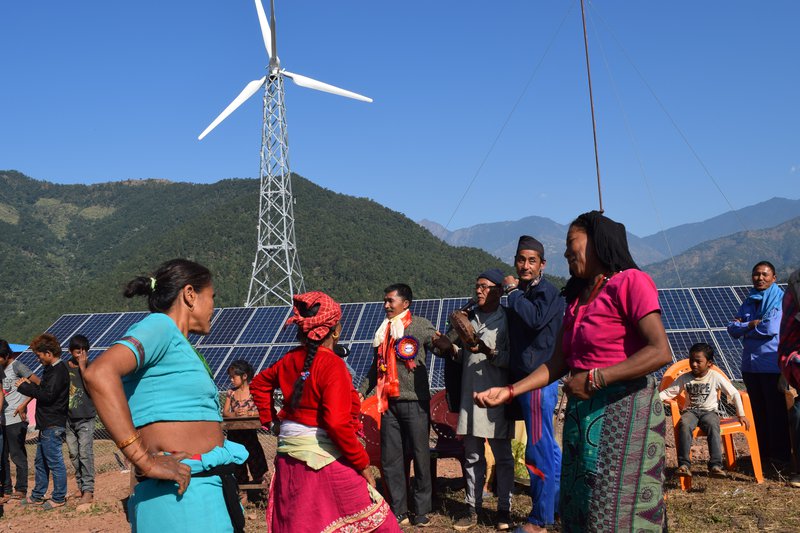 Local Beneficiaries are celebrating the inauguration 
From 10-year old Suntali Ghalan to 70-year old Uttardhoj Ghalan, local people of various ages in the village joined in the musical ceremony organized to celebrate the inauguration of solar and wind hybrid system.
It was a historically memorable day for the 291 male and 292 female members of the 83 households of Chisapani village to get the electricity supplied through an off-grid hybrid system and power their television, mobile charger, refrigerator, photocopier, internet or even a water pump to lift water from the nearby Bagmati river for irrigation of their barren land.
"This is an historic day for us. Our dream to see power coming to homes is fulfilled now. Had the Asian Development Bank not supported us in this, we would have to live in the darkness for a long time to come," said Chamar Singh Ghalan, Chairman of Chisapani Solar/Wind Hybrid User Committee.
Inaugurated jointly by secretary of Ministry of Environment Prakash Mathema and ADB's Country Director for Nepal Mukhtor Khamudkhanov, the wind-solar hybrid power system in Chisapani, Hariharpugadhi, is the first of its kind in Nepal to generate electricity to light the village, irrigate the land and start many other ventures, including photocopying business and so on.
Case In Bhurigaun
Although nobody danced in celebration in Bhurigaun in Bardia, in the west, the people of this village also had ample reasons to rejoice. Completed four months ago, the Bhurigaun substation has drastically changed the electricity distribution system of the region.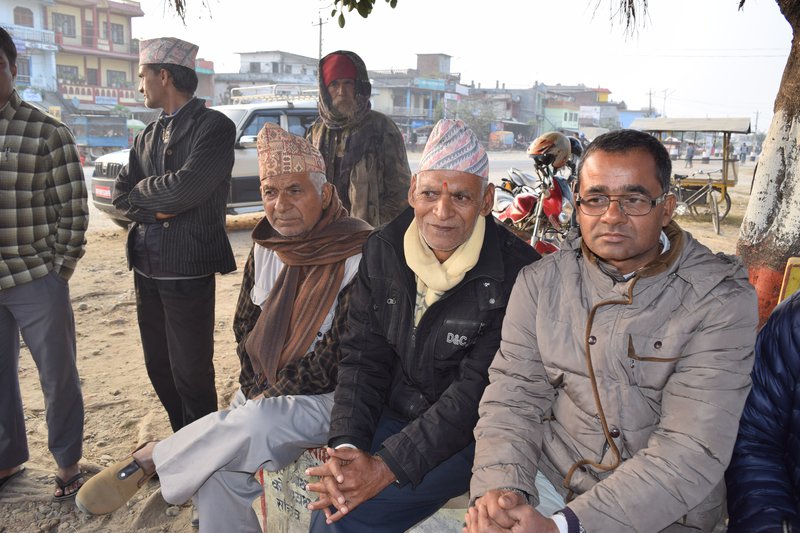 Caption: Beneficiaries in Bhuregaun 
The substation has protection and control system of the transmission line  and facilitates electrification in nearby station, 132/33/11 kV with 30 MVA substation, ending the woes of the people.
"Since the supply started from the substation four months ago, everything has changed in the area. People have resumed the rice mills which were shut down due to voltage fluctuations and many farmers have started to use water pumps to lift water. Along with this, the students no longer need to worry about their classes and studies disrupted due to lack of light," said  Jeeban Kumar Shahi, former president of Bardia District Chamber of Commerce and Industries. "Access to reliable and quality energy is important and that is our experience."
Kalpana Khanal, 32, a  housewife, does not know what to do with the solar panels she had installed spending almost Rs.100.000.00 last year. "Tired of irregular electricity and low voltage problem, we had the solar system installed. Given the present level of power supply, we don't seem to need the solar panels any longer."
Housewives, farmers or businessmen, the quality of electricity distributed from the substation has made their life different. "Our worries have come to an end as we don't have to go outside the district in search of a rice mill. This year most of the farmers brought their rice here for processing," said Kamal Chaudhary.
After the completion of Gaddachauki Substation, people living in Chandani and Dodhara have also got connected with the regular national grid to get quality supply of electricity. Along with transmission lines, Norwegian government had supported this part of the project.
"The government of Norway has been collaborating with the Asian Development Bank to assist Nepal to improve the access to quality and efficient energy system for the rural population," said Bibek Chapagain, energy advisor to Embassy of Norway in Kathmandu. Embassy of Norway is a part of this great project and we are providing the grant to Nepal government to provide inclusive access to energy."
Under the Kohalpur -Mahendranagar 132 kV substation sub project, a substation 132/33/11 kV,30 MVA at Bhurigaon (Bardia) and Pahalmpanpur (Kailali), were completed to ease the problem of voltage fluctuations.
With the implementation of  Electricity Transmission, Expansion and Supply Improvement Project (ETESIP), quality of power supply system has improved, transforming in the region.
Gaddachauki and Bhurigaun
In Bhurigaun Municipality of Bardia District and Gaddachauki of Bhimdutta Municipality of Mahendranagar, the construction of  the new substations has changed the entire economy.
Supplied by 45 kilometer long 11 kV transmission line from Gularia, district headquarters of Bardia, the electricity supply was not only irregular but also low in voltage, not enough to light even a few bulbs.
Supported by ADB and Norwegian government's grant, the completion of substation in Bhurigaun has improved the quality of electricity.
Solar Hybrid
Five hundred kilometers down south in the western plains in Bhurigaun, electricity distribution had started almost 30 years ago through the national grid. But the power quality and voltage were always unreliable.
In Hariharpurgadi Rural Municipality of Sindhuli district,150 kilometers south-east of capital Kathmandu, the new system connects villagers to the rest of the world with quality and efficient power distribution.
Supported by ADB, the 35-kilowatt project, which includes 20 kilowatt wind and 15 kilowatt solar power, built under South Asia Sub Regional Economic Cooperation Power System Expansion Project, will produce 110 kWh daily. There is a demand of 87 kWh a day.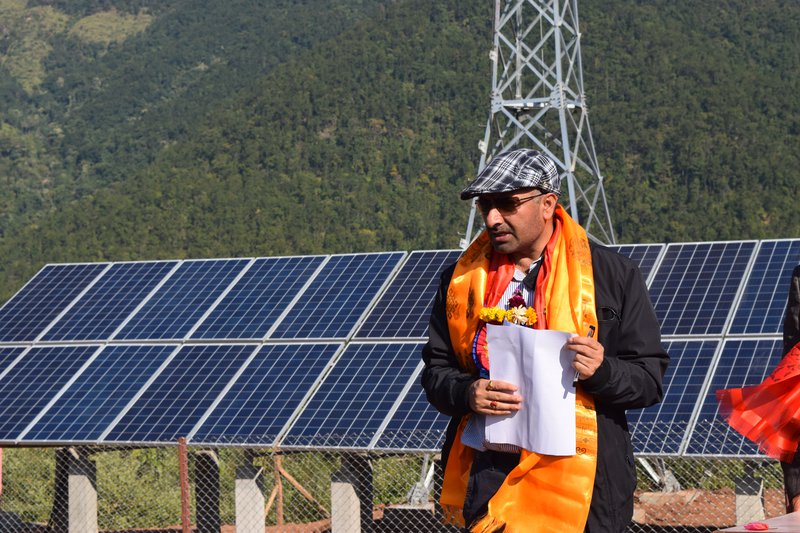 Caption Ram Prasad Dhital, Executive Officer Alternative Energy Promotion Center addressing the program
Built with a total cost of NRs.17.4 million, with ADB's 15.6 million and community equity of 1.7 million, the project will support farmers to enhance agriculture productivity.

"This project provides light to the backward village of Nepal. It is a matter of pride for all of us," said Mukhtor Khamudkhanov, ADB's Country Director for Nepal, to five hundred people in the crowd.
"Access to clean, reliable and affordable energy will help the village to connect to the world through Internet and mobile phones, and will create opportunities to boost local income," said Khamudkhanov, ADB's Country Director for Nepal. "The electricity from the mini-grid will also open the door for commercial activities in the village and help small businesses get off the ground."
"We appreciate ADB's continued support to strengthen the power sector in Nepal and implement innovative renewable energy solutions to help the country achieve the Sustainable Development Goals," said Prakash Mathema, Secretary at the Ministry of Population and Environment.
Implemented by the Alternative Energy Promotion Centre (AEPC), this project represents an example of the Government's commitment and ADB's efforts to scaling up decentralized off grid approaches to rural energy in Nepal.
"Six years ago, the Government of Nepal, with support from ADB, launched its first mini grid wind-solar system in Dhaubadi in western Nepal," said Ram Prasad Dhital, Executive Director, and AEPC. "The success of these two projects has demonstrated that clean energy is indeed a viable option to provide reliable energy access to rural Nepal through wind-solar hybrid systems."
"The  solar power provides them the much needed light in our journey for their prosperity. This will transform our community economically and socially," said Chamar Singh Lama, Chairman of Chisapani Wind and Solar User Group.
National Grid
Till a decade ago, Nepal's national grid had high technical loss due to lack of substations and large areas along the east-west grid remained without electricity.
The off grid electricity system is lighting remote villages like Chisapani, off the national grid, with improvement of the national grid and construction of substations in various regions helping to improve the quality of electricity in the cities and villages, along the east-west highway from Butwal to Gaddachauki of far-western border town.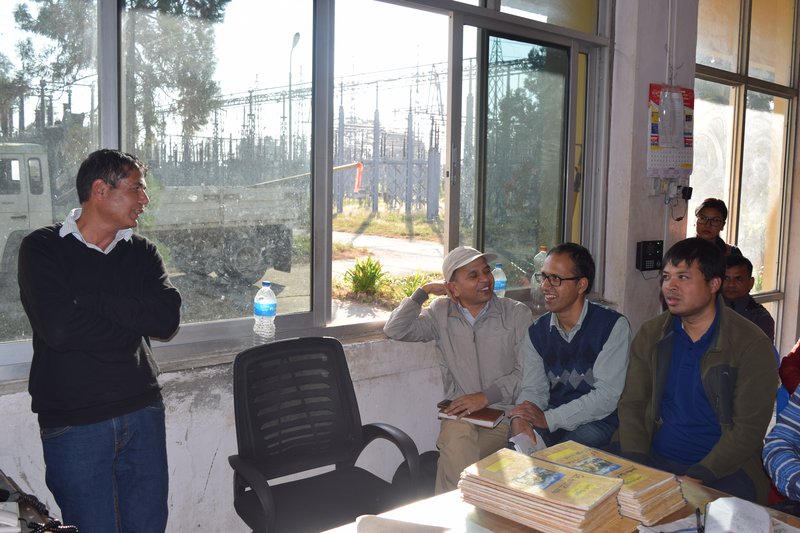 (Project Manger (Ojha Center and ADB's Energy Project Office Manandhar (Right) at Butwal substation 
Under the Butwal-Kohalpur  132 kV substation sub project, an extended 132 kV bay at existing substation at Butwal, Shivapur, Lahahi and Kohalpur is providing connections of 132 kV second circuit transmission line and facilitate electrification in nearby locations.
The completion of 132/33/11kV substation in Butwal has helped end the prolonged load shedding in Bhairawa, a major city in the south western part of Nepal.
Construction of new substation and improvement of the grid not only has made Bhairawa load shedding free but many cities across western Nepal are receiving uninterrupted electricity supply.  
Along Butwal-Kohalpur and Kohalpur-Mahendranagar, many substations have already been constructed to meet the requirements of 132 kV double circuits. Due to upgrading of substation and construction of new ones, Taulihawa, Krishna Nagar, Mainapokhari, Nepalgunj and many other urban areas, along east-west highway and villages and small towns deep inside north and southern parts of Nepal, are seeing rural electrification happening.
This is the major project supporting the upgrade of all the systems constructed to meet the demands of 1980s and 1990s.
"After the completion of the substation, voltage system is stabilizing and distribution of power is more systematic," said Shreeram Pokharel, head of Butwal Substation. "The new substation helps to ease the problems of interruption of power supply."
Charged thirty-two years ago, Butwal Substation 132/33/11 kV is a major electricity hub receiving electricity from Nepal, including import from Balmiknagar of India and a crucial backup as well for mid-west and far-west.  However, the substation was refurnished and updated recently under ADB's support.
With projects like Butwal-Kohalpur 132 kV Second circuit Transmission Line sub-project, Butwal-Kohalpur 132 kV substation sub-project, Kohalpur-Mahendranagar 132 kV second circuit Transmission line sub-project and Kohalpur-Mahendra Nagar 132 kV substation sub-project at work, one can see a visible change in the livelihood of the people.
"These projects will ease the pressure on grid and help to supply quality and reliable electricity to the consumers," said Nawaraj Ojha, project manager
After Nepal's grid expansion and construction of new substations and improvement of old sub-station, Nepal's mid-western and far-western regions are now connected with Nepal's national grid and evacuate the electricity generated in various projects under construction in far western region.
ADB In Power Sector
ADB is helping Nepal improve its capacity to supply electricity and engage in cross-border energy trade with India. Supporting the expansion of Nepal's electricity transmission capacity, strengthening of distribution systems, ADB also supported the rehabilitation of four decades old substation of Gaddachauki, far-western border town of Nepal.
Among all the development partners assisting in the development of Nepal's energy sector, ADB has been a leading partner. The current country partnership strategy (CPS, 2013-2017) is making Nepal's energy sector a key driver of inclusive economic growth. The CPS places high priority on development in the energy sector, to assure energy security in the country and develop energy sector for export.
The energy sector includes power generation and transmission and distribution for large hydropower projects on the regional grid as well as development of smaller alternative and renewable energy projects off grid.
Nepal's transmission lines have been saturated and are not in a position to evacuate power from hydropower plants for distribution to the load centers. However, the recent improvement in the transmission and substation in western, mid-western and far-western region helps distribute quality electricity. According to Nepal Electricity Authority, the current transmission lines need to be improved.
Although power generation has gone up over the years in the far western region with the 30 MW Chameliya and other few projects are ready to generate the electricity, the ongoing improvement of transmission lines can meet the growing requirement.
"As most of the projects are in the process of completion, they will drastically improve the quality of electricity supply in the region. These projects will also help evacuate the power generated in hydro projects which are currently under construction," said Pushkar Manandhar, Project officer, Energy, at Asian Development Bank's Nepal Residence Mission.
Under the co-financing of the Asian Development Bank (ADB) and the Norwegian Ministry of Foreign Affairs, South Asia Sub-regional Economic Cooperation (SASEC) Power Expansion Project is bringing all the change.
"The main objective of the project is to increase electricity access and help overcome power shortage in Nepal. In addition, the project aims to export surplus power to neighboring India by strengthening and increasing the power transmission capacity and network in the country," according to a press release issued by the Asian Development Bank.
The project focused on immediate poverty reduction in the project area as it supports the extension of electricity distribution line to many households in the transmission corridor.
Access to electricity is vital for Nepal's all-round development. This project, a priority initiative of SASEC, is helping NEA to substantially upgrade and expand transmission and distribution lines and substations.
With Nepal's  transmission grid expansion and improvement of the sub-station, major portion of Nepal's mid-western and far-western region is now connected with Nepal's national grid  Nepal's energy sector has made a tremendous progress improving transmission line and substation to provide efficient, reliable and quality power supply across the country.
Improving the power system in Bhurigaon of Bardia, Butwal, Kusum of Rapti and Kohalpur of Banke, Atteria of Seti and Gaddachauki  of Kanchanpur are the parts of regional grid improvement projects. However, Chisapani's hybrid project is a part of off grid endeavor.
Reporting from Hetauda,Bharatpur,Buwtal,Bardia and Gaddachauki