Governor of Nepal Rastra Bank Dr. Chiranjibi Nepal formally inaugurated the representative/contact office at London during a ceremony. Global IME Bank has opened a representative/contact office at Aldershot, Hampshire in United Kingdom (UK) on Sunday, January 21, 2018.  Global IME Bank, amongst one of the leading commercial banks in Nepal has become the first one to open a representative office in UK.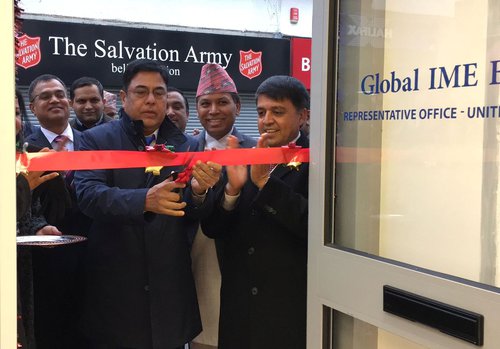 According to a press release issued by Global IME Bank Ltd. Dr. Nepal congratulated and passed on his warm wishes for success in the near future to the Bank for being the first one amongst the commercial banks in Nepal to open a representative/contact office in UK.
The ambassador of Nepal to United Kingdom Dr. Durga Bahadur Subedi, speaking in the ceremony appreciated Global IME Bank for providing services not only in Nepal but outside Nepal as well.
Chandra Prasad Dhakal, chairman of Global IME Bank highlighted the possibility for economic development in Nepal and after the representative/contact office being opened in the UK. He clarified that the bank has been able to expand its services to all seven Province of Nepal. Dhakal also said the Bank also planning to open Branches offices in other different countries of the world.
During the ceremony, many delegates including Aldershot's Council Leader David Cilfford, Mayor of Rushmoo Borough Council, Sophia Choudhary, counselor Alex Crawford and Country consular Bill Withers presented their views and put forward their best wishes for the Bank's achievement.
According to a press release issued by Global IME Bank, Chief Executive Officer of Global IME Bank Janak Sharma Poudyal thanked all those who were involved for the expansion of the representative/contact office in UK during his welcome speech.
The Bank, after opening the representative/contact office in UK will assist in trade and investment management between economic professionals.  Apart from this, Nepalese who are in UK for various reasons including further study and employment will be directly benefitted from remittance and other facilities through the branches of the Bank in Nepal.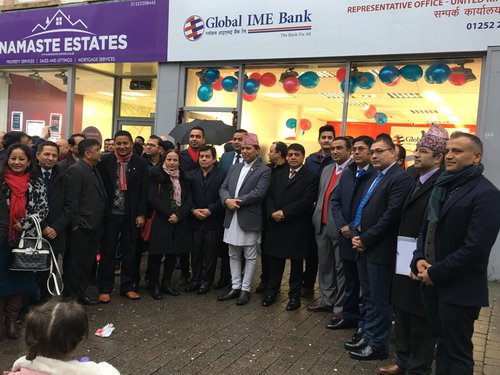 Global IME Bank had earlier opened representative/contact office in Sydney, Australia and New Delhi, India. Global IME Bank with the motive of making banking facilities available to all sectors has been providing these through 113 branches, 127 ATMs, 4 Extension counter, 14 Tax collection center and 60 branchless banking all over Nepal. From its early days the Bank has been emphasizing on remittance service. The Bank has been able to collect most of the remittance form Korea and India. Furthermore, remittance facility form different countries including U.A.E., Malaysia, Qatar, Bahrain has been provided the Bank.