We were highly privileged to be profoundly blessed by Nepal's premier woman diplomat Madam Bhinda Swary Shah when we went to pay our humble respect to her on her auspicious 86th birthday this morning. As we take her as our own mother for so many years, she was very pleased to meet us n got a bit sentimental and emotional. I must confess that whatever positive things I learned in respect of diplomacy were to all intents and purposes entirely due to her instructions who guided me both in the headquarters n our mission in New Delhi.

We also took the occasion to convey greetings from her class friend in the US Richard Murphy who regularly sends mails to me for passing to her as he takes us as her own family members.
A person of several distinctions, Madam Shah continues to inspire us like a beacon. She is the daughter of engineer Padma Sundar Malla who had at least four distinctions. Mall was the first Nepalese to reach the US through Japan. He was also the first electrical engineer of the country. He is so far the first and only engineer who built the power plant outside Nepal as he established Kurseong Hydel plant. He was the first qualified engineer to lose his caste for crossing prohibitive Kaalapani, forbidden territories across the seas.
When he was employed by the Nepal government, he was given pay and perks equivalent to British engineers of the time as he was "outcaste" and not taken as a real Nepalese for many years. Eminent Nepali litterateur Paras Mani Pradhan has given an interesting account of how he along with many Pradhans of India lost their caste twice for partaking food along with the "outcaste" engineer Padma Sundar Malla.
Inheriting her illustrious father's distinctions, Madam Shah had several firsts to her credit. She was the first Nepalese lady to graduate from US (Columbia University), also the first lady to postgraduate from the US as she completed a degree in International Politics from Johns Hopkins University in 1958. She was also the first Nepalese to undergo training in library science that landed her as the celebrated librarian of Central Library that later became TU Library. She offered membership no 1 n no 2 to King Mahendra and Prime Minister BP Koirala respectively in those days.
First lady officer of Nepal's foreign service, she not only applied the skills she learned in the field of library sciences to introduce modern filing system, she rose to become first lady head of mission in Dhaka n later first female ambassador of Nepal when she was posted in New Delhi.
Prior to joining her profession, she became the first Nepalese to top the essay competition organized by the New York Herald Tribune in 1952 when she was completing senior Cambridge course from St Helens Convent in Darjeeling. As a prize winner, she was invited to visit the US with representatives n won the first prize for her impressive presentation. This ultimately led to her pursuing higher studies in the US. She was later posted in Washington DC as our first lady diplomatic officer. Ambassador Matrika Prasad Koirala used to put her on his first list of diplomats of Nepal.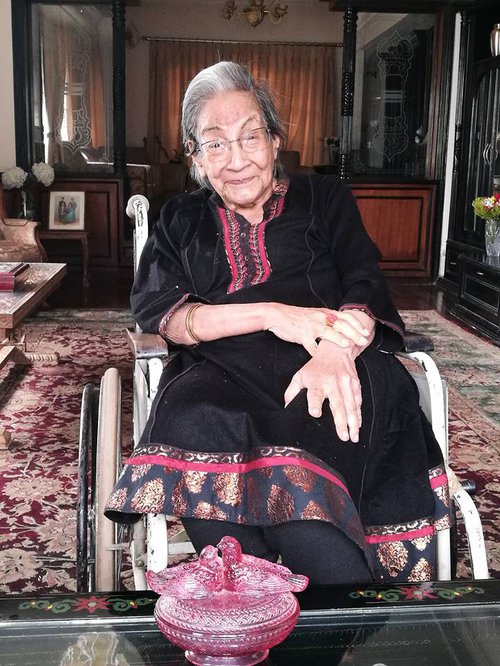 She also broke old taboos by marrying Dr. Narayan Keshary Shah nicknamed Vishnu who made name n fame both in Nepal n WHO SEARO region despite our own caustic failure to realize his almost sureshot position of RD. In New Delhi, they constituted a wonderful couple n we have borrowed one photo from her room that is reproduced here. Dr. Shah passed away exactly eight years ago. Out of her two sons, Anil Shah, a product of FMS, Delhi made his mark as a top banker and her second son, Ujjwal Shah though already a promising entrepreneur, unfortunately, died a few years ago.
As things generally go in our part of the world, Madam Shah had detractors from one range to another leading to her virtual sack from Delhi few months prior to termination of her tenure. Except for one appointee, all her successors have faced this course for one reason or other unsettling the stability of our most important mission. Incidentally, she is the last career diplomat Nepal has sent to India.
On this auspicious day, we wish to congratulate our most affectionate Madam Shah once again n pray to almighty for her long life n good health as she is not only a living institution but also a truly blessing mother for us.
From Face Book