For the second time at the 2018 World Cup, Belgium has defeated England. After beating the Three Lions 1-0 in the group stage, the Red Devils did it again, winning 2-0 on Saturday in the third-place match.
After falling a step short in the semifinals, the teams battled for bronze but it was all Belgium. Eden Hazard and Kevin De Bruyne drove England wild on the counter attack, as Gareth Southgate's team struggled to do much despite having more of the ball and 15 shots, putting five on frame.
England had a great opportunity to even the score in the 70th minute with a chip past Thibaut Courtois, but Belgium's Toby Alderweireld flew into the picture to save the day.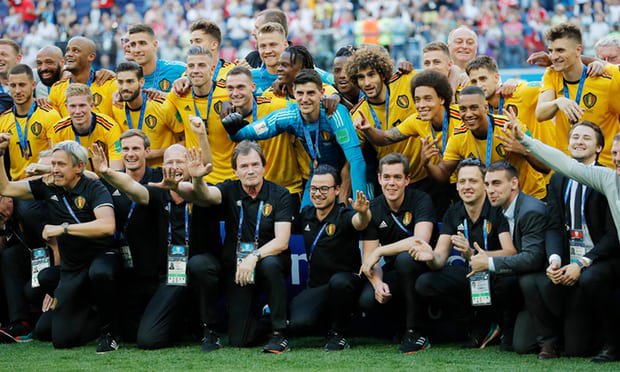 The victory gives Belgium its best-ever finish at World Cup and builds a bit more momentum moving forward. England, meanwhile, continued to struggle in attack and provide enough clear chances for striker Harry Kane.
With their participation completed, both teams figure to be favorites at Euro 2020 alongside France, who play in the World Cup final on Sunday against Croatia.
And the winning goal would come early. Just four minutes in, Thomas Meunier would score the winner on an assist from Nacer Chadli with a fine finish in front of goal:
There was a collective puffing of cheeks offered up by England's players at the final whistle, victims of Belgium's best World Cup showing, but that sense of disappointment will pass quickly enough. Gareth Southgate's young and talented squad did themselves proud over this tournament. No other English team has ever bettered the fourth place they have claimed, unexpectedly and joyously, on foreign soil and their achievements are to be celebrated.
The real frustration had been endured in the Luzhniki Stadium in midweek. This afterthought in St Petersburg, a game played amid Mexican waves and those familiar chants of "Rossiya", should not tint anything that came before. Southgate will actually have been encouraged by the upbeat tempo his side whipped up after the interval, when weary legs and tired minds might have reduced the whole contest to a plod, and threatened for a while to force parity. Chances were created, opportunities were missed. Then Eden Hazard, stirred into action and fed by the irrepressible Kevin De Bruyne, danced down-field and settled the occasion.
Some will no doubt argue that England have still to prosper against top quality opposition in competitive action, if, indeed, that is what this was. Belgium have beaten them twice in this tournament and will be received by the crowds in Brussels on Sunday rejoicing in their best ever performance at the World Cup. Their celebrations at the end, from bench to pitch, reflected a sense of achievement. But, as Southgate had pointed out in the build-up, England never expected to be here. "I'm not sure anyone in our country thought we'd be playing seven matches," he had offered.
They ended up competing well here, despite a slack opening which left them chasing the game almost from the outset. England's second half showing demonstrated all the pride and commitment for which Southgate had called. They were the dominant team after the interval, even if Belgium retained a considerable threat on the break, as demonstrated eight minutes from time by Hazard's smart finish inside Jordan Pickford's post. Yet headers at set-plays would drift wide, and Toby Alderweireld would hook Eric Dier's clipped finish from the line. The stubborn refusal to wilt, despite having shipping a goal with the game in its infancy, was still admirable and said so much about the spirit of this collective.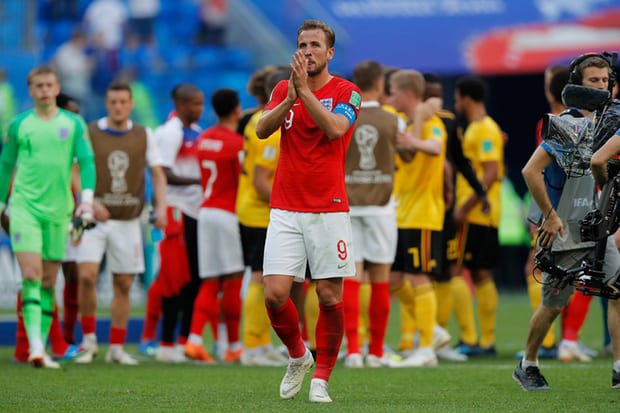 The introduction of Jesse Lingard and Marcus Rashford at half-time had clearly made an impact, but to see the group straining to respond despite weary legs and tired minds was still impressive. There was actually plenty to admire: from Fabian Delph's versatility and fine challenge to thwart Thomas Meunier; to Kieran Trippier's delivery which so stretched even this experienced opposing back-line at times; the substitutes' zest and a far more impressive showing from Ruben Loftus-Cheek; and Eric Dier's increased influence in midfield. It had been the Tottenham Hotspur midfielder, one of five changes from the semi-final, who exchanged passes with Rashford midway through the second half to advance on Thibaut Courtois at an angle. His shot was clipped smartly over the goalkeeper, only for Alderweireld to slide in and scramble the effort from under the crossbar.
England's players massed in front of their supporters after the final whistle, serenaded to the heavens for their efforts, while Belgium prepared to mount the stage to claim their bronze medals. Theirs had been the bite, their ambitions made clear by the reality the wing-backs had combined to force them ahead while the game was still settling into its rhythm. That reward had stemmed from a Courtois clearance, nodded down by Nacer Chadli for Romelu Lukaku to accept and exploit the gaps in a rejigged England midfield. His pass inside Trippier for the galloping Chadli to collect was still superbly weighted, with the West Bromwich Albion player – who would depart before the break with hamstring trouble – squaring across the six-yard box. There appeared Meunier, sprinting in ahead of a startled Danny Rose, to convert beyond Pickford.
Sources: CBS and The Guardian