France has won its second World Cup, beating Croatia, 4-2, in the final in Moscow. Kylian Mbappe and Paul Pogba both scored for France in the second half to put the game away.
Didier Deschamps celebrates with his overjoyed players as their fans cut loose in the stands and in the streets and squares of France.
For Croatia, it's a boulevard of broken dreams, but they can go home with their heads held high. They dominated this match for long periods, putting France under immense pressure. France enjoyed a bit of luck but were ultimately worthy winners. As Dider Deschamps gets the bumps from his players, Antoine Griezmann stands to one side weeping salty tears of joy.Peep! Peep! Peeeeeeeeep! It's all over – France have beaten Croatia 4-2 to win their second World Cup, two decades after their only previous success in the competition.
France has won its second World Cup, beating Croatia, 4-2, in the final in Moscow. Kylian Mbappe and Paul Pogba both scored for France in the second half to put the game away.
Sime Vrsalko is booked for a desperate foul on Antoine Griezmann. From the free-kick, the ball's played in to the penalty area, where Paul Pogba takes his eye off it and mis-kicks completely when scoring looked easier.
Croatia continues to dominate possession, as France sits back. Rakitic tries a couple of very long-distance shots, but they go high.
Pogba down in a heap after that free kick, and Croatia's fans are absolutely certain he's milking time off the clock. They may not be wrong; France has done a ton of this in ushering out other teams.
Croatia tries to quick-play a free kick after a Pogba foul, but Nestor Pitana wasn't ready so he calls it back. The Croatians are decidedly unhappy with his decision, and the cross is too deep — and wasted.
Marko Pjaca nearly runs on to a ball in the box for his first touch, but it's juuuuusssst a bit too far, and he can't keep it in.
Th last French sub (at least in regulation time): Nabil Fekir comes on for Giroud, who has done some hard work today on the defensive side. Croatia make a sub too: forward Marko Pjaca for Strinic, the left back.
The six goals today are the most in a World Cup final since 1966, when England won 4-2 after extra time. The 1958 final, a 5-2 Brazil victory over Sweden, would be the last total higher than six in regular time.
Victor Mather: While 19-year-old Mbappe's goal was one to remember, it does not set a record. A 17-year-old has actually scored in a World Cup Final, in 1958, for Brazil against Sweden. That player? Pele.
A lot of nice build-up for Croatia yields an off-target shot. They can't afford to waste either time or that kind of effort at this point. They need to be more efficient.
France is breaking things up nicely but can't seem to get out of its own half. Corentin Tollisso on for Matuidi now for France, as they make a change, too. Andrej Kramaric, another forward, on for Rebic, the midfielder, as Croatia needs a bit more up front than he was giving.
It was just starting to look very grim for Croatia, with France piling it on. But what was Lloris thinking there? He played that way too slow, and way to casually, and got punished badly. We've really seen some strange goals today, but that one's the leader for sure.
Disaster for France, but mostly for Lloris: lazily trying to touch the ball around a pressing Mandzukic, he instead plays it right off the forward's foot and right back past him into his net.
Kylian Mbappé this time, and it's getting away at 4-1. Hernandez did a good job getting him a ball at the top of the penalty area and, using Vida as a screen, he pulls a shot left and past Subasic, who is left no chance.
Phenomenal inventiveness from Mbappé there to try to bicycle a loose ball to a teammate. It's cleared for a corner, and the chance dies.
That's Pogba's first goal of the World Cup, but it's enormous. For him. For France. And for the referee, Pitana, since the penalty isn't the difference as it stands right now.
Victor Mather: Pogba plays in a more reserved role for France than for Manchester United, doing more of the set-up work (15 passes and four clearances in this game) and getting a little less of the glory. But he scored a classic midfielder's goal there, arriving on the scene and finishing the job.
90+2 min: Kylian Mbappe and Paul Pogba attack down the right flank on the break. Paul Pogba tries to be too elaborate and squanders possession.
Kylian Mbappé did a lot of the work there on the right, dragging Strinic down deep after getting in behind. He cut the ball back to Griezmann near the spot, but he couldn't control it. He juggled once and laid it off for Pogba.
His first shot was blocked, but no one reacted to the rebound when it lay there invitingly, and he stepped up and buried the second chance.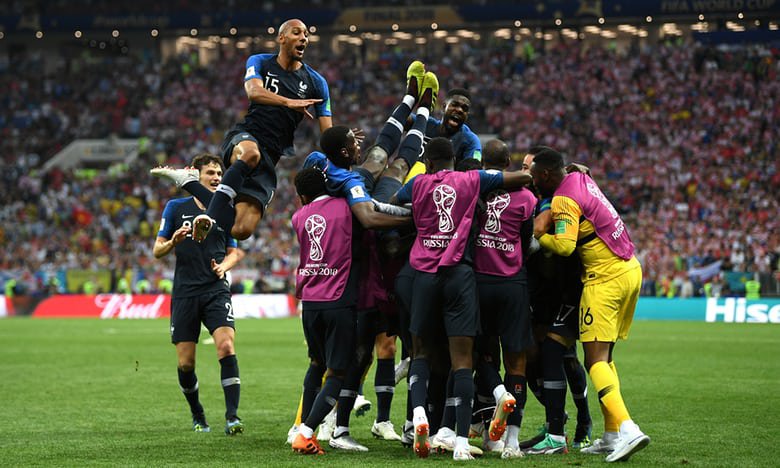 Croatia pressing again, this time through Perisic on the right. But his cross sails on him, and the chance is wasted. Croatia's lack of pace up front demands better than that.Steven Nzonzi on for N'Golo Kanté, who trudges off. He doesn't look happy, but you have to wonder if that's an injury and not just worries about the yellow. Tough to tell, and Deschamps whispering in his ear on the way back to the bench seems to imply it might be the latter.
Either way, Kanté is a big loss for France. Nzonzi can do the same job, but he's not as good at it. This will ask more of Pogba in that role too now.
Disturbance on the field as four people run onto the field from the Croatia end. They're dressed in what looked like suits and hats, and somehow slipped through a rings of security guards. A couple got all the way to midfield, which is really not good. But Russian security drags/carries them off the field. Their day may be about to get a lot less comfortable. The disturbance on the field has been claimed by the opposition activists Pussy Riot.
Agencies