For over forty years, life was hectic for Maharajkumari Rama Malla, the only living Nepali, whose father and grandfather served as prime ministers of Nepal. Her daily chores begin from 8:30 and continue till late night. After breakfast, she leaves her Bishalnagar residence, at 10:30, reaching her office, at the fourth floor of Hotel Malla at 11 AM.
Her office work begins with holding meetings with managers and other executives, discussing the issues of her hotel business. With her title of Maharajkumari, she attends receptions and parties in Kathmandu-based diplomatic missions, government functions and social activities at home and abroad.
In her 70s, Maharajakumari Malla, the chairperson of the Malla Hotel, Malla Travels & Tours, Malla Treks, and Malla Alpine Resort, is actively taking care of her business and social work.
"This life is my own choice. As most of the women, near and dear to me, spend their time sleeping, playing cards, attending evening parties, I feel happy to engage in my business with a hectic schedule daily. As I am independent, I feel a kind of suffocation in the traditional life style in solitary confinements of the house," said Maharajkumari Malla. "I don't care what other says about me. I want to survive for myself. I am not a family person as I am very independent."
Inheriting characters of her liberal father prime minister Padma Sumsher Rana, Maharajkumari Malla does not fear anybody in exercising her own rights. Whether under the rule of monarch or under the republican setup, the direction of Mahrajkukari Malla is unchanged.
Married to Saradindu Malla, son of Babu Sahib Khadga Bahadur Malla, the largest Zamindar in Bardia, at the age of 14, Maharajkumari has three daughters and a son.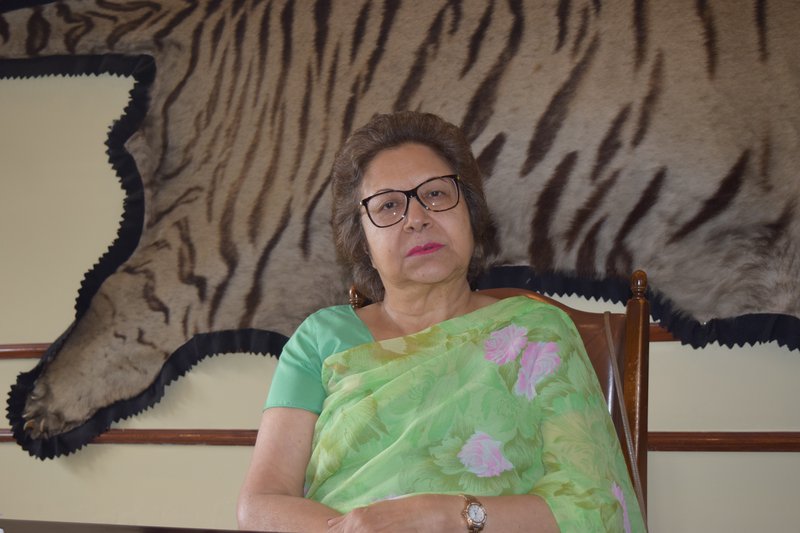 Maharajkumari Malla was born at Bishalnagar Durbar, when her father was the prime minister of Nepal. At age one and a half years, she left Singha Durbar with her father to India in a bronze palanquin.
In his book Tes Bakhat Ko Nepal, Sardar late Bhim Bahadur Pande writes Padma Sumsher Rana left Nepal on February 21, 1948, following pressure from Mohan Sumsher and his men. He left Nepal for India with his wife, small daughter and other officials under the command of General Bijaya Sumsher Rana.
While in New Delhi, Prime Minister Padma Sumsher Rana had a meeting with Indian Prime Minister Jawaharlal Nehru. He then moved to Ranchi for permanent residence.
"I do not remember those events as I was just one and a half year old. However, I was told by my father how he left Nepal and how his nephews insisted him to take the decision against his wish. He told me that he chose to leave the country because he did not like to shoot at his own relatives to remain in power.
Born in a high aristocratic family in Nepal, Maharajakumari lived on her own wishes and choices. Bold and strong, the daughter of Rana Prime Minister, who publicly called himself a servant of the people, saw all ups and downs in the Nepalese power circus.
On 29 November 1945, Padma Sumsher Rana was installed as the Maharaja and Prime Minister of Nepal. In his first address to the people he said," I am the servant of the people."
Historian Pramode Sumsher Rana describes Padma Sumsher in his book Rana Intrigues as the first prime minister to call himself a servant of the people. "His predecessors had considered themselves the masters, and they had behaved in like manners. In this context, Padma's speech showed a marked deviation towards the liberal rule and was appreciated by the political thinkers and elites of Nepal," writes Rana in his book. In January 1948, Maharaj Padma Shamsher announced the Government of Nepal Act 1948, which provides certain fundamental rights to the people.
A graduate in psychology from the Loreto Convent College in Calcutta, Maharajkumari is the Patron of Padma Kanya Girls' Campus and Padmodaya Boys' High School, both in Kathmandu, and the Vice President of Nepal Art Council, a Life Member of the Nepal Heritage Society, the British Council, and the Nepal International Center.
She is a regular world traveler in her own right, and has participated in various international tourism seminars and conferences. Maharajkumari is among a few Nepali people, who was given official treatment at Buckingham Palace.
Her hobbies include visiting museums of the world, the arts, ballet, and opera. Her goals in life are to serve the nation, to make Nepal more beautiful than before, to help educate the children and youth of Nepal, and to generate more employment.
Maharajkumari Malla has been decorated by King late Birendra Bir Bikram Shah Dev with the Order of the Prasiddha Prabal Gorkha Dakshin Bahu, Second Class, "for her outstanding contribution to the Nation."
Although she was born as the only daughter of Rana Prime Minister Padma Sumsher and got a grooming in the most aristocratic family, Maharajkumari Malla, the grand daughter of Bhim Sumsher Rana defied all odds and traditions and started the business and life on her choices. "This venture gives us name, fame and success."