It is my pleasure and honor to welcome you and the distinguished delegates from the People's Republic of Bangladesh for this meeting on "Cooperation in the field of power sector" between our two countries. It is an opportunity for us to exchange views on key issues of mutual interest in order to embark on cooperation in the power sector.
Nepal and Bangladesh are close and friendly neighbors, and the two countries have forged a diplomatic relationship of mutual trust and respect since 1972. Ever since the establishment of diplomatic relations, our two countries have excellent cooperation in bilateral trade and other economic activities. The cooperation in power sector is yet to be created.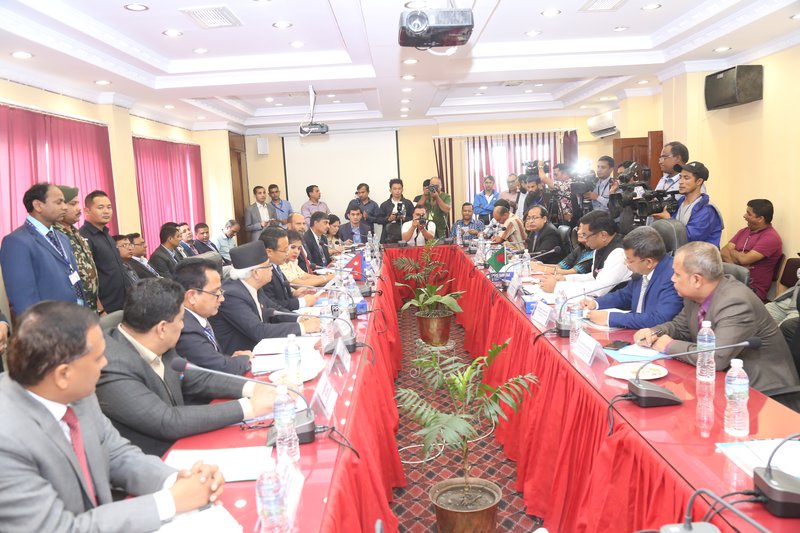 The need of cooperation in power sector has been realized by us a long time back. A Joint Working Group (JWG) at senior officials level were formed and few meetings were also held in past. While those mechanisms could not find right path and somehow became non-functional, the ministerial level visits with the invitation of during the period of 2014 and 2016 had laid a foundation to frame a cooperation in power sector in the form of present MOU that we will shortly sign.
I would like to take this opportunity to express my gratitude to the Government of the People's Republic of Bangladesh for your eagerness to enter into such cooperation. The government of Nepal was also in favor of this MOU from the day proposed by your side. However, due to the political transition in our country, we had to wait few years before we could hold this meeting. With the end of political transition and strong government in place, our priority has shifted to achieve and make Nepal prosperous by utilizing the rich water resources that nature has bestowed on us. We are aware that present government of Bangladesh has a great contribution in its economic growth. Therefore, I believe that the cooperation in the field of power sector that we intend to frame for the mutual benefit of both the countries, has come at the right time.
Despite being rich and having enormous potential in water resources, only about 2% of the techno-economically viable potential has been harnessed so far.About 87% of population at present have an access to electricity through grid or off- grid power supply. The Government of Nepal has adopted policy for the optimum utilization of water resources to generate hydroelectricity through private sector involvement since 1992. With this initiative, more than 4000 MWcapacity of various hydropower projects are in different stages of construction and in the next 3-5 years, electricity generation is expected to reach three fold of the current capacity of our country. Recently, on May 8 2018, I have released a White Paper on current situation and future road map for "Energy, Water resources and Irrigation Sector". We have set a target to generate 15,000 MW of hydroelectricity in ten years and we intend to set aside 5000MW for external power trade.The seasonal complementarity arising from the electricity demand pattern existing in the neighboring countries, including yours, justifies the mutual cooperation among us. This situation has created an opportunity to havesub regional electricity trade among us and get benefitted.
Nepal has been importing about 400 MW of electricity from India.The Dhalkebar-Muzaffarpur, the first 400 kV cross border transmission line between Nepal and India has been in operation since 2017. The Butwal-Gorakhpur, second 400 kV cross border transmission line between Nepal and India is also being initiated.Like wise we understand that Bangladesh is importing 500 MW of power from India through 400 KV Bheramara-Baharampur High Voltage Transmission Line and has future plan for additional cross border electricity trade. At this stage, we need to build on the existing bilateral mechanisms between Nepal-India and India-Bangladesh to achieve sub regional cooperation. That's why I believe that cooperation through the MOU that we are about to enter will serve not only as an important platform to strengthen our cooperation in power sector but also as a stepping stone in our continuous effort in realizing the aspiration to achieve energy security through regional/sub regional cooperation.
Pun is Minister of Energy, Water Resources and Irrigation. Excerpts of opening Remark delivered during Nepal Bangladesh MOU Signing Ceremony.