On Thursday, 27th September 2018, Hotel Yak & Yeti celebrates its 41st year anniversary. The hotel was opened in 27th September 1977, the same date as the World Tourism Day, and has successfully completed 41 years of operation.
Hotel Yak & Yeti, as it stands today, is inextricably linked to Nepal's colorful history and culture. This 5-star property of 270 rooms is designed to complement the style of the Lal Durbar Palace. The traditional Nepali features have been preserved to offer and exceptional environment while providing all the modern facilities and comforts required for a 5-star luxury. Over the years the hotel has been upgraded and extended and now boasts a shopping arcade, swimming pool, two tennis courts and a state of the art fitness center and luxury spa.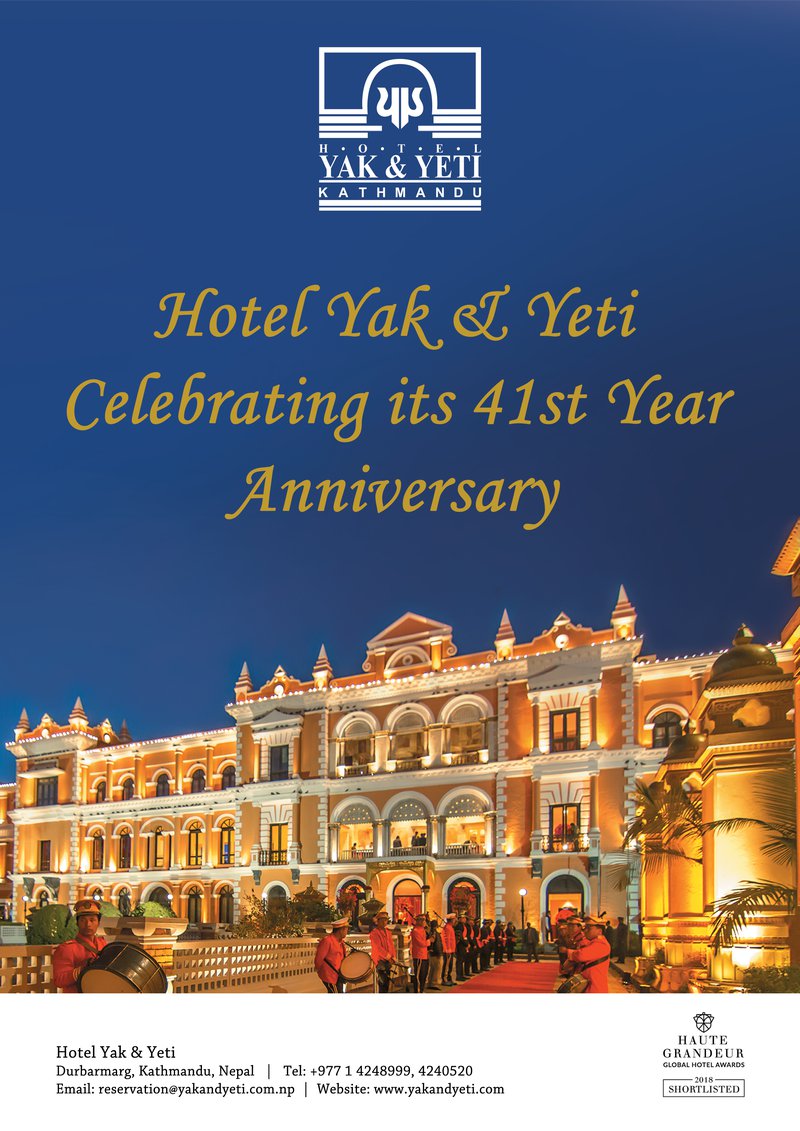 According to press release issued by Hotel Yak & Yeti, the Lal Durbar Convention Centre at Hotel Yak & Yeti is Kathmandu's largest convention centre with artifacts and antiques that have been lovingly preserved, maintaining the splendor of the Rana times. The Lal Durbar has successfully hosted more than 1500 local and international banquet functions since its 40th anniversary.
During the 40th year of operation, and in honor of the hotel's 40th anniversary, the hotel has taken the initiative to engage in various community service activities to bring awareness to important social, cultural and environmental issues that will contribute to the betterment of our society. Starting from the 40th anniversary day on 27th September 2017, Hotel Yak & Yeti has conducted various community service activities till date, such as:
Dental Hygiene Camp for Shree Bal Bikash School
Lunch programs and magic show for the underprivileged
A wish tree and lunch program for underprivileged children during Christmas
Durbar Marg Cleaning Campaign
Dance exercise and lunch program in association with the Nepal Parkinson's
Disease Association (NepDA)
Animal/Cow Shelter Awareness Program in collaboration with Art of Living, Nepal.
Recycling demonstration program, art contest and lunch for children from Tangal Secondary School on Earth Day to encourage to #endplasticpollution.
Donating supplies to Helping Hands for the Deaf – A hostel from deaf children
The hotel has also successfully executed many exciting F&B promotions throughout the year such as: -
A progressive and contemporary Nepali menu for Nepali New Year 2075
7 Lucky Foods for the Chinese New Year 2018; Year of the dog.
Gout de France
Sri Lankan Food Festival
Mango Mania
Beer & Wings
Epicurean Extravaganza – The taste of India
Experience Jamaica – Caribbean Food Promotion and is now kick-starting the 41st year anniversary with a 401 Martinis concept bar promotion.
The hotel also hosted two cocktails and conversations events for its guests: -
Cocktails & Conversations – Cocktail Reception for health club members
Cocktails & Conversations – Women of the Industry on International Women's Day