In the beginning, hosting Asia Pacific Summit was a matter of consensus among major political parties. With the political leaders of major political parties, including RPP-Nepal, one or the other way,being a part of Universal Peace Foundation, the summit was broadly a consensus event.
As NCP leader and former prime minister Madhav Kumar Nepal decided to lead, the government also agreed to co-host the conference. Invitations were sent to heads of governments, Prime Minister of Cambodia Hun Sen and State Councilor of Myanmar Aung San Suu Kyi.
Following the release of participants who were mostly representing the secular forces including former Indian prime minister H.D. Devegowda, the summit was also projected as an anti-BJP platform.
As the country was preparing to host the summit organized by Christian Missionary, Nepali Congress leader Bimalendra Nidhi issued a statement opposing the proposed visit of Chief Minister of Utter Pradesh Yogi Adityanath to Janakpur. Some former leaders from Madhesh, including former Minister Jaya Prakas Ananda Gupta, backed Nidhi's stand.
Giving state backing to Christian missionary's program and opposing Yogi Adityanath, a priest of Gorakhnath, and visit to Nepal by secular politicians sparked the sentiment of the majority of people of Hindu faith.
Then the whole episode changed. Furthermore, the announcement of odd and evennumber for transport in Kathmandu from November 29 to December 3 by the government intensified the public anger. After a massive protest, it was withdrawn the second day.
Had not the government co-sponsored the program, the summit would not have generated this massive controversy. Similarly, participating leaders were also geo-politically unfavorable.
Another controversial matter was UPF co-founder Dr. Hak Ja Han Moon's World Peace Blessing to 600 couples, including NCP leader Madhav Kumar Nepal.
Although former minister and leader of NCP Ek Nath Dhakal was in the founding of UPF-Nepal, he was not seen in the front.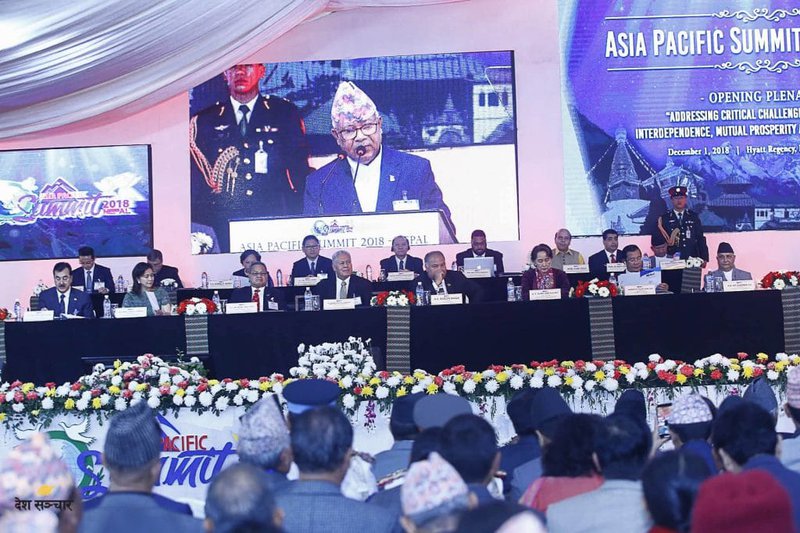 What is Universal Peace Foundation Nepal?
Rev. Sun Myung Moon and his wife, Dr. Hak Ja Han Moon, are the founders of the Universal Peace Federation, which was established in 2005. Rev. Moon was born a farmer's son on January 6, 1920, in what is now North Korea. He began his ministry after World War II and was later imprisoned in a communist labor camp for three years before being liberated by U.N. forces during the Korean War in 1950. He went to the United States in 1971.
Rev. and Mrs. Moon are proposing a revitalized, renewed United Nations with more than 50,000 diplomats, clergy, and civic leaders, current and former heads of state appointed as Ambassadors for Peace. Among the programs of the UPF are the leadership conferences and the Middle East Peace Initiative. UPF promotes the UN's Millennium Development Goals and is fighting against the spread of AIDS. It encourages youth to work for peace through community service. Rev. and Mrs. Moon's lifelong goal is "One Family Under God."