South Asia is the world's most vulnerable region in terms of water security. A region of nearly two billion people, South Asia has already begun to experience water-related disasters caused by extreme weather. Similarly, rising temperatures are endangering the Himalayan glaciers and disrupting seasonal flow.
In this scenario, BWSSA will most likely find a way to manage the water by constructing various types of dams in various locations. Climate change is already affecting the water on the surface, the air, and the ground, according to studies.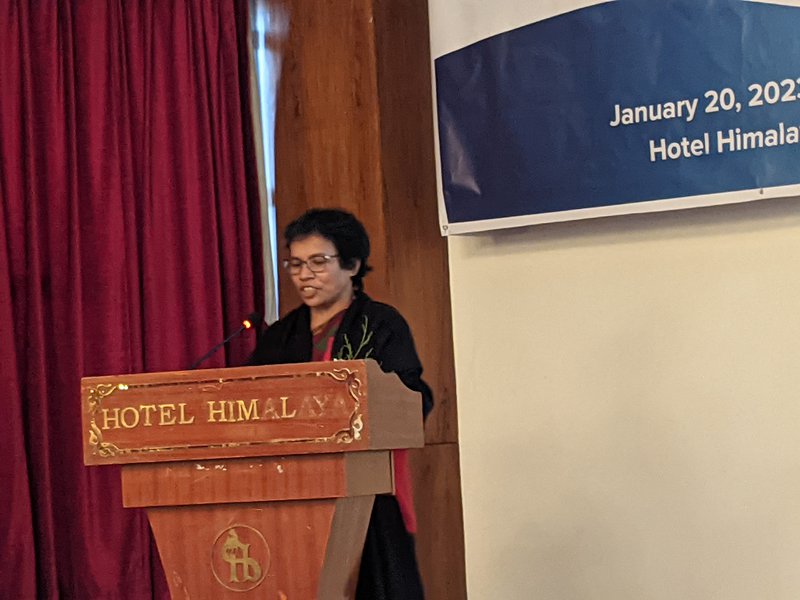 The Water Resources Research and Development Center at Nepal's Ministry of Energy, Water Resources, and Irrigation (MoEWRI) was inaugurated by Sarita Dawadi, Senior Joint Secretary and Executive Director of the Water Resources Research and Development Center.In her inaugural address, Dawadi states the importance of water storage for socioeconomic development in Nepal. She highlights that women are mostly dependent on natural water storage, so women should be key actors in this project.
"We should be thinking about all types of water storage—natural and human. "This project will identify water storage gaps & strengthen national capacities for integrated water-storage planning and management, taking the context of climate changes into account," said Dawadi.
The project aims to contribute to a sustainable transformation in the way water storage is perceived, planned, and managed.
In the context of fast snow melting, natural wetlands, moisture, lakes, and swamps are also disappearing. With all these events, people are facing a scarcity of water for irrigation and drinking.
In South Asia, different kinds of water storage technologies have been used. There are glaciers, soil moisture, aquifers, reservoirs, ponds, tanks, and high dams that have been constructed by nature or humans for storing water. With increasing capital costs, environmental and social costs, and management complexity, deep Shallow small, and large dams have been regulating the water in South Asia.
Funded by the US State Department, various stakeholders, including high-level officials from the government of Nepal, water experts, former ministers, and academics, participated in the workshop and presented their views.
IWMI-Nepal's Country Representative, Manohara Khadka has welcomed all the participants attending the program. She has thanked the State Department, the funder of this three-year project to increase water security, and partners.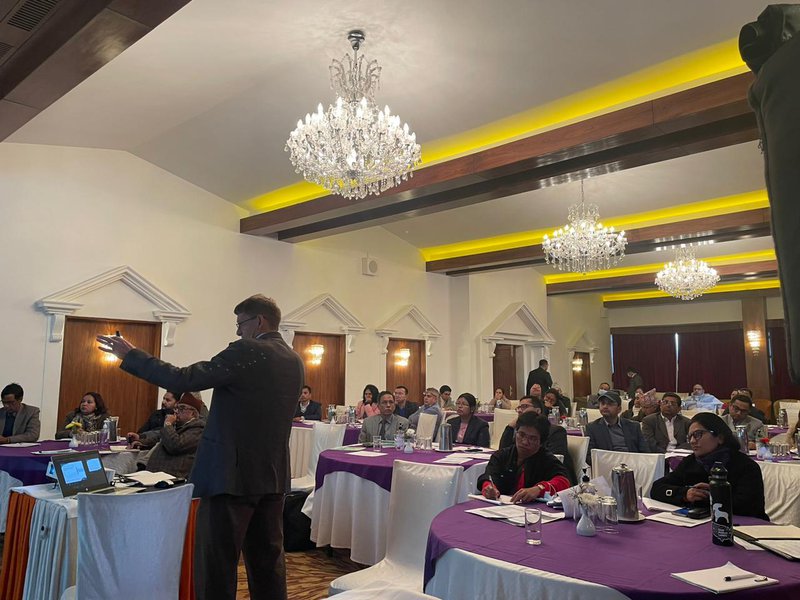 Dr. Matthew McCartney, project lead for BWSSA, states that there has been a net loss of, 27,000 billion cubic meters of water storage over 50 years. This decreases the capacity of river basins in the region to cope with hydro climatic variables and increases the risks of extreme events.
He presented the project background, the rationale for integrating natural and built water storage, sustainable water infrastructure, and the ecosystem. Lal Induruwage, the GWP representative, also presented his views.
The one-day workshop concluded with a vote of thanks by Susheel C. Acharya, the Director General of DWRI.
The group discussed and reiterated the importance of including women as managers and planners of water storage projects, rather than just beneficiaries or end users.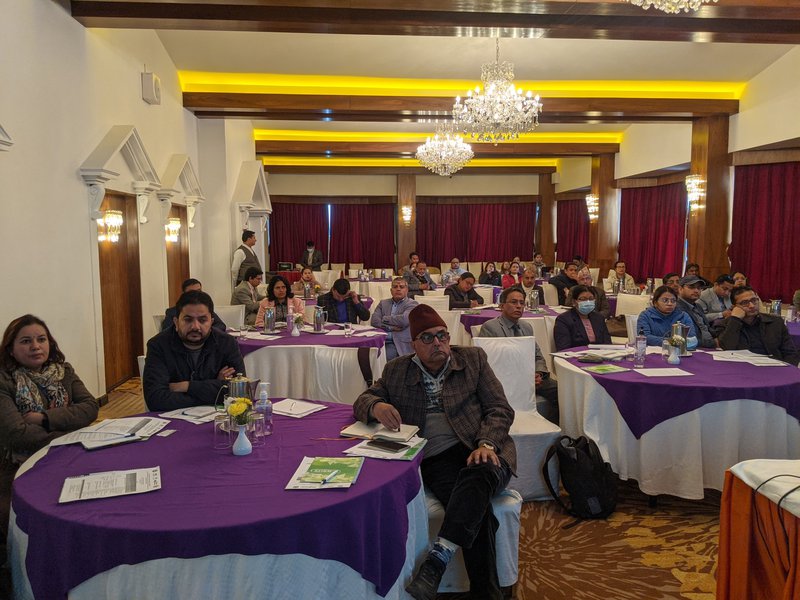 Patrick S. Gan, the Regional Environment, Science, Technology, and Health Officer for South Asia, U.S. Embassy in Kathmandu, expressed confidence in the BWSSA initiative, jointly presented by IWMI-Nepal, GWP and DWRI-Nepal.
Following the inaugural session, experts presented an overview of national water security and storage. In his presentation, Pabitra Gurung, the project country coordinator at IWMI-Nepal presented the overall situation on water resources and water security, climate change and climate change impact, policies that influence water storage, GESI in the water sector, and water-related projects of IWMI Nepal. Dr. McCartney finally summarized how the project addresses water security issues.
Group Discussion
Divided into four groups, the participants presented their views on critical water storage issues. Group one presented on the theme Water, Energy, Food, Environment - Future Demands and Trends, Implications for Storage. This groups guiding question was: What are the implications of likely future sector water demands for storage? How can we determine future water storage needs? Moderators were Dr. Kapil Gnwali, WECS, Dr.Vishnu P. Pandey, IOE and Dr. Nilahari Neupaane, IWMI.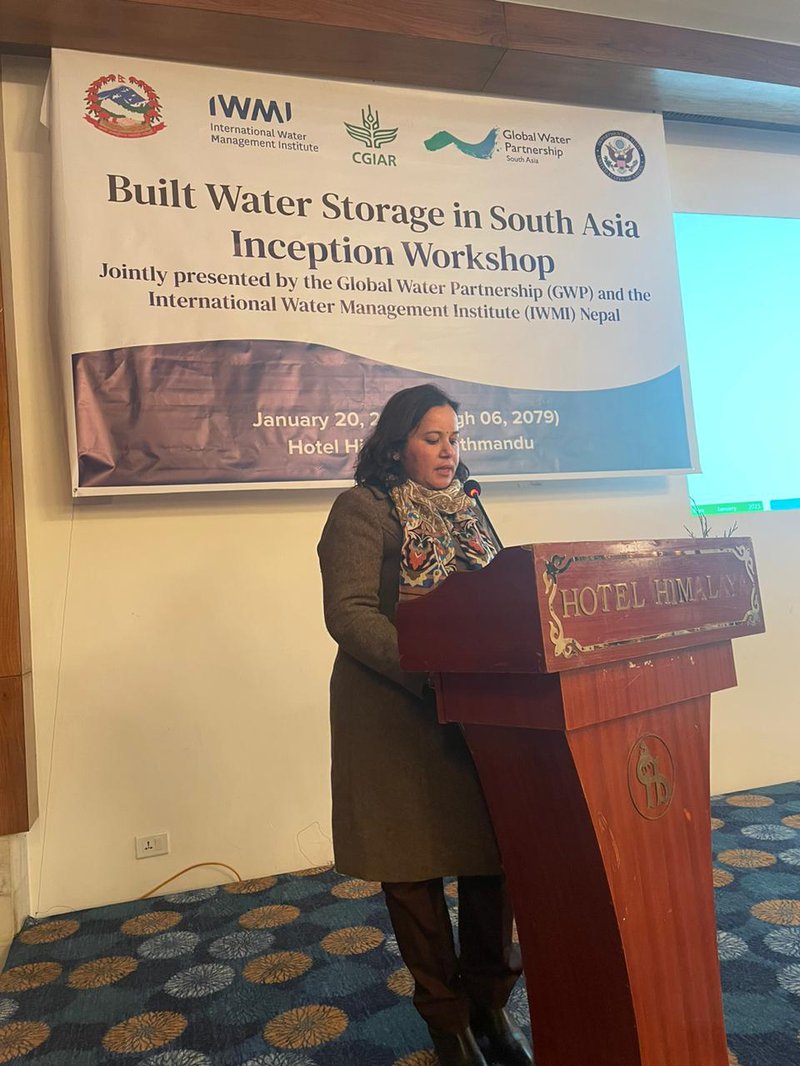 Similarly, Group 2 theme was Policies, institutions, and transboundary cooperation. The guiding question of the group was: How do current policies (not only water policy, but also other sectors (e.g., agriculture, energy, and environment)) affect: a) water storage needs/requirements and b) water storage planning and management? Are there transboundary agreements of any kind that impact on water storage currently or may do so in the future (e.g., energy agreements between India and Nepal)? Presenters were Sanjeev Baral, DWRI and Shristi Shakya, IWMI.
Group 3 theme was Gender and Social Inclusion – Constraints and Opportunities in Water Storage. The presenters were Sijal Pokharel, UNESCO and Dr. Sanju Koirala, IWMI. The guiding questions followed what experience is there of gendered impacts of water storage in Nepal? How should water storage planning and management in the future better incorporate gender?
Likewise, group 4 theme was Investment and Cross-sectoral Synergies for Water Security and Water Storage. Led by Dr. Rajan Bhattarai, DHM, Jigyasha Rai Yangkhurung, DWRI and Pabitra Gurung, IWMI, the guiding questions were: Any insights on investment in water storage? Currently what investment is there and where is it coming from? How does it need to change in future? What are the opportunities for future investment in water storage (particularly in non-traditional water storage (e.g., Nature-based Solution-NBS)?
In their presentations, all groups focused on science, knowledge, and data, capacity development, and requirements. They also presented water resources as natural and artificial reservoirs, snow and glaciers, wetlands, groundwater, and soil moisture.
Experts also stressed the need for water storage to not be treated as a stand-alone project, but rather be integrated into IWRM and NEXUS approaches for holistic water management.
This program will address one of South Asia's most pressing development challenges: enhancing water security through better planning and management of, and greater regional cooperation around, natural and built water storage systems. As emphasized by the recent "White House Action Plan on Global Water Security," water security is essential for sustained economic growth.
Project's Purpose
According to the project, enhancing adaptive capacity and improving water security through water storage in South Asia Natural and built stores of fresh water are critical for both ecosystem vitality and societal development, enabling natural and human systems to cope with temporal variations in water supply and demand.
Given the variability of rainfall and the effects of climate change, South Asia's water storage is insufficient to meet current, let alone future, water demand. Further, the benefits and risks derived from its distribution and availability are deeply unequal within and between countries: large segments of both urban and rural populations, especially women, the poor, and people from disadvantaged communities, suffer from serious water deprivation. Additionally, there are interstate tensions over the management of shared river basins.
Water insecurity, exacerbated by climate change, has contributed to conflict within and between countries in other regions of the world.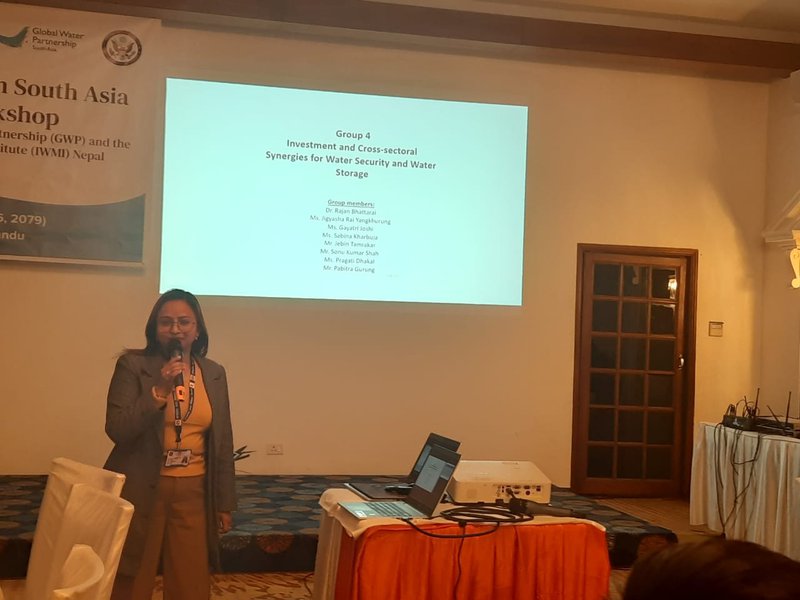 Although the South Asia region is diverse in terms of ethnicity and political system, what these countries have in common is their natural ecosystems and environments. "Given this background, the program will work closely with national governments and other stakeholders to enhance water security through more integrated water storage planning and management," said the project.
After the implementation of the project, it will increase understanding of gaps in water storage needs in the context of climate change and integrated water resources management (IWRM) and increase national and regional capacity to address these gaps and optimize water security. Build capacity for IWRM, including data collection and modeling, to address water management challenges with a focus on storage gaps are other objectives of the project.
Similarly, the project will also promote trans boundary cooperation to address gaps in water storage needs by facilitating cross-border and regional dialogue to promote greater cooperation to achieve mutual water security goals and analyze the roots of the substantial "gender gap" among technical staff and decision-makers, and identify and promote ways to overcome this gap.
Water for Storage
The demand for water storage is increasing as the human population grows and socioeconomic development progresses. At a time when the impacts of climate change are becoming more visible, including the devastating floods of last year in Pakistan and the prolonged winter drought in the region, water security is going to be a major threat.
However, the capacity to store water is decreasing. Scientists hold the view that, largely unrecognized, declining water storage is a major contributor to local and regional water crises. This is ultimately threatening millions of people and many ecosystems throughout the region.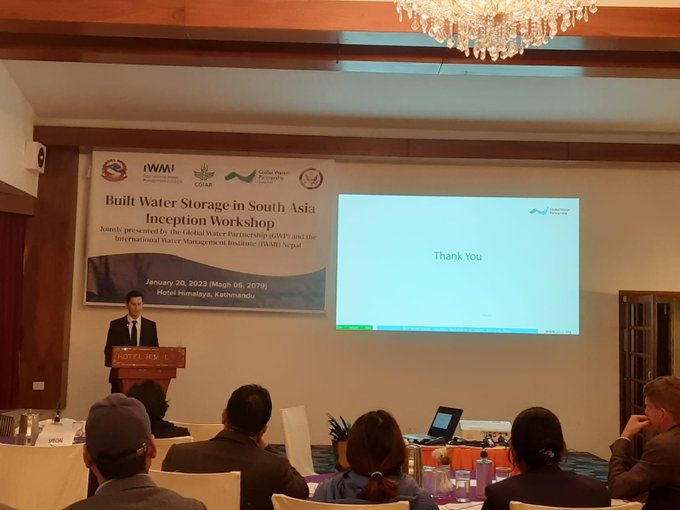 After decades of degradation of lakes, wetlands, watersheds, and soils, sedimentation of reservoirs, and over-abstraction of groundwater, we have undermined both natural and built water stores.
With the partnership of various organizations, IWMI researches on the sustainable use of water and land resources, knowledge services and products, capacity strengthening It also holds dialogue, and policy analysis to support the implementation of water management solutions for agriculture, ecosystems, climate change, and inclusive economic growth
Project engagement
In close collaboration with relevant government ministries and other stakeholders, the project is built around three interlinked work streams. The first work stream, understanding water storage gaps and options to fill them, will develop tools and approaches to map and investigate the seasonal dynamics and trends in different types of water storage.
Given the current scenario, storing water is the only available way of coping with water insecurity and climate change challenges. Experts argue that water storage provides a buffer to manage uncertainty and variability.
Experts hold the view that the dams contribute to adaptive capacity by enabling rural communities to satisfy domestic water requirements in drought periods. The dams also help farmers to grow crops in dry seasons and provide water to livestock to survive through the dry season. Finally, the dams regulates rivers to flow all year round, and support to generate hydroelectricity.
As in the past, IWMI-Nepal's BWSSA project will come out with broader suggestions to help the country-specific water shortage issue, trans boundary water sharing and gender issues.
As IWMI-Nepal's Country Representative Manohara Khadka said in the inauguration program, the project would be a game changer in water security in the South Asia, and views expressed in the inception workshop give many homes.