The handover ceremony of the reconstructed Shree Sahid Jagat Prakash Jung Shah Sanskrit Secondary School took place in Bidur Municipality, Nuwakot District on February 2.
The school was severely damaged by the 2015 Gorkha Earthquake, but it has been reconstructed under the "Emergency School Reconstruction Project" (ESRP), which is a Japan assisted project to reconstruct many schools. On behalf of the Government of Japan Kikuta Yutaka, Ambassador of Japan to Nepal, sent his congratulatory video speech to the people who have made contributions under the ESRP, in particular, the team of Shree Sahid Jagat Prakash Jung Shah Sanskrit Secondary School.
Ambassador Kikuta stated that "Japan launched ESRP aiming to reconstruct 274 schools in total, covering six severely hit districts. As of today, 273 schools, including this one, have been completed. Moreover, ESRP aims to rebuild and refurbish schools under the concept of "Build Back Better" to make schools more earthquake resilient." Ambassador Kikuta welcomed the increase in the number of students during the reconstruction of the school.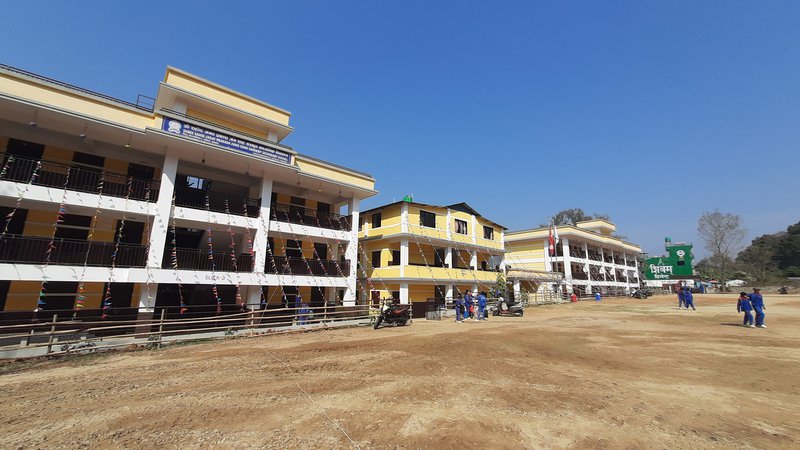 The school is now receiving students from all over Nepal. He also mentioned that 2022 was the 120th year since Nepal dispatched its first eight students to Japan for study, and expressed his hope to see many students who have studied or are studying in the school play a future leading role in the people-to-people relationship between the two countries as well as in the development of Nepal.
The Embassy of Japan in Nepal hopes that the ESRP schools further strengthen the relationship between Japan and Nepal, and the friendship between the peoples of the two countries for future generations.