Minister for Education of Bangladesh Dr. Dipu Moni and Ambassador of Nepal to Bangladesh Ghanshyam Blumdari jointly inaugurated the five day-long Nepal-Bangladesh Cultural Festival 2023 in Dhaka.
Organized by the Embassy of Nepal in collaboration with the Bangladesh-Nepal Friendship Society and Bangladesh Shilpakala Academy at National Theatre Hall, it will continue till March 18.
The cultural program is a part of the Nepal-Bangladesh Art and Culture Festival 2023 organized in the context of the 50th Anniversary of the establishment of Nepal-Bangladesh Diplomatic Relations.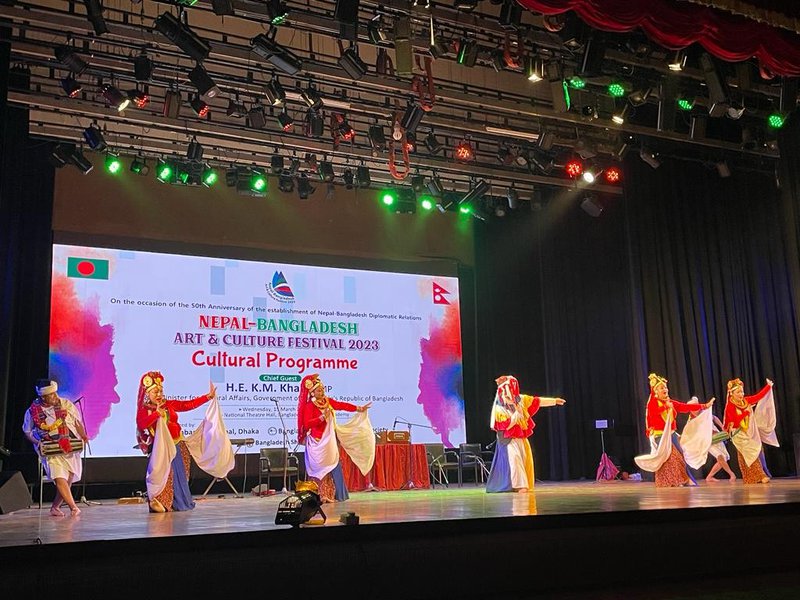 The Festival is one of the even organized this year to mark the 50th anniversary of the establishment of diplomatic ties between Nepal and Bangladesh.
Speaking on the occasion, Ambassador Ghanshyam Bhandari underscored the close cultural and linguistic linkages that serve as the foundation of Nepal-Bangladesh friendship. He expressed hope that the festival would be instrumental in further cementing the artistic and cultural bonds between the two countries.
Chief Guest of the program appreciated the efforts made by both sides to promote rich and vibrant art and cultural heritages and highlighted the importance of cultural exchanges to further strengthen the relations between the two countries.
Foreign secretary of Bangladesh Shabbir Ahamad Chowdhury underlines the cultural similarities between Bangladesh and Nepal.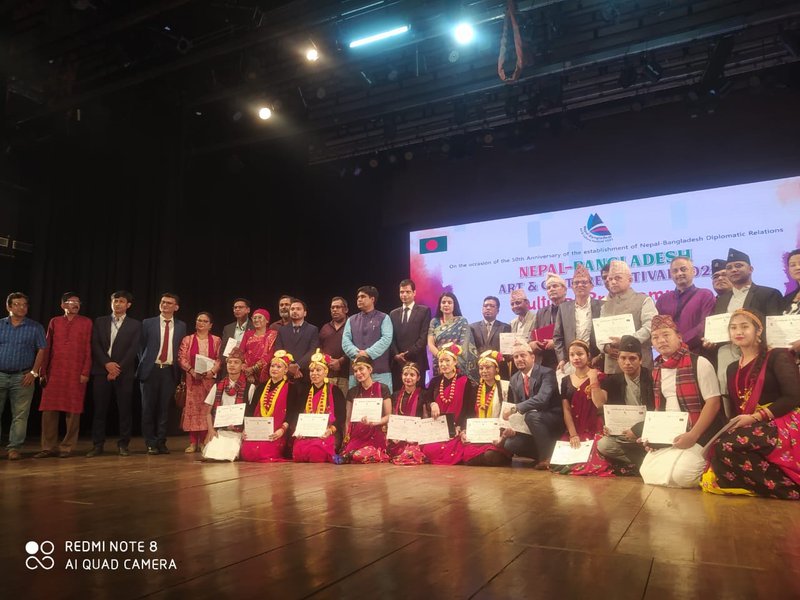 Salahuddin Ahmed, Secretary of Bangladesh Shilpakala Academy, commended the initiative and pledged the Academy's continued support in promoting art and cultural exchange between the two countries.
Delivering his welcome remarks, President of Bangladesh-Nepal Friendship Society Moshiur Ahmed stressed the significance of the Festival in celebrating the long-standing friendship between Nepal and Bangladesh
The inauguration ceremony was attended by guests including diplomats, artists, scholars, students. and people from all walks of life. The Festival includes a five-day-long painting and photography exhibition will showcase the ban works from Nepal and Bangladesh at the National An Gallery of Bangladesh Shilpakala Academy.