With the aim of promoting Japan and her culture to the friendly people of Nepal, the Embassy of Japan is organizing the Japan Day and Japanese Film Festival in Kathmandu on March 25 and 26, 2023, in cooperation with the Japanese Language Teachers' Association Nepal (JALTAN).
Japan Day (10:30-16:00 on 25 March) will feature the demonstration of Yukata/Hippi coat wearing, Calligraphy writing, Origami making and many more exciting Japanese cultural events at the National Theatre Jamal.
Entry to the both events is free on a first-come-first-served basis. Two Japanese films on March 25 (Sat.) and three on March 26 (Sun.) will be screened on the occasion.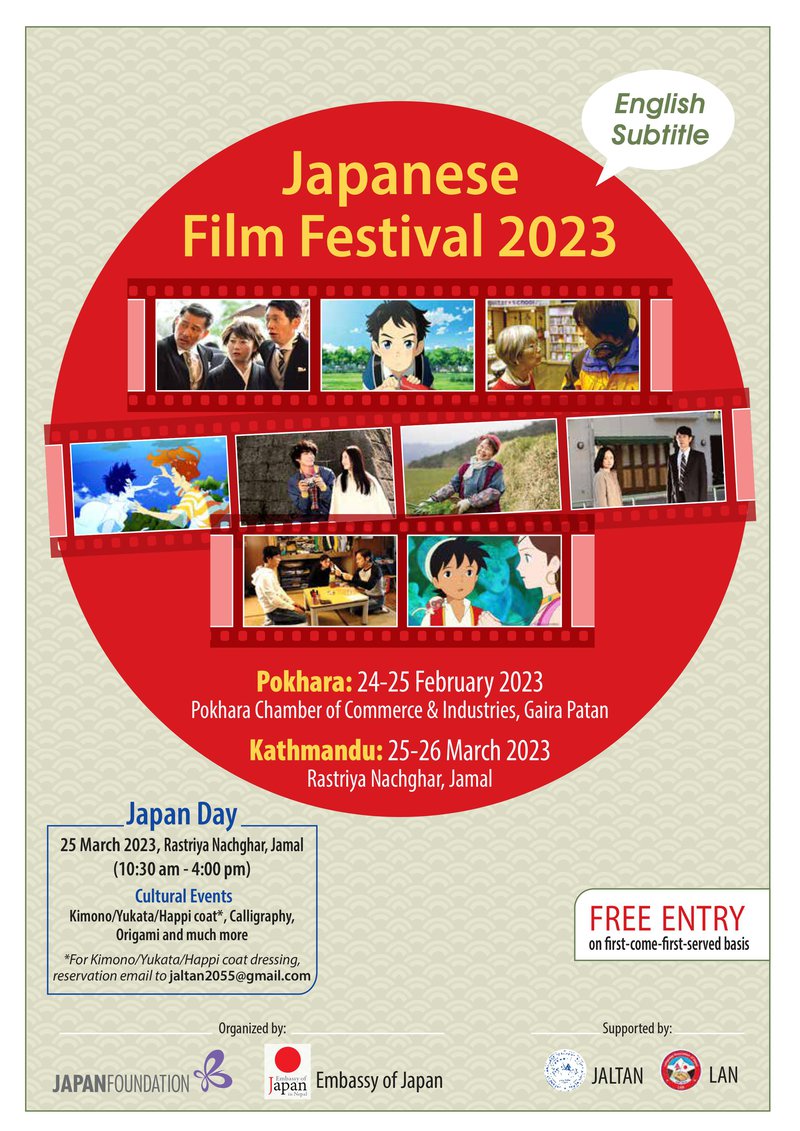 All the films will be screened with English subtitles and the film-screening schedule is as follow:- 25 th March (Saturday) 11:30 a.m. Where I Belong (108 min) 2:00 p.m. Mourning Recipe (129 min) 26 th March (Sunday) 11:00 a.m. Key of Life (128 min) 1:20 p.m. Sinbad (Animation-144 min) 3:20 p.m. Aristocrats (124 min) It is hoped that both the cultural events will be an interesting experience for the Nepali people to encounter the Japanese culture and lifestyle.
The Embassy further hopes that such events would lead the expansion of the long-term friendship between Japan and Nepa
Synopsis Of Films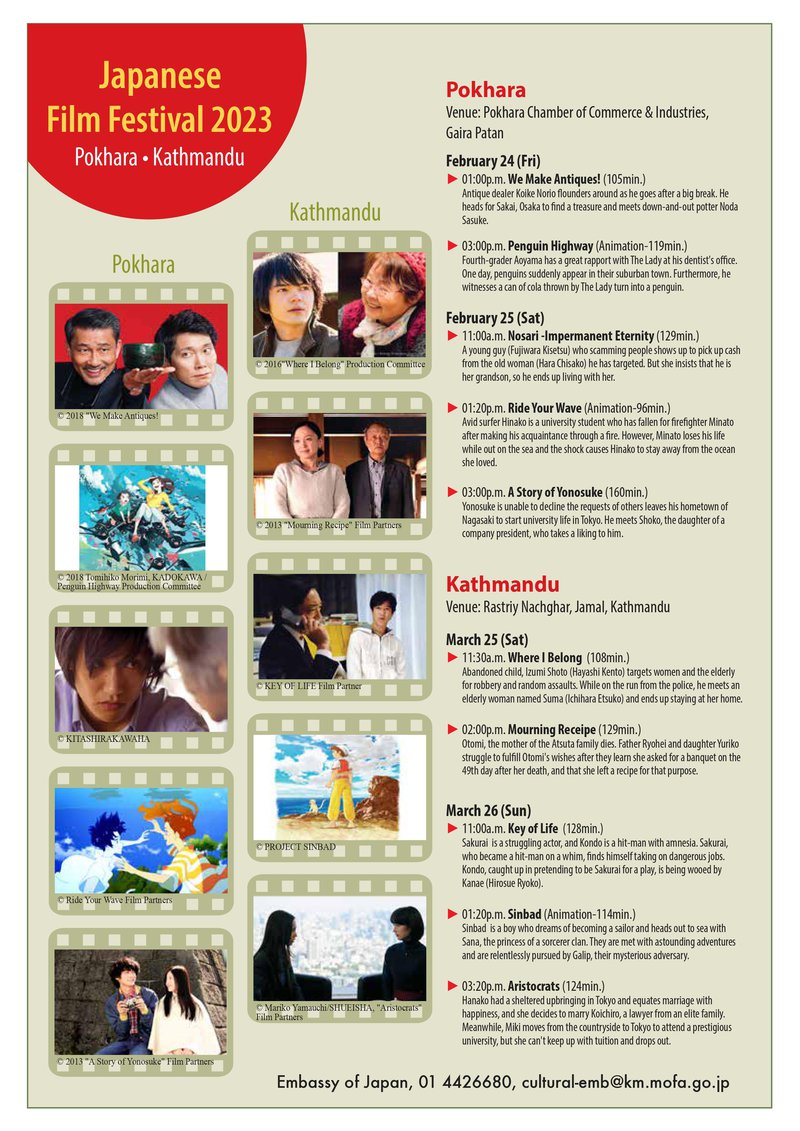 1 Where I Belong (108 min)
Born in 1963 in Oita Prefecture, Kyushu, Japan. Graduate of Kokugakuin University's Faculty of Letters in 1986. Graduate of Japan Institute of the Moving Image in 1989. Freelance assistant director from '89 mainly on Central Arts K.K. productions. Assistant director Jun'ya Sato's "Hold Me and Kiss Me" ('92) and several Junji Sakamoto-directed films: "Another Battle" ('00), "KT" ('02), "My House" ('03), "Out of this World" ('04), "Aegis" ('05); and the "Partners" TV series ('08, '10, '14) directed by Seiji Izumi. Made directorial debut with "Aibo: Season 7". "Where I belong" is his first feature film as director.
2. Mourning Recipe (129 min)
Heartbroken Yuriko comes back to her parents' house after deciding to divorce from her husband, only to find a recipe book for life, left by her late mother Otomi who just passed away. The handwritten and lovingly illustrated recipes concern cooking, cleaning and the basic knowledge of the house keeping techniques. They are to let Yuriko and her father (Otomi's husband) Ryohei face the life by following the monotony of everyday chores, and take a step forward by the 49th days after her death – the day a memorial service will be held according to Buddhist teaching for the family and friends. With the help from two young strangers, the garishly-dressed Imo and the Japanese-Brazilian Haru, the family slowly begins to rebuild their lives as they learn the life and profound love of Otomi and get ready for the great party on the 49th day as Otomi has wished.
3 Key of Life (128 min)
Unemployed 35-year-old Sakurai aspired to become an actor, but has failed miserably. He decides to end it all by killing himself, but first he goes to purify himself at a public bathhouse. While at the bathhouse, he meets the very prosperous Kondo who suffers a fall which brings on amnesia. On a whim, Sakurai switches locker keys, steals the man's belongings and decides to pass himself off as the wealthy Kondo. Sakurai is not to know that Kondo runs an illegal business which brings him into contact with some mighty annoyed yakuza gangsters. Meanwhile, Kondo has been convinced that he is actually the failed actor Sakurai and he faces the dismal reality of that life with increasing bewilderment. Fortunately, at the hospital, he meets the lovely Kanae who, while yearning for marriage, goes out of her way to help "Sakurai" pull himself together. Finally the real Kondo comes to his senses, but before he can make a new life with Kanae, he has to solve the many problems caused by the man who assumed his identity.
4 Sinbad (Animation-144 min)
A hardworking and curious boy Sinbad dreams of traveling around the world. One day, a neckless falls out of the sky, followed by a mysterious girl! Sinbad is embroiled in a melee of the girl and a group of man who chases her by flying carpets. Sinbad and the crew of the ship Bahr sail out to find the family of the girl, Princess Sana, who is the remaining survivor of legendary wizard family. They encounter the mysterious phenomenon on an island while in search of the magic lamp. Also, the apprentice of Sana's father, Galip, who destroyed the kingdom and her family by using the wizardly power is after Sana. Based on the literary classic 'The Arabian Nights.'
5.Aristocrats (124 min)
Hanako, born to sheltered privilege in Tokyo, is in her late 20s when her fiancé breaks off with her, and for the first time in her life finds herself at a crossroads. After a round of unsuccessful 'arranged-marriage' meetings and blind dates, she meets Koichiro, the lawyer scion of a wealthy family.
Miki, on the other hand, works in Tokyo but was born in a small town. Hard work got her into an exclusive Tokyo university, but her family finances forced her to work part-time as a hostess, after which she dropped out. At 32, with no boyfriend, she is managing to eke out a living in the big city.
The two women encounter each other over the same man, and their different worlds come into contact. The story depicts life in the metropolis for two women of different social classes.