United Nations (UN) resident coordinator in Nepal, Hanaa Singer- Hamdy, today paid a courtesy call on Minister for Health and Population, Mohan Bahadur Basnet.
During the meeting, the two discussed about the matters regarding the coordination and cooperation between the government and UN bodies in Nepal's health sector.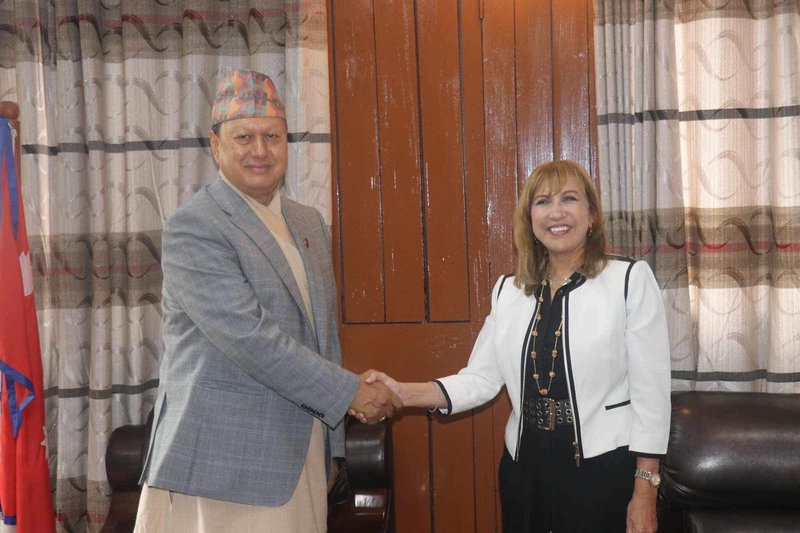 The Minister apprised the UN coordinator that the government owned a policy to enhance citizens' access to health services, ensuring a free treatment for those who are unable to afford it.
He applauded the UN cooperation to Nepal during emergencies including the 2015 earthquake, natural disasters and COVID-19 pandemic, expecting to see a rising scale of such cooperation aligning with the government's endevours aiming to improve the health service system.
The UN resident coordinator assured that the areas requiring the UN cooperation in Nepal would be assessed soon through discussions and consultations and the programmes would be designed accordingly. As she stressed, clarity is needed regarding the modality of cooperation with the province-level together with the federal government.
She advised Nepal to first identify the areas for improvements in its health sector, adding that donor agencies would design the plans on the basis of same assessment.
In response, the Minister said he would be visiting India this week and sit for discussions with the stakeholders concerned after his return from there to determine a modality of cooperation with the UN bodies reports RSS.