KOICA and the Ministry of Federal Affairs and General Administration (MoFAGA) signed the Record of Discussion (RoD) for the project "Green Job Creation through Recycling and Upcycling Project in Pokhara Metropolitan City" on August 30 2023 at MoFAGA.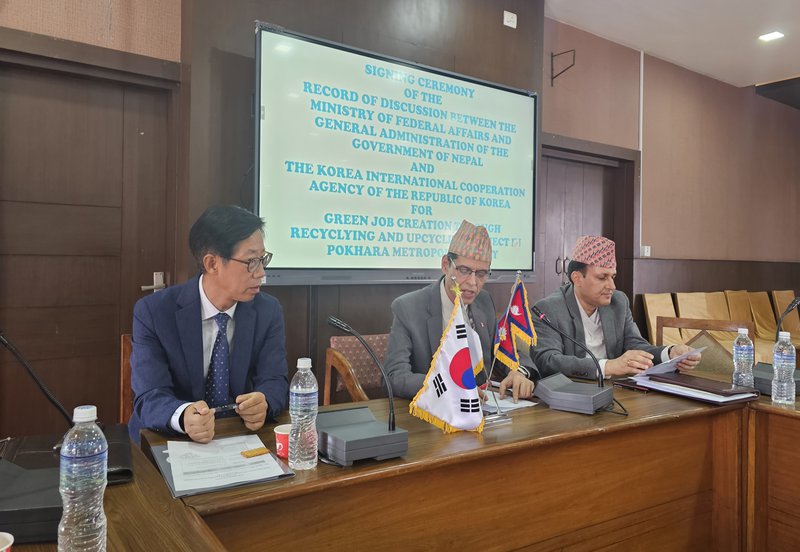 The RoD was signed by Mr. Mooheon Kong, Country Director of KOICA Nepal Office and Mr. Kamal Prasad Bhattarai, Joint Secretary of the MoFAGA in the presence of Mr. Binod Prakash Singh, Secretary,MoFAGA. The Korean Government through KOICA has allocated USD 9.8 Million for this project. The main goal of this project is to promote sustainable recycling and upcycling enterprises contributing to the green economy. The project shall Establish Green Venture Zone (GVZ) at the heart of Pokhara and provide business incubation support (financial, technological and market linkage) to new and existing RU enterprises.
The project aims to establish more than 30 Recycle Upcycle (RU) enterprises and create thousands of green job in Pokhara. The project activities will lead to massive behavioral change at the community level, where people will adopt waste segregation at household level. This will reduce the burden of Pokhara's waste dumping site. Most importantly, KOICA shall establish GVZ, which be one of the state of art centers for understanding recycle, upcycle, innovation and startups. The GVZ will also have outlets for final products made out of recycled and upcycled materials and exhibition halls to host national and international events related to environmental sector.
Korean government's aid through KOICA has been increasing continuously in Nepal since last many years as Nepal is one of the priority countries for KOICA. Over the years not only KOICA's aid budget has been increasing in Nepal but also the sectors have expanded. In recent years, KOICA has focused on rural development/agriculture sector and environmental sector. KOICA have identified various projects in various parts of Nepal to support the regional development of Nepal. In last two decades KOICA have successfully implemented various projects in health, technical education, e-governance and rural development sectors in Nepal.