Lok Bahadur Thapa, Permanent Representative of Nepal to the United Nations Organization presented his Letters of Credence to António Guterres, United Nations Secretary-General at a special ceremony held at the United Nations Headquarters in New York on Friday.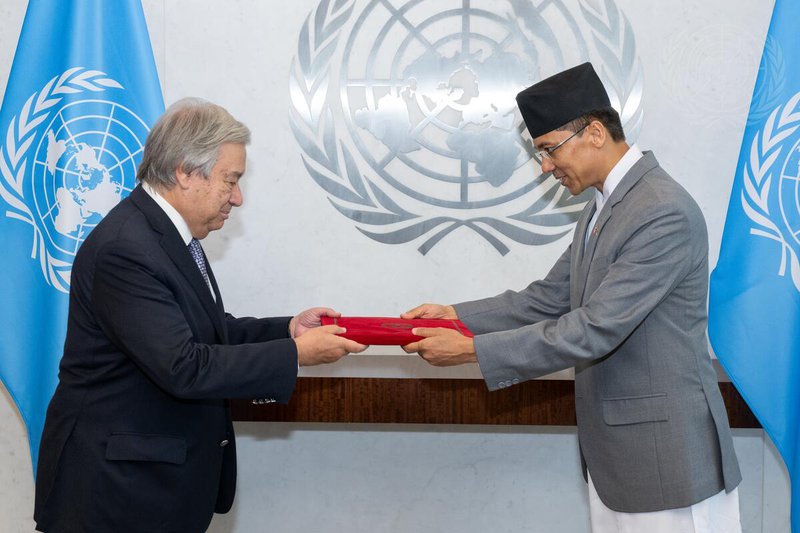 Ambassador Thapa held a courtesy meeting with Secretary-General Guterres following the presentation of his credentials. On the occasion, the Secretary-General congratulated and welcomed Ambassador Thapa as the Permanent Representative of Nepal to the United Nations and assured him of all necessary support in discharging his duties and further enhancing Nepal-UN relations. Secretary-General Guterres appreciated the role that Nepal has been playing in the United Nations over the years.
While recalling his fond memories of his visits to Nepal in his earlier capacities, Guterres expressed his thankfulness to Nepal for the support and solidarity it extended for the realization of the objectives of the United Nations.
On the occasion, Ambassador Thapa conveyed to Secretary-General the greetings and warm wishes from the President Ramchandra Paudel, Prime Minister Mr. Pushpa Kamal Dahal 'Prachanda' and Minister for Foreign Affairs N.P. Saud.
Thanking the United Nations for its cooperation to Nepal's development as well as peace process, Ambassador Thapa reiterated Nepal's full support and firm commitment to the United Nations. Ambassador Thapa also commended the Secretary-General's efforts and initiatives in global peace and security, sustainable development, climate justice, and UN reform among others.
Outlining Nepal's priorities in different areas including peacekeeping, climate change, and sustainable development, Ambassador Thapa expressed Nepal's willingness to further deepen and strengthen its relations with the United Nations.
Ambassador Thapa arrived in New York to begin his tour of duty as the Permanent Representative of Nepal to the United Nations on 31 August 2023.