As the Minister for Energy, Water Resources, and Irrigation, he made this appeal during a courtesy meeting with the President and Chief Executive Officer of Korea South-East Power (KOEN), Hoe-Chun Kim. KOEN is the primary investor in the Upper Trishuli Ek project, and Minister Basnet hopes to attract additional Korean investors to the sector.
Nepal presents itself as an attractive location for foreign investment. The government has fostered an environment that welcomes foreign investment and enables ease of return. With this in mind, he requested to expand investment in vital projects.
Nepal enjoys favorable bilateral relations with South Korea, and as such, Minister Basnet highlighted the vast potential benefits of Korean technology and skills. Minister Basnet requested the government's full support for the Upper Trishuli Hydropower Project's smooth implementation and timely completion.
The Minister stated that the project is vital in fostering friendly relations between the two nations and invited Korean investors to participate in more large-scale projects. Informing the government's legal, policy, and structural reforms to encourage foreign investment, he made a special request to invest in significant projects such as the Upper Trishuli project that is currently under construction.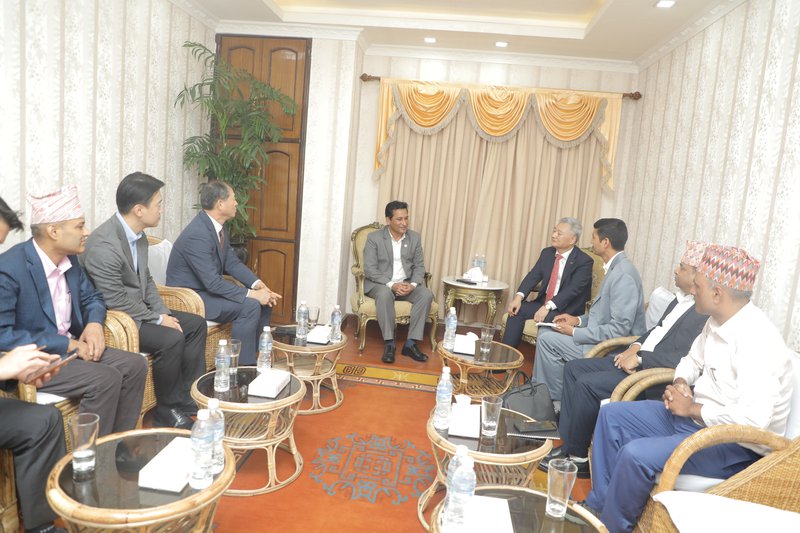 He recalled that when he was the Minister of Forests and Environment, he facilitated the Upper Trishuli Hydropower Project and made a speedy decision on forest-related matters.
Hoe-Chun Kim, President and CEO of Korea South-East Power (KOEN) and the project's main investor, emphasized the use of Nepal's plentiful water resources to increase domestic consumption of renewable energy and export surplus power to neighboring countries as a means of boosting economic growth while reducing the impact of climate change. Mr.
Kim assured Korean investors that Nepal is a secure destination and encouraged further investment. "After my return, I intend to encourage further Korean investment in Nepal. One project that exemplifies this is the Upper Trishuli hydropower project," stated CEO Hoe.
He guaranteed Minister Basnet that they would strive to finish the project within the allotted time, notwithstanding its foundation stone being laid just last Tuesday. At present, the physical progress of the project stands at 22 percent.
Structures, such as dams, are being constructed in Amachhodingmo Rural Municipality-1 Haku of Rasuwa. Additionally, an underground power house is under construction in Uttargaya Rural Municipality 1.
This project is highly attractive for the country's electricity system as it is in close proximity to the Kathmandu load center. It will provide 104 megawatts of electricity, even during the winter, when there is a high demand for electricity. The project will produce 104 megawatts of renewable energy year-round. It is anticipated that the project will be finished by December 2083.