As part of his regular routine, MD Ghising and his executive colleagues arrived at NEA's Load Dispatch Center (LDC) in Syuchatar at 5 PM on Laxmupuja (November 13) to assess the current status of electricity demand and supply throughout Nepal. Despite the public holiday, MD Ghising spent the majority of the day inspecting major substations in the Kathmandu Valley before joining the discussion on the supply and demand in Syuchatar.
Due to uninterrupted and reliable power supply, there were no complaints of disruption throughout the country. MD Ghising and his team confidently departed for their homes at 7 PM, assured of the continued smooth and uninterrupted provision of electricity.
In contrast to previous practices, MD Ghising, who typically remained on-site until midnight, delegated responsibility for technical operations at the center to his technicians. This ended the continuous and efficient generation, transmission, and distribution of power.
For MD Ghising, the director of the nation's largest public utility, it was a source of great satisfaction that his organization, NEA, was also exporting electricity. On November 26, the day of Laxmi Puja, NEA exported 517 MW of electricity and met the peak demand of 1438 MW.
To avoid any disruptions, the NEA ensured that the heads of distribution centers, power plants and technical staff throughout the country were prepared to prevent power outages on the day of Lakshmi Puja.
By taking a leadership role in ending a decade-old energy crisis and positioning Nepal as an electricity exporter, MD Ghising has demonstrated how an efficient and competent manager can assist the country's leadership in transforming the nation. The transformation is made possible through strong support from political leadership and the bureaucracy.
If Prime Minister Prachanda and Minister Prabhakar Sharma had not strongly supported it and Energy Secretary and Chairperson of NEA Upadhyaya had not facilitated the process, MD Ghising would not have been able to implement his management plan to end power outages.
Coincidentally, Secretary Updhyaya, who was flying to Kathmandu from out of town, captured the brightest photo of Kathmandu Valley from the sky, which was the first photograph of the end of power outages.
Like in the country's life, Laxmi Puja remains a significant day for MD Ghising. This year is especially significant for him, as the Nepal Electricity Authority (NEA) was able to supply all domestically generated electricity while exporting surplus to India.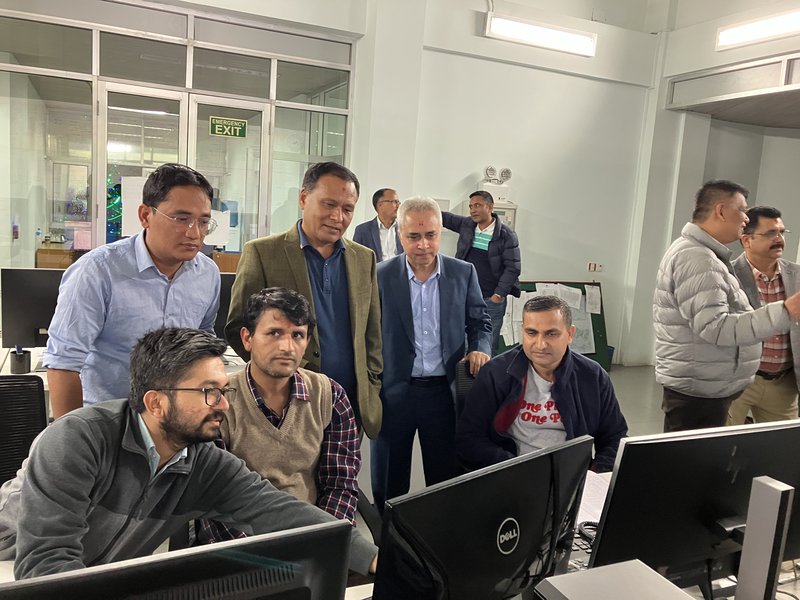 In the past, NEA had to import approximately 300 MW of electricity from India to meet the electricity demand in Nepal during Laxmi Puja.
During peak demand in the past, the demand used to be around 1000 MW. This year, the country's electricity experienced a peak demand record of 1438 megawatts.
Based on the NEA report, the demand for electricity on Lakshmi Puja day, specifically at 6 PM, increased by 1357 MW year-over-year and reached 1438 MW.
Conversely, last year's peak demand on the day of Lakshmi Puja, which was observed in October, only amounted to 1305 MW.
Industrial customers' activities were shut down during Tihar, hence their recorded peak demand was relatively low. This year, the Nepal Electricity Authority (NEA) projected a peak demand of 1357 MW and managed the electricity supply accordingly. Consistent citation style and grammatical correctness are also ensured. The peak demand on the day of Lakshmi Puja was met by power houses within the country. All technical abbreviations are explained at their first use, and the language remains objective and formal throughout the text.
On the day of Lakshmi Puja, the peak demand of Kathmandu Valley reached 366 MW, up from 342 MW the previous year.
MD Ghising stated that seven years ago, 254 megawatts were imported to meet the demand of Lakshmi Puja day. Currently, the energy sector has made a historic leap by using domestic production to export saved electricity.
He also noted that the peak demand of Lakshmi Puja has increased by 10 percent compared to last year, which is a positive development.
Although the Kulekhani 1st, 2nd, and 3rd reservoirs have a power generation capacity of 101 megawatts, the authority only operated them at 16 MW during peak times.
During Laxmi Puja, the power generation scenario consisted of 420 MW generated by power plants owned by the NEA, 522 megawatts generated by subsidiaries of the NEA, such as Upper Tamakoshi and Chilime, and 997 megawatts generated by the private sector.
"As in previous years, the Nepal Electricity Authority has succeeded in providing uninterrupted electricity supply throughout the country on the occasion of Lakshmi Puja this year," said MD Ghising.
The campaign to declare the country load-shedding-free was initiated on October 30, 2016, the day of Lakshmi Puja. Currently, the country not only remains free from load shedding, but the surplus electricity generated after domestic consumption is also being exported.
Lakshmi Puja
of 2073 marked the beginning of the end of load shedding, making it a historic day." There was a noteworthy event in Nepal's energy sector that every Nepali remembers.
Nepalese citizens were surprised when electricity started flowing continuously after Tihar 2073, as they had previously experienced eight hours of daily power cuts even during the rainy season. This consistent electricity supply has led to a reduction in LPG and petroleum product imports over recent years, and Nepal is currently transitioning away from fossil fuel-dependent diesel, petrol, and LPG to clean and renewable electricity.
Nepalese people, who remember the NEA's instruction not to light any lamps during the Tihar festival of lights, were surprised when they were able to light lamps for 24 hours on the day of Lakshmi Puja in 2016.
The Managing Director at the time, Kulman Ghising, was appointed by Prime Minister Prachanda based on Energy Minister Sharma's recommendation. During that time, in spite of the rainy season, there were 8 hours of load shedding per day. It was anticipated that load shedding would need to be increased to 14 hours a day during winter.
After assuming the role of Executive Director, Ghising, who played a primary part in ending load shedding, was seen at LDC in Syuchatar working alongside his junior colleagues on the day of Lakshmi Puja in 2016. MD Ghising, with the backing of the then political leadership and a friendly relationship with the secretary, initiated the cessation of load shedding on the same day as a trial run.
MD Ghising stated that the historic accomplishment of ending load shedding was made possible by working with determination and sincerity. It was previously believed by many that this task was impossible.
At the time, even those within the organization did not believe that load shedding could be stopped immediately. However, through efficient and scientific management of the supply and demand, we were successful in managing the electricity supply.
After ending the power outage in urban areas, the National Electric Authority (NEA) distributed electricity evenly among the industrial sector. The announcement of the end of power outages in the industrial sector was made in May 2018.
The termination of power cuts provided relief not only to citizens suffering from blackouts but also to industries who have reportedly increased their production capacity. According to a report by the World Bank, the end of power outages contributed to a 1 percent increase in GDP growth.
With the abundant supply of energy, the country's economy has experienced significant growth. NEA employees, who were responsible for scheduling load shedding in the past, are now creating schedules for exporting electricity abroad.
Had we been content with only the end of load shedding, we would not be in the current position to increase both domestic consumption and exports of electricity. "We have made deliberate strides towards augmenting power generation, transmission, and distribution. As a result, we can now export surplus electricity to India after catering to domestic needs during the rainy season," stated MD Ghising.
On the domestic front, the National Energy Authority (NEA) is expanding the transmission and distribution system to reach all households. According to NEA officials, households that did not have access to electricity in the past can now keep fans and air conditioners running.
In addition, electric stoves and vehicles are now common options for households as well. Sufficient electricity has increased industrial production capacity, leading to a viable economy and the creation of a suitable industrial environment.
Although the KP Sharma-led government demonstrated excellent performance, they did not extend his tenure and appointed another person as MD in 2019. During MD Ghising's one-year absence, the system deteriorated.
After evaluating Ghising's performance, the Nepali Congress-led government under Sher Bahadur Deuba's leadership reappointed him as the Managing Director of NEA for a second term in July 2023 based on the recommendation of the then Minister of Energy, Water Resources, and Irrigation, Pampha Bhusal.
During Ghising's second tenure, consumers are expressing their concerns not only about the possible return of load shedding but also about the frequent power outages.
However, MD Ghising assured that load shedding is now a thing of the past. According to him, "While there was a previous desire to decrease electricity consumption in the country, we have reached a point where we are currently campaigning to increase consumption. The current frequent power outages are not due to load shedding but rather a technical issue, and we will address it."
"To address these issues, the current emphasis is on expanding and fortifying of the transmission and distribution infrastructure to provide reliable and superior electricity to customers. We are giving prominent attention to the advancement and enlargement of the system infrastructure, and the outcomes will be observed progressively," stated MD Ghising.
In 2016, the government began, a phased-out approach to end nationwide load-shedding. By 2019, regular power supply had been established in industries, resulting in the government's announcement of the end of load-shedding.
MD Ghising stated that he had exceeded public expectations, but acknowledged that more challenges lie ahead. "Our focus is now on accomplishing more long-term tasks beyond ending load-shedding." MD Ghising stated, "Our goal is to increase consumption through reliable and accessible electricity supply. To bolster the country's economy by exporting electricity in the international market and reduce petroleum product imports, increased investment in hydropower projects is necessary.
To increase access to electricity and domestic consumption, NEA is allocating more funds to rural electrification projects.
"Although a number of projects have been completed, electricity has not yet reached large areas of Karnali and Sudur Paschim Provinces," stated MD Ghising.
It was stated that the projects were implemented to provide electricity to all parts of the country, using loan from foreign donor agencies.
Since the end of peak load shedding, Nepal has become an electricity exporting country in this decade. The NEA has exported electricity worth12 billion rupees since July of the current fiscal year. Currently, India has authorized the export of about 452 MW of electricity.
MD Ghising stated that the objective is to export 1,200 megawatts of electricity to India during the upcoming monsoon season.
Upon returning home at 8:30 PM on November 23rd, during Laxmi Puja, MD Ghising's family was overjoyed to celebrate the holiday with him, as he had been spending a significant amount of time at the office. Many households across the country celebrated Laxmi Puja without their guardians.