BY TSERING SHAKYA
 Indian Prime Minister Narendra Modi is met by Bhutanese Prime Minister Tshering Tobgay at Paro Airport in 2014, when he went to Bhutan on his first foreign trip since becoming prime minister.
 The tiny Himalayan state of Bhutan, portrayed as the happiest place in the world, is now caught in the middle between two Asian giants as Chinese and Indian soldiers stand eyeball-to-eyeball on a narrow, barren patch high up on the mountainous borders where Bhutan and China meet.
Rhetoric has been flying thick and fast on both sides, with Beijing reminding India about the "lesson" of 1962 and New Delhi retorting that it is not the same India that lost poorly to China in that short border war 55 years ago. The current situation is portrayed by India's hyper-nationalistic media in terms of encirclement by China and Beijing's designs on India. However, for the small Himalayan states and border regions, it's not China that makes them nervous, it's India.
China, India border dispute bubbles over once more, but no one is quite sure why
The Indian press, calling it a border dispute between India and China, colourfully describes the disputed narrow valley leading into India's northeast as the "chicken neck". The valley is supposedly the "dagger" pointing at India, alluding to China's strategic intentions. In reality, the issue does not have much to do with the border, and definitely not the China-India border. The area under contention, between Bhutan and Tibet, has never been cartographically demarcated.
 Vehicles travel along a mountain road near the Nathula Pass, an open trading post in the Himalayas between India and China, in Sikkim, India. Photo; Bloomberg
Before the Chinese annexation of Tibet, the nomads living on the plateau moved freely across these areas. In the 1950s, China negotiated and settled most of its land borders, but never completed discussions with Bhutan, because India insisted on the right to negotiate on behalf of Bhutan, which the Chinese refused to accept. China wanted direct negotiations with Bhutan. Eventually India had to relent.
Border standoff with India be damned, Chinese love for this Bollywood film just keeps growing
Since 1984, Bhutan and China have held 24 rounds of talks, the content of which has been kept secret. Both parties have mouthed the usual diplomatic platitudes, but the protracted nature of the talks indicates major disagreement.
India's acceptance of direct Bhutan-China negotiations was based on observation of China's past strategy in territorial negotiation with smaller states such as Pakistan, Nepal and Myanmar that are not seen as a threat to China's security. For them, China adopted a benevolent position and conceded their demands. But with Bhutan, it has taken a tough stand, and many in Bhutan blame New Delhi for it.
 China stands on the crest of the Himalayas and has highly developed infrastructure, giving it the dominant position. Bhutan and China identified seven disputed areas. Most of these are of no great significance to China, and which it is willing to concede to Bhutan. But Bhutan's claims are historically flimsy, and China has been able to present a huge amount of Tibetan historical land records from the past government of the Dalai Lama to show these territories were under the jurisdiction of Lhasa.
In 1996, after the 10th round of talks, it appeared that Bhutan and China had reached an understanding that China would concede to Bhutan's claims in the northern sector of the border, while Bhutan would accept China's claims to the south. When, 15 months later, the two sides met for the 11th round of meetings, there was much expectation that an agreement would be signed. But to China's surprise, Bhutan revised its claims in the south and asserted a claim to larger territory than before, leading the talks to break down. China suspected the new claims were made at India's behest and began to harden its stance.
This is India's China war, Round Two
One area of dispute where China is not willing to make a concession is this narrow valley that the Tibetans call Dromo. During the Dalai Lama's rule in Tibet, the area was administered from Phari Dzong, clearly within Tibet, and was divided into Upper and Lower Dromo. After the British invasion in 1904, Dromo was elevated to dzong, (county) and successive county administrators were appointed by the Lhasa government.
 This narrow valley was one of the important trade routes between India and Tibet and the hamlet of Dromo was the staging post for all goods entering and leaving Tibet. It was such an important route that the area has four different names, varying with the people using it – for British India it was the Chumbi Valley, for Newar merchants from Nepal it was Sher zingma, and for the Chinese, Yatung, now written as Yadong.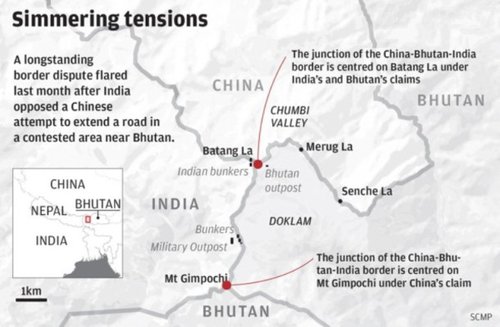 This standoff is China telling India to accept changing realities
This "dagger" pointing at India is the strip that separates the Indian state of Sikkim from Bhutan. The dispute is not about Dromo county, but a part of it called Drok Lam, Tibetan for "Nomads' Path", which Indians call Doklam. It's about 600 sq km, about the size of Toronto. Here, Bhutan's claim is not without foundation: although until 1913, Drok Lam was under the control of the Tibetan government in Lhasa, an enclave in Drok Lam was granted to Kazi Ugyen Dorje, one of the most important political figures in Bhutan, who served as the intermediary between British India and Tibet.
 In 1911, when the 13th Dalai Lama fled the advancing Qing army and sought refuge in Kalimpong, he was hosted by Ugyen Dorje. However, the area granted was an enclave within Drok Lam, not the entire 600 sq km. Bhutan's over-assertion of its claims, suspects China and many in Bhutan, may be on the prompting of New Delhi, which sees the narrow strip essential for the defence of Sikkim and beyond.
That would be tantamount to India sabotaging an agreement between Bhutan and China. The Indian media's sabre-rattling on defending Bhutan from Chinese encroachment may be good for arousing nationalistic sentiment but does not find echoes in Bhutan. While the Bhutanese don't fear invasion from the north, an increasing Indian presence will surely undermine its sovereignty.

Bhutan is the only surviving Tibetan Buddhist kingdom in the 21st century, and its leaders have been astute in preserving its independence, with the transition from absolute monarchy to democracy yielding remarkable success. As its history has shown, Bhutan can fully handle its own affairs – if India would let it. ■
Tsering Shakya is the Canadian Research Chair in Religion and Contemporary Society at the University of British Columbia, and author of The Dragon in the Land of Snows: A History of Modern Tibet Since 1947
Courtesy: South China Morning Post
http://www.scmp.com/week-asia/geopolitics/article/2103601/bhutan-can-solve-its-border-problem-china-if-india-lets-it