Embassy of Pakistan, Kathmandu, organized a talk program on the topic Historical Perspective of Jammu and Kashmir Dispute on 05 February 2018. The Attended by large segments of Nepalese society including parliamentarians, think thanks, intellectuals, Academicians, media persons and civil society,
According to a press release issued by the Embassy of Pakistan, people of Pakistan and people around the world observed 05 February as Solidarity Day to express their solidarity with the people of Jammu and Kashmir in support of their right of self determination.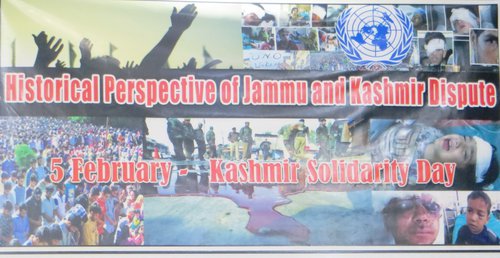 Ambassador of Pakistan drew attention on historical perspective of Jammu and Kashmir dispute. He emphasized dire need for the resolution of the Jammu and Kashmir dispute as per wishes and aspirations of people of Jammu and Kashmir; guaranteed to them by UN resolutions. He said that this is also imperative for lasting peace in the region.
Senior journalist Rajan Karki, noted scholar, author expert and analyst, Dr Shastra Dutta Pant and D.R. Lamichani, Chairman Ghuheswari Boarding higher Secondary School expressed their views on the eve.
President Pakistan Mamnoon Hussain in his message on the occasion of Kashmir Solidarity Day reiterated  its unwavering political, moral and diplomatic support to the people of Indian occupied Jammu and Kashmir in their struggle for the realization of the inalienable right to self determination, in accordance with the UNSC resolutions.