EU Ambassador to Nepal Veronica Cody laid the foundation stone for an integrated learning centre for solid waste and natural resource management in Panauti Municipality. Ambassador Cody also handed over a pick-up truck and tricycles for garbage collection and other gadgets used for solid waste management to the municipality authorities.
According to a press release issued by European Union, this initiative is part of the EU funded project "`Towards Developing a Model of Green Municipality: Integrating Solid Waste and Natural Resource Management Practices."
Implemented by Panauti Municipality with technical support of the International Union for Conservation of Nature (IUCN) and the Women Environment Preservation Committee (WEPCO), this is first of its kind.
Over the last three years this project has contributed to make Panauti a greener, healthier city, to empower women and youth as positive drivers for change and to enhance the capacity of the local government in the field of solid waste and natural resource management.
The learning centre will have around 100 women trainers as "multipliers", who will capacitate other women in the municipality on effective ways of rain water harvesting, harnessing energy from biogas plants and disseminate knowledge on how a compost plant can be made by utilizing degradable wastes. The project is also setting up a green belt in the municipality by planting more than 10,000 trees along roads, temples, rivers and cultural heritage sites, All these activities are geared towards ensuring a green and healthy city.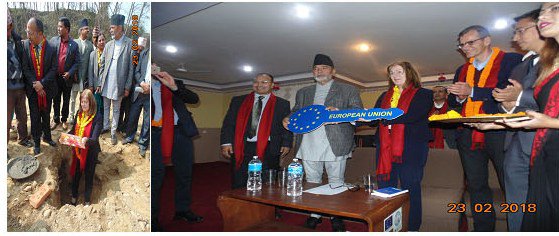 Speaking at the program, Ambassador Cody highlighted that "restructuring is only one of the many challenges that Nepal is facing today in trying to build up its economy, further develop infrastructure and provide a healthier and safer environment in which communities can live and grow.  The EU continues to support Nepal in addressing these issues and always with a view to ensuring that women and girls are empowered as actors and drivers of progress in their communities".
"As this EU project with Panauti Municipality shows us: Women are drivers and agents for positive change in this process."
The Mayor of Panauti Municipality Bhim Neupane highlighted that Panauti has always maintained its identity as a beautiful cultural city. The municipality is working towards enlisting Panauti in the World Heritage list. The Municipality has planned to develop a green belt in the Punyamata and Roshi River corridor, to renovate temples and to construct an open zoo and recreational park in order to conserve the heritage. The Municipality plans to decentralize the solid waste management system to enhance its effectiveness and efficiency.