Himalaya Airlines (H9), a private international airline of Nepal, celebrated its 3rd year of connecting people of Nepal with other countries on March 9, 2017. Last 2 years have been proving and establishing years for Himalaya Airlines with important milestones achieved. Today, Himalaya Airlines is the operator of three Airbus A320.
The airlines also hold the first international award of "Leading New International Airlines in South Asia" received at South Asian Travel Awards (SATA) 2017.
According to a press release issued by the Airlines, to celebrate this occasion, the airline announced an Audience Engagement Program with the launch of a Social Media Quiz that will run across Facebook, Instagram and Twitter. The participants are encouraged to click the link, which is shared in the airline's social media pages for a chance to win a round trip ticket to and from H9's any destination. The contest is valid till March 19, 2018.
"The celebration was further shared with our passengers by distributing red velvet Cupcakes on-board who flew Himalaya Airlines on March 9 to Doha, Dubai and Kuala Lumpur," writes a press release.
 "With key achievements, now we proudly say that Himalaya Airlines is the fastest growing private airline of Nepal and is always striving to achieve the best, be it On Time Performance (OTP) of our flights or ensuring the most convenient and time efficient way of air travel. We thank all our passengers, patrons and stakeholders for their tremendous support in our each step of flying higher. Also we would like to wish all the participants good luck for the lucky draw contest," said Vijay Shrestha, Himalaya Airlines' Vice President – Administration.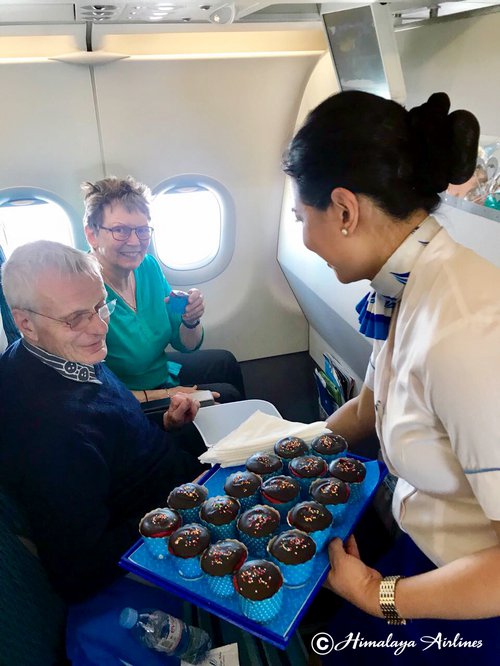 Himalaya Airline's management recognizes Safety as a core responsibility and motivating factor for the employees, and is fully committed to provide all the appropriate resources required for effective safety practices.
Airline's perseverance to follow and maintain the Global Safety Standards has been endorsed by the recent audits from various Civil Aviation Authorities like ICAO, GACA, CAAC and CAAB in 2017. The airline was among the few airlines of Nepal selected for sample confirmation of aviation safety standards maintained in Nepal by CAAN during the ICVM audit follow up of CAAN in relation with the Significant Safety Concern imposed by ICAO in 2013.
Established in August 2014, Himalaya Airlines, a Nepal China joint venture, is a private airline of Nepal providing international air services. With the aim to excel in safety, on time performance and most primarily, in service to its customers; H9 has already established itself in Nepal with high recognition. 
H9 is currently flying to four destinations - Doha, Kuala Lumpur, Dubai and Dammam; presently summing up to twenty-two flights per week using 3 Airbus A320-214 series of narrow-body aircraft with 8 Business class & 150 Economy class seats.
H9's in-flight entertainment system offers passengers with latest blockbusters movies, music, TV shows and documentaries, so that the passengers can spend their time without boredom while devouring on delicious cuisine, including authentic Nepali food. The passengers can also spend their quality time reading the  in-flight magazine – Danfe, which offers intriguing stories about Nepal as well as connecting destinations.
H9 received its first ever international award for "Leading New International Airlines in South Asia" at South Asian Travel Awards (SATA) 2017 event held at Equator Village, Addu City, Maldives on October 28, 2017. This award honors the efforts undertaken towards developing and expanding services and has given a tremendous boost to H9 family to excel further and rise higher in the aviation sector