Although Narendra Modi is a politician and prime minister of India, he is a person with strong inner faith as a Hindu. This is the reason he made his two days' visit to Nepal more religious.
Showing a great respect to Janakpurdham, home of Sita, he offered a special puja to Janaki Temple. Then, Prime Minister Modi worshipped at Muktinath Temple, one of the most sacred temples of Hindus at the northern Himalaya. Before leaving, he concluded his religious trip offering a special puja to Pashupatinath Temple in Kathmandu.
After visiting three most important Hindu shrines of Nepal, Prime Minister Modi has made a record as the first Indian Prime Minster of India to perform this. Modi's personal belief on Hindu religion also served to fulfill broader political and diplomatic interests of India.
Visiting and worshiping the temples and shrines of Hindus and Buddhists, Indian Prime Minister Modi has also shown the centuries old close religious and culture relations between Nepal and India. He has also given the message how Hindu religion has connected Nepal's three regions, plains, hills and mountains, without any ethnic discrimination.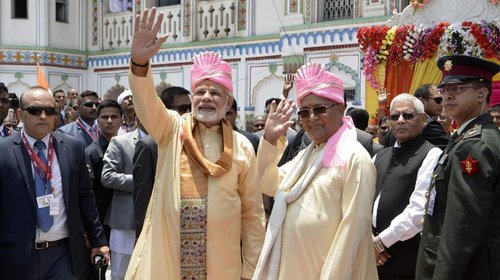 At Janakpur, Modi said that he was a 'prime pilgrim' in his third visit to Nepal and not just a prime minister. Addressing a function organized after offering special prayer to Goddess Janaki, Indian Prime Minister Modi said he was happy to step in Janakpur as the first sitting Indian prime minister to do so. Recalling that the people in Uttar Pradesh in general and Banaras in particular had made him the prime minister of India, Modi said the relations between Nepal and India are deep-rooted.
PM Modi and KP Oli have distinct political philosophies, one a religious spiritual leader and other a communist without any religious faith. However, PM Modi, a spiritual person, visited Nepal when Oli, a staunch communist who claims himself to be a non-believer of any religion, was prime minister leading a communist government. They do hold different ideologies as well. As Modi has high respect and regard on Gita, Ramayana and Ved, Oli prefers to preach Mao's red book and Marx's Das Capital.
PM Oli and PM Modi have made all possible efforts to avoid any confrontation. PM Oli even hailed efforts connecting all places associated with Lord Ram and Mother Sita. He also underscored the need for including other places associated with Ram and Sita, including the place where Sage Balmiki lived and Sita ended her life in Nepal.
PM Modi echoed Oli. "Without Nepal, even Lord Ram would have been incomplete," said Modi, lauding historical and religious ties with Nepal.
Modi gave a clear message to all the Hindus that they share similar faith wherever they live, including in plains, hills or mountains. In Nepal, a lot of efforts have been made from different quarters to divide the Hindus of the hills, plains and mountains.
As Janakpur is home of Sita, Muktichhetra has also a very close connection with Ramayana or Kagbeni. For Vaishnav, Mukti Chhetra is a place for salvation where river Gandak originated. Just above Muktichhetra, there is Damodarkunda, from where one of Stream of Gandak River originates. The temple Pashupatinath remains a sacred place, as well.
The message of Indian Prime Minister Modi was that religion teaches harmony. However, it remains to be seen how Modi's message will be taken.
Indian Prime Minister Modi has used religious and cultural soft power to show to the world that relations between Nepal and India are indeed unique. However, Nepal has seen a gradual decay of Hinduism with abolition of Hindu Monarchy and Hindu religion.
 Nepal's current government even cancelled the national holiday on Ramnavami and Krshnajanmasthami, two important days of Hindus in a Hindu majority state. After abolition of Hindu monarchy, which used to be a symbol of religious and civilization continuity with India, India's soft power influence has drastically reduced in Nepal and there is a rise of radicals hostile to Nepal's tradition and culture. Given this situation, how Modi's soft power diplomacy will work remains to be seen.
With Modi visiting religious sites, tourism entrepreneurs are hopeful that the Prime Minister's stint would entice Indian tourists to reach religious sites in Nepal and boost the country's tourism industry.
Modi's Opposition
As Modi came to Nepal with religious message, radicals from all fronts including Madhesh, who even marched to border to block the border, felt a threat of existence. They united to oppose Modi's recent religious visit to Nepal.
His Indian and Nepali critics said Modi's whirlwind tour of Nepal was largely aimed at shoring up the support of Hindu voters at home.
Aljazeera's commentator termed the visit 'High on style and low on substance.' Geja Sharma Wagle, a geostrategic analyst based in the capital, Kathmandu, said "the visit was high on style and low on substance," writes Aljazeera.
"The visit helped publicize Nepal's religious sites, which were not widely known outside the country. Aside from that, I don't see any significant achievement for Nepal," he said.
Political Importance
Modi's recent visit was projected as a pilgrimage but it has made many successful political and diplomatic ventures.
Modi's visit came ahead of Oil's trip to China, with whom he had signed a major framework agreement regarding trade and transit in March 2016.
"Modi's choice of Janakpur as the first step also seemed to be an indication that India has not yet given up on the Terai issue, though it withdrew support to a party that boycotted the constitution over the matter," writes Yubaraj Ghimire in his article in Indian Express. "Also, Modi ought to know that the European Union, India's ally in promoting democracy in Nepal, has a much larger presence in the Tarai and that India is viewed with suspicion for the secessionist trends in some pockets here. "PM Modi wants to explore the symbolism in visiting Hindu shrines and use government-sponsored public felicitations, instead of government channels, for outreach. There is a distinct realization that India has lost its influence in Nepal," writes Ghimire.
Upon receiving civic felicitation, Modi said that he was extremely honored in the city that always lured him. "Kathmandu has always lured me by its diversity, depth and progressive attitude," he said adding that he'd soon visit Lumbini, birthplace of Lord Gautama Buddha.
Strength to Strength
There are contradictions in the personality between Modi and Oli in terms of their views and faith. Yet Modi and Oli have achieved a certain level of political and diplomatic success. As it is said an individual's personal faith has little to do with state affairs, Modi seems to have been able to influence Oli on India's core interests.
"I am very much fascinated by Prime Minister Modiji's idea of HIT – highway, information and transmission. I want to add two more on that – inland waterways and airways," Oli said at a press meet jointly addressed by him and Indian Prime Minister Modi at Dwarika's Hotel. The two prime ministers addressed the press after their one-on-one meeting and bilateral meeting of the delegations of the two countries.
Prime Minister KP Oli and his Indian counterpart Narendra Modi have agreed to strengthen air, waterways and rail connectivity of Nepal so as to transform Nepal from a landlocked to a land-linked and water-linked country.
 Modi in his address applauded Nepal for successfully holding three tiers of elections within a year. "This period will be remembered as a golden period in Nepal's history," he said. "India is ready to support Nepal in its efforts toward inclusive development and economic prosperity."
Oli sought Indian permission for four additional air routes for Nepal. Nepal wants air routes via Janakpur, Bhairahawa, Nepalgunj and Mahendranagar.
Oli also stressed the need for reducing Nepal's trade deficit with India. "India is our largest trading partner. However, the growing trade deficit [of Nepal] has been a serious matter of concern for Nepal," said Oli. "I believe that India has both the capacity and willingness to address our genuine concerns."
The two prime ministers also expressed their commitments to address various other serious issues such as inundation and cross-border crimes. "We will further strengthen our joint efforts on defense and security to control cross-border crimes that have been taking place by misusing our open-borders that are quite important for people on both the sides," said Modi.
China Factor
Domestic and international media analyzed Modi's visit in another context as well. "Though it had religious overtones, some analysts saw the visit, a month after Oli's trip to India, as New Delhi's strategic move to undermine China's increasing footprint in Nepal," writes Aljazeera in its commentary.
As views and analyses were flooding, Indian Prime Minister Modi said all misunderstandings with Nepal are over and the bilateral ties are heading to a new high.
In a tweet, Modi said "My Nepal visit was historic. It gave me a great opportunity to connect with the wonderful people of Nepal. Talks with PM Oli were productive. New vigor has been added to India-Nepal relations through this visit. Gratitude to the people and Government of Nepal for their warmth."
As there are jubilations on both the sides, the outcome is still awaited.