In 1901, Dev Shumsher Jung Bahadur Rana became the prime minister of Nepal. In the annals of political history, he is remembered as Nepal's 'most liberal' prime minister, considering he came from the Rana dynasty known for their autocratic rulers who presided over the kingdom from 1846 to 1951. Dev Shumsher, during his time as prime minister, brought to life an unused printing press his uncle and founder of the Rana dynasty received from Europe back in 1851. It was given to editor Pandit Naradev Pandey to publish Nepal's first newspaper in 1901, called Gorkhapatra, which is still active in the country, both in print and online. Gorkhapatra was hailed as the harbinger of print journalism in Nepal. Dev Shumsher wanted to bring news from around the world into the hands of the reading public for four rupees a year. He wanted the paper to be the medium through which the public could express their day-to-day grievances. But, Dev Shumsher's stint at the top lasted no more than 144 days, and two months after the first issue of Gorkhapatra was published, he was deposed by his more conservative and despotic brother Chandra Shumsher.
Dev Shumsher was forced into exile in British India. Upon his arrival, he was given two options: a place in Delhi or Mussoorie. Dev Shumsher chose the latter as the rolling mountain scenery most closely resembled the home he left behind. There he built a palace again, the famous Fairlawn, and began a new chapter with his twelve sons, four daughters and an array of concubines or talimas.
An exhibition in Delhi, Nirvasanama: Portraits of a Life in Exile Through Changing Viewfinders, aims to showcase the life and times of the ousted Nepali leader and his descendants in India through a seamless intermingling of vintage cameras and sepia-toned archival photographs passed down from Bhuvani Kumari Devi, daughter of Dev Shumsher.
But don't expect copious notes and information labels introducing every radiant aunt, rakish uncle and proud grandparent from this illustrious family inhabiting a world of glamour and intrigue until the 1950s. The curators, Aditya Arya and Isha Singh Sawhney, have consciously avoided captioning close to 80-odd images drawn from Bhuvan Kumari Devi Archive. The images are interspersed with antique cameras from photographer and visual historian Arya's private museum Museo Camera. "Photography is all about memories and interpretation, and how it is perceived by future generations. I always believe that it is very important to understand the craft behind the images. There's craft and then there are tools of the trade...and the idea in the exhibition was to create a connect. It's not just the history of a family, it is also about how photography was evolving at the time," says Arya.
Hence, the exhibition walls are mounted with painstakingly restored photographs, postcards, records, letters and notes on the family history dating back over a century, along with advertisements of varying models of Kodaks and pithy definitions of portrait photos and 19th century daylight studios. Vintage cameras, furniture and a simulated studio-set provide a physical reference to a bygone era. Richly decked out women with languid expressions pose in family portraits, garden parties, bridge games, summer soirees, rollicking balls and thickly wooded backdrops. Their names and titles hardly matter. They all represent a way of life we have only read about.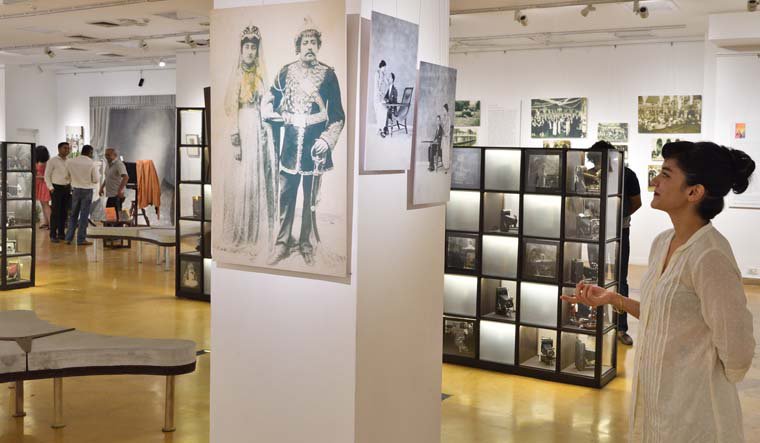 Not for nothing was Dev Shumsher known as a reformist. He wanted to abolish slavery, he started building schools to introduce universal education and launched many social welfare schemes, apart from being a firm anti-corruptionist. He introduced gambling, bhajans and silent movies in his less than five-month rule. This all-encompassing, accommodating disposition of the exiled prime minister is perhaps reflected in the curation of the exhibition too. In his fifties, he had a stroke and wrote to his brother to grant him the wish to visit Nepal once before he dies. His brother wrote back saying, "Just as no forest can contain two tigers, no one scabbard two swords, so there is no place in Nepal for you and me." Dev Shumsher Rana died " a mysterious death by his own gun" shortly thereafter on February 20, 1914.
Courtesy: The Week