A large earthquake like the one that rocked the Kathmandu Valley in 2015 would devastate any country. In a developing nation like Nepal, where residents are some of the poorest in the world, a natural disaster of that magnitude sets back much-needed progress by years.
The Gorkha Earthquakes of 2015 left over 22,000 people injured and nearly 9,000 dead. The impact is also significant economically. The US Geological Survey estimated in 2015 that the damage stood at 10 billion USD, which was more than half of Nepal's entire GDP at the time. As if all of that wasn't bad enough, some of Nepal's most world-renowned spiritual sanctuaries were destroyed in the historic quake: their temples and stupas.
Three years later, rebuilding efforts on those buildings are still an ongoing process. While some, such as Boudhanath Stupa, are already complete, it will be years before all 753 damaged temples in the Kathmandu Valley can be restored to their traditional conditions.
"More than 121 temples are already complete," Bhesh Dahal, Director General of the Department of Archaeology, said. "Heritage work is very difficult. We have to make carvings; stone carvings, wood carvings. Therefore, it is not an easy job."
The Kathmandu Valley Preservation Trust is one of the organizations working with the Department of Archaeology to rebuild damaged temples. The international private non-profit has already helped restore 50 historic buildings in the Kathmandu Valley since their founding in 1991. After the earthquake, they were tasked with rebuilding over 20 partially and completely collapsed temples in Kathmandu. Most of those are in Patan Durbar Square, one of the Valley's seven UNESCO World Heritage Sites. KVPT's Patan projects are planned to be fully completed by 2023.
"Our goal is to somehow preserve the buildings, which are about to be lost or which might disappear," Program Director Rohit Ranjitkar said. "It does not need to be in the main square or landmark building, but it has to somehow have historical significance or architectural value."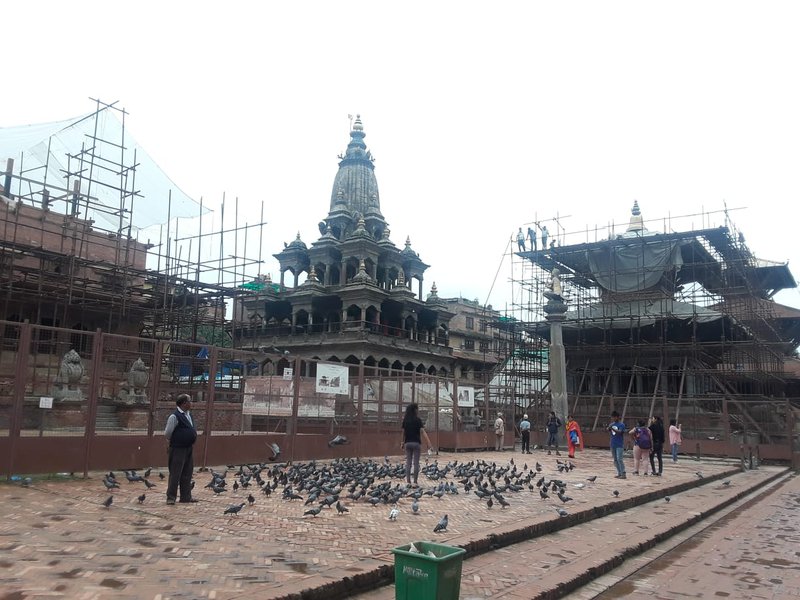 Temple rebuilding efforts have received a boost from foreign governments.
Since the 2015 earthquake, the U.S. provided Nepal with over 20 billion rupees in earthquake response and recovery. Some of those funds have gone toward rebuilding the Kaiser Mahal Palace, Char Narayan Temple and Gaddi Baithak, among other monuments. Germany and the Netherlands provided KVPT with 12 million and 1 million rupees respectively to rebuild Manimandap Pati in Patan Durbar Square. Japan gave Nepal 7 million rupees to rebuild Manimandap Pati, Bishwanath Mandir, Krishna Mandir and Char Narayan Mandir. The governments of China, England and Sri Lanka are also helping Kathmandu rebuild their historic monuments.
"A lot of heritage is getting the foreign aid," Dahal said.
All traditional temples in the Kathmandu Valley carry historic and cultural value, but there are some which maintain greater global significance. These are the Buddhist stupas of Swayambhunath and Bauddhanath, the Hindu temples of Pashupati and Changu Narayan and the Durbar Squares of Kathmandu, Patan and Bhaktipur. These buildings are recognized by the United Nations Educational, Scientific and Cultural Organization (UNESCO) as World Heritage sites due to their historic and cultural importance.
Conservationists worry that the Kathmandu Valley's UNESCO World Heritage sites could be delisted if rebuilding is done in a non-traditional manner. If recent history is any indication, those concerns are warranted. In 2016, reports of concrete being used in the rebuilding of Rani Pokhari brought criticism from UNESCO.
"Such practice raises serious questions on the creditability of future heritage rebuilding in the Kathmandu Valley, including major sites such as Kasthamandap and Majudega of the Hanumandhoka Durbar Square Monument zone," UNESCO said in a press release.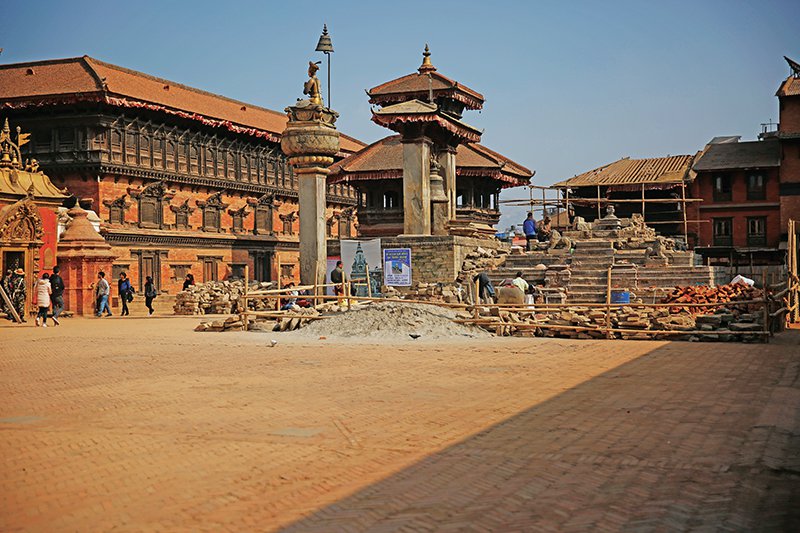 Concerns about non-traditional materials ending up in temple reconstruction are ongoing. Earlier this year, a group of heritage conservationists and activists delivered a memorandum with around 50 signatures expressing disapproval with the way Gopaleshwor Mahadev Temple is being repaired.
"Contractor Ram Prasad Pyashi has used concrete in the foundation of the temple," Narendra Shrestha said. "The contractor has mixed sand, mud and cement to construct the wall to make the structure strong. Though the intent may be noble, the addition of concrete undermines the value of our heritage, that is why we are at the DoA's office."
Dahal denied news reports of non-traditional materials such as concrete being used during temple reconstruction, but without giving specific examples, he did provide an exception for structural integrity.
"So many newspapers, what can I say, fake news," Dahal said. "Sometimes what happens is if our archaeologists, structural engineers and civil engineers can suggest to us 'this is the sensitive part, we have to introduce a new material,' then we can do it. Otherwise, we don't use concrete and cement also."
KVPT Program Director Ranjitkar admits that concrete was being used at Rani Pokhari and that it was a clear example of non-traditional materials being used. However, he explained that the debate over traditional and non-traditional materials is more complicated than people realize.
"Of course, I'd like to have as much as possible how it was built previously," Ranjitkar said. "People think lime is traditional and concrete is not traditional, but for me, lime is also not traditional. It came in 19th century. What is the definition of traditional? Every person has a different opinion."
What bothers Ranjitkar is not necessarily the use of non-traditional materials, but their utilization without providing adequate justification. In Rani Pokhari for example, he says the use of concrete was both unnecessary and unknown. If human safety is at risk, he understands replacing traditional material with something safer, but problems arise when government and contractors are not transparent about this being done.
"I don't mind if they justify not as traditional, if they justify as 'Okay, mud mortar is not strong enough to hold the building or for human safety,' that kind of reason I accept," Ranjitkar said. "I don't want to fake the people.
Due to the global historical and cultural significance of the Kathmandu Valley's temples, questions about traditional and non-traditional materials are likely to continue throughout the earthquake rebuilding process. Dahal explained that the DoA hopes to rebuild 80 percent of the 753 damaged temples after three years.
"These are our assets, our ancestry; this is our duty to preserve it," Dahal said "Our duty is to hand this over to the next generation because this is our pride."