Walk around Kathmandu and you will be amazed by its cultural beauty. Prayer flags connect from rooftop to rooftop. Hindu Temples and Buddhist Stupas of all sizes provide a seemingly endless supply of spiritual sanctuary. Walk to the foothills of the Kathmandu Valley and witness a unique mixture of villages and monasteries littered across the land.
Unfortunately, this journey is littered with more than just remarkable artifacts and diverse lifestyles.
The city streets are covered with piles of plastic and organic waste alike. Seeing stray dogs and wild monkeys sift through these piles for food is a common sight. Even the sacred Bagmati River is polluted by trash piling upon rocks and aside the ritualistic cremation of bodies at UNESCO World Heritage Site, Pashupatinath Temple, an important ceremony for Hindus saying final goodbyes to their loved ones.
How did Kathmandu's trash problem reach this point and what is the city doing to combat it? There are reasonable answers to both questions.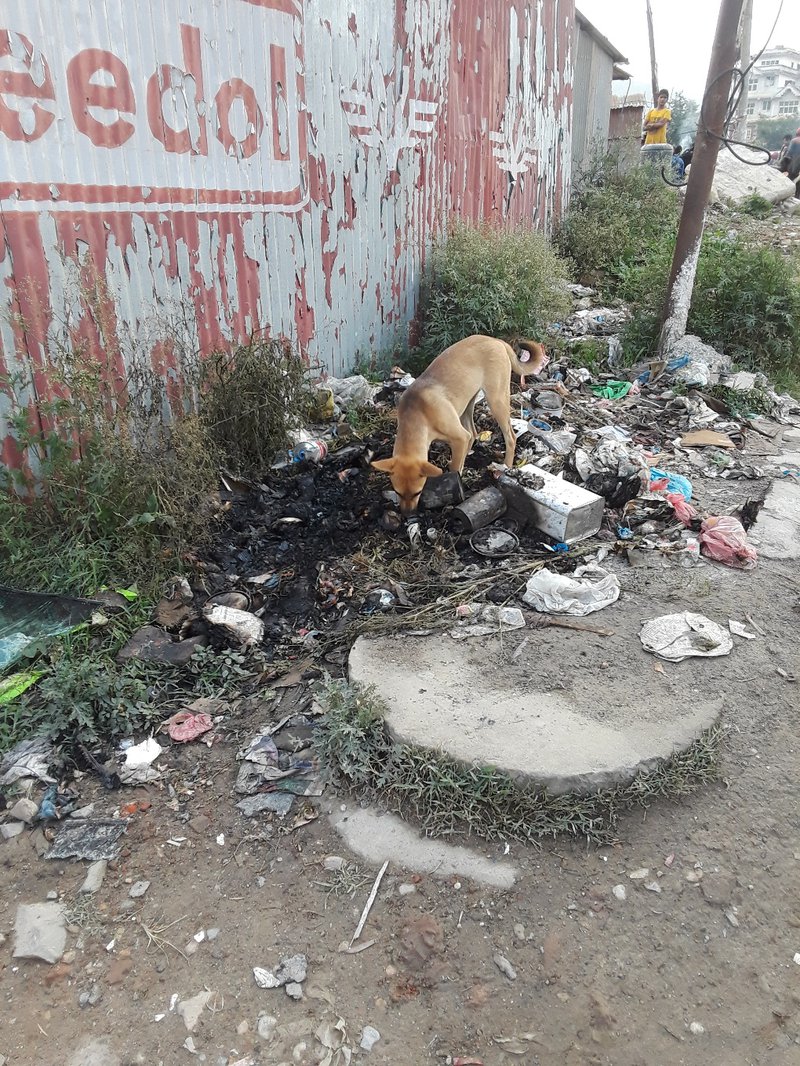 While the federal and provincial governments set the overall waste management policy and provide technical and financial support, currently the Valley's waste is largely managed by an array of local governments, private companies and informal waste workers. While they do their best to help residents and businesses deal with trash, the scale of the issue is proving too large for them to solve alone. It is estimated that between 800 and 1000 tons of waste are produced in the Valley each day.
Some municipal governments in the Valley provide a trash collection service, but most residents need to contact private companies and pay a monthly fee of around 200 rupees to dispose of their trash. This fee may be a barrier for impoverished residents, which the Government of Nepal's Central Bureau of Statistics said to be about 11.5 percent in 2012.
Umesh Khatri, a 21-year-old Nepali citizen from the Sindhuli District, who has lived in Kathmandu for three to four years, thinks that the government needs to do more to deal with the city's waste.
"Trash is a very big problem for Kathmandu," Khatri said. "People are throwing trash everywhere and they are not thinking about the environment."
On public streets, finding a trash bin is a rarity. Without this basic level of waste infrastructure, residents and tourists alike are pressured to either carry their trash, or more likely, throw it on the ground.
Mingma Bhotiya, a 37-year-old woman from a small village near the border of China, who has lived in Kathmandu for 15 years, believes the government should implement this kind of infrastructure.
"If the government puts trash buckets in dirty places and manages them, people will not throw out in the road," Bhotiya said.
Both Khatri and Bhotiya suspect that corruption is one reason why the government has yet to effectively manage the city's waste. Khatri expressed frustration about the government's history of proposing a plan, but not following through.
"They bring only plan, but then do nothing," Khatri said. "They will not implement the plan that is the problem. Corruption is a very big problem in Nepal."
Dipendra Oli, an administrator for the Solid Waste Management Technical Support Center, summarized the current waste policy as narrow in its approach.
"What we are doing now is not waste management, just sweep and dump," Oli said. "We are sweeping the street, we collect the waste from households, transport it to the landfill site and dump it there."
Due to this overall inefficiency in waste collection, many residents resort to littering or perhaps even worse, burning their trash. Considering that Kathmandu's air is consistently ranked among the most polluted in the world, this is especially problematic.
"They burn the trash because they want to clean it," Khatri said. "They think only of the current time, not the future."
The Valley's waste problem also extends to their lack of recycling infrastructure. Oli said that although residents and businesses are required by law to separate their trash from recyclables or pay a fine, in reality that is not always the case.
"If we talk about the policy, we have mandatory segregation," Oli said. "There is a gap between the policy matter and the practical situation."
In an effort to close that gap and solve many of Kathmandu Valley's waste problems, the Government of Nepal is creating the Integrated Solid Waste Management Project. Investment Board Nepal, a federal government agency, is working on contracts with two private companies: Nepwaste Pvt Ltd and Clean Valley Company. Nepwaste, a joint venture of Finland-based Communication, Poyry, Bioste and the Dutch-Nepali enterprise The Organic Village, will focus on 10 municipalities within the Valley, including Kathmandu Metropolitan City. Clean Valley Company, a Nepali-Indian joint venture, will be responsible for Lalitpur, Kirtipur and Bhaktapur.
The contract negotiations have been ongoing since 2015, but recent developments provide a glimmer of hope. In March, IBN and Nepwaste came to terms on a preliminary $50 million public-private partnership agreement. After 20 years of commercial operation, the project would be passed on to the government.
The project development agreement (PDA) is expected to be signed within two months of the preliminary contract being approved by the Cabinet. According to the contract, after the PDA is signed Nepwaste will then have three months to take over the existing waste management system of formal and informal waste workers and begin waste collection.
They will have nine months to reach financial closure, but that deadline is subject to extension. After that, the preliminary contract dictates that they have two years to construct the landfill site, processing facility and transfer station. Until the landfill at Bancharedanda is complete, they will use the existing facility at Sisdol.
While specific details on what activities Clean Valley Company will engage in are still uncertain as preliminary contract negotiations are ongoing, there are more specifics when it comes to Nepwaste. They will pursue household waste collection, street sweeping, cleaning of riverbanks, surface draining, cleaning public places like temples, managing e-waste and other hazardous material and creating campaigns on waste management issues.
A major benefit of the Nepwaste deal is that it will recycle waste and turn what is now a liability into an economic resource. Currently only about 50 percent of organic waste is turned into compost, but with a more organized waste system where residents are educated on how to separate biodegradable and non-biodegradable waste, this number could increase. Aluminum and iron can be reused and recycled, while 90 percent of paper and plastic can be converted into diesel. Right now, most of that recyclable material ends up wasting away in landfills.
The Nepwaste deal even provides hope when it comes to cleaning up trash piles on city streets and riverbanks. According to the agreement, the company will be responsible for addressing public complaints within 24 hours, empowering citizens to speak up when they see a solid waste problem.
When asked how long it will take for the contracts with Nepwaste and Clean Valley Company to be completed and projects to be implemented, Oli expressed cautious optimism.
"It depends on the situation," Oli said. "Right now we are in a stable situation politically. We have a stable government, a newly elected government, a comfortable majority government. That's why I think it will be started soon."
In the meantime, residents are finding creative ways to deal with the waste themselves. Many are collecting recyclables to create playgrounds and consumer products.
To help residents deal with waste in a productive way, companies such as Doko Recyclers are doing what they can to help residents improve waste segregation by providing recyclable pick-up free of charge. This is especially helpful for the impoverished residents who may not be able to afford the monthly fees with the government and other waste management companies. There are 1,200 to 1,300 households using the service, but the company, is always open to new clients.
"We offer free services to households," Co-Founder Raghavendra Mahto said. "If you are a household user, you could simply sign up on our website or call us and we will pick-up for free."
For the 60 to 65 institutions they are currently working with in all sectors, Doko Recyclers charges a monthly fee to keep their business-model of providing free services for residents alive. However, depending on what kind of recyclables is collected and how much, Doko Recyclers will actually provide all of their clients with rupees for what they have given.
"We work in a cash-for-trash model," Relationship Manager Shivani Saria said. "I give you the value for your recyclables, this is the same for households and institutions, and we in turn sell that to recyclers or large scrap dealers."
An important part of the service Doko Recyclers provides is in disposing of e-waste. In the Kathmandu Valley alone, the company says that 17,000 tons of e-waste is produced each year. Considering that the Valley has no systematic way of disposing of such waste, most of it ends up in landfills where it is harmful to both the informal waste workers who scavenge for recyclables, as well as to the air, water and soil in general.
"Within recycling we have things like e-waste, which is completely not handled currently within our country's recyclable context," Mahto said. "We are one of the first organizations who want to actually handle e-waste and hazardous waste."
While recyclable collection is the main service that Doko Recyclers provides, both Saria and Mahto emphasized that it is only half of the company's mission. They regularly hold events at schools and other institutions to educate residents on how to improve the city's waste management, even if it involves people working with other companies and waste workers.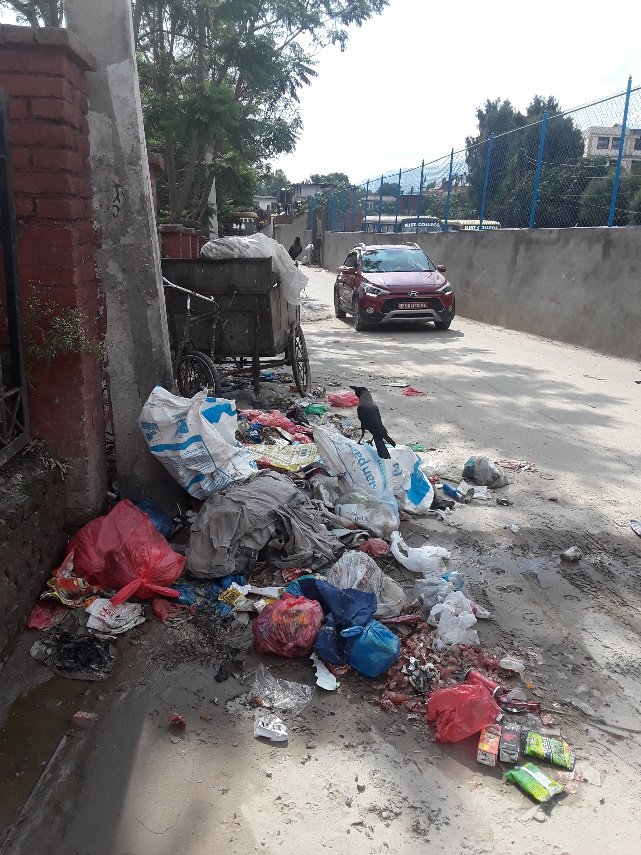 "Our focus is to increase collection, but at the same time we want to make it more institutional," Mahto said. "The city is already being covered by the informal waste sector; they are pretty much everywhere. People have to be open to them. If not us, they have to sell it to the informal sector. That habit has to come."
According to Doko Recyclers, the issue of waste management in the Kathmandu Valley is multi-faceted. It cannot be solved simply through infrastructure. Citizens must be educated on the proper way to dispose of their waste and the harmful health and environmental impacts of not doing so. Strict enforcement of regulations and monitoring to ensure compliance is also needed.
"Just putting up bins around the city won't help because Nepalese people are not too familiar with the whole idea of recycling and segregation," Saria said. "Nobody really uses them the way they are supposed to be used because they don't know yet. That's where the education part comes in."
There is reason for hope. In addition to the contracts being negotiated by the government and companies like Doko Recyclers trying to fill the waste management gap in the meantime, the increased level of education among younger Nepalis is fueling environmental awareness and hope for a future Kathmandu Valley where widespread waste pollution is ancient history.
"The older generation thinks that 'It's okay son, leave it,' they will say like that and they are also not as educated," Khatri said. "I think the new generations are thinking that something must change in the country, the environment and this problem also."