The Nepal national football team has never qualified for the World Cup, but you would never guess it when walking around Kathmandu during a match. After every goal, the city erupts with excitement. Countless fans walk the streets wearing their favorite football player's jersey. Most restaurants and bars host World Cup viewing parties for football fans to get their fix.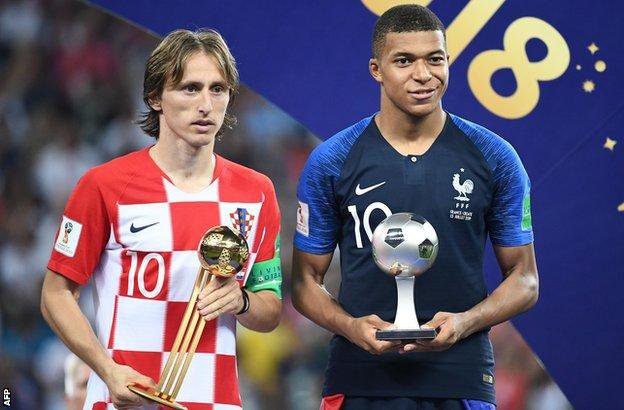 As World Cup 2018 comes to an end with France defeating Croatia 4-2, it will take months to eliminate the excitement among Nepalese football fans. More than one hundred Nepalese visited Moscow to watch the World Cup.
Although the fame of South American teams has gradually declined in World Cup football with the rise of more nuanced techniques, Nepalese fans love for South American rivals Brazil and Argentina continues, followed by Germany, England and France. This is demonstrated through t-shirt sales, with Argentina selling the largest number, followed by Brazil, Germany, England and France. Although the followers of Asian teams like Japan, Korea and Australia are rising, they have yet to match the top five.
Though they began with few Nepalese supporters, the number of Croatia fans has drastically increased after the team beat England 2-1 in extra time to move on to the finals. Overnight, the demand for Croatian jerseys skyrocketed. According to a trader, they printed almost fifty thousand jerseys in two days.
Although the Nepalese football team ranks below 150 in the FIFA ranking, the country has a large number of football lovers. From common people to those in executive positions, Nepalese spend a fair amount of time watching World Cup football matches, supporting teams of their choice from around the world.
Prithvi Bahadur Pande, Chairman of Nepal Investment Bank Ltd., along with his wife Pratima Pande and two brothers were in Moscow to watch the World Cup. Pratima Pande supported her home country while carrying Nepal's national flag.
"The World Cup match will begin soon," Prithvi Pande wrote on his Facebook wall. "Three brothers in Moscow. Prithivi, Shanta and Pawan. My heart is with France but I hope Croatia wins. A small country and we respect such small countries who perform so well."
Anil Keshary Shah, Chief Executive Officer of NABIL, is also a die-hard football lover, supporting five-time world champion Brazil. He even participated in a live review with one of Nepal's top media outlets.
When Brazil lost to Belgium 2-1 in the quarterfinals, he wrote on his Facebook wall, "Today Brazil played their best game of this World Cup yet they lost... that's what football is all about!!! Heart in my mouth enjoyed every minute of the beautiful game that Brazil played! Brazil goes home and the World Cup continues!!! No doubt I wish Brazil had won, but I'm happy that we witnessed some truly special football!!! Win or lose I will always have in my heart!!!"
Without a qualified team to call their own, Nepalese fans are left supporting different teams from around the world. Neha Joshi, a 24-year-old living in Kathmandu, isn't a supporter of any team during World Cup 2018, but she says that Argentina, Portugal and Brazil are the most common teams that Nepalese support due to their global popularity.
"I don't have a fixed team that I cheer," Joshi said. "I had always supported Argentina till last World Cup, but this time new countries are emerging out."
Interviews with other Nepalis demonstrate the accuracy of Joshi's belief. Sixteen-year-old Sushil Poudel, a supporter of Portugal because of Christiano Ronaldo, agrees that those are the most supported teams in Nepal. When asked how he feels about Portugal's elimination from the World Cup in a 2-1 round of sixteen loss to Uruguay, he gave honest criticism of his chosen team.
"Only one player cannot do it," Poudel said. "His team was not that nice, but he played so nice."
Seventeen-year-old Sujan Banjara was also a supporter of Portugal, but he expressed a similar critique.
"As we all know, just some players can't make a team last long," Banjara said. "The same reason Portugal doesn't last long. Only some players are professional."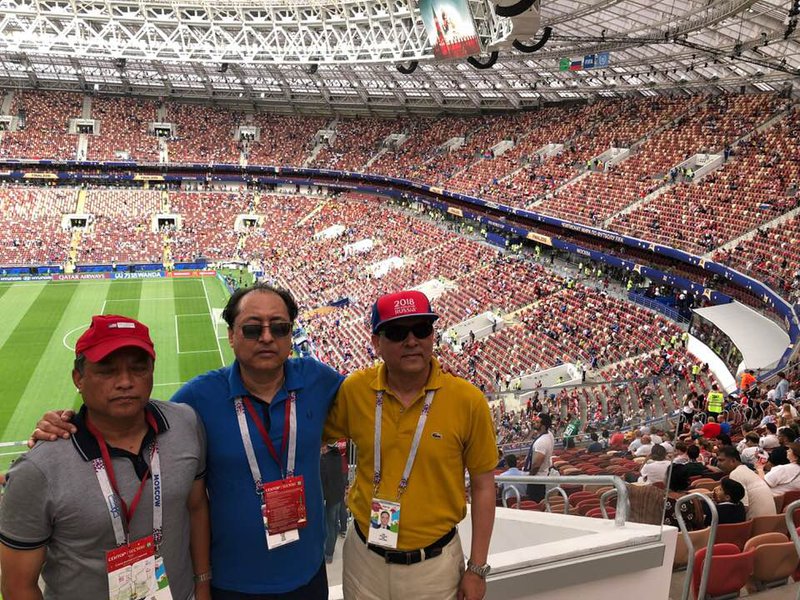 Sherbahadur Chaudhary, a 35-year-old from Kathmandu, was a big supporter of Argentina because of his love for Lionel Messi. Since they were eliminated at the time, he began cheering for Brazil (who unfortunately for him, lost shortly after our interview). Fifteen-year-old Aahooti Subedi also supported Argentina because of Messi. She believed that Argentina and Portugal's aging superstars were a major reason for their support this World Cup.
"It's true most of us had hopes with those teams, not just because they were good, but because maybe this would be the last the legendary players Messi and Ronaldo would be on the World Cup field," Subedi said.
Aaria Chetri, a 19-year-old from Bhaktapur, said that she liked Brazil because they are champions (having won a record five World Cups), but she wanted a different team to win this time around.
"I think some country who is not that famous should win," Chetri said.
For a country with so much football enthusiasm, it is upsetting the Nepal national football team is not good enough to give their people a World Cup team to support. The team is ranked 161 out of 211 by FIFA and 32 out of 46 in the Asian Football Confederation. In the first round of the 2018 World Cup qualifiers for AFC teams, Nepal was eliminated by India in a 2-0 defeat.
Rajendra Karki, a 21-year-old supporter of Portugal from Sundarijal, described how Nepalis feel about their national team.
"They feel shameless because of the technology and because there is not a good stadium too," Karki said. "There are many people who love football and who play football daily, but they did not get a chance."
Aahooti Subedi, 15-years-old, expressed similar pessimism about the team. She explained that although it is sad the team has never made it to a World Cup, they are trying their best. When asked why she thought the team has never qualified, she shared an image describing how talented young people leave the country due to lack of economic opportunity in Nepal.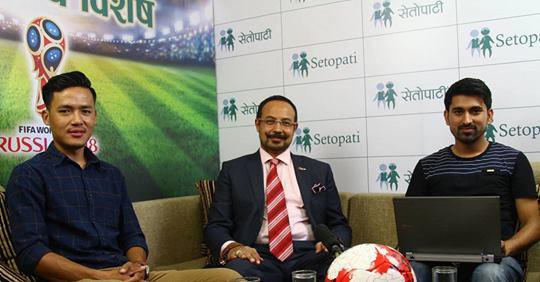 "If you get a job after struggling so hard and you think finally, but the main problem is you won't get satisfying salary," Subedi said. "Then after that comes the problem of youth leaving Nepal and going abroad, which leads to Nepal becoming an underdevelopment country."
Luckily for Nepal, the struggling football team and lack of economic opportunity has not crushed the football spirit of their people. Kids play football games amongst themselves on the streets with rocks as goal posts. Each match brings families and friends together to cheer on their favorite teams from around the world. If there is any joy to be found in this World Cup for Nepal, it is in the persevering attitude of their people.