Ambica Shrestha, President of Nepal Heritage Society, called all the people to join to preserve heritage of the country. "Heritages are our roots. This is why Nepal Heritage Society has been pushing various programs. Tourism needs heritage to survive and heritage needs tourism for preservation," said Shrestha addressing the program organizes to mark 39th World Tourism Day on the theme tourism and Digital Transformation.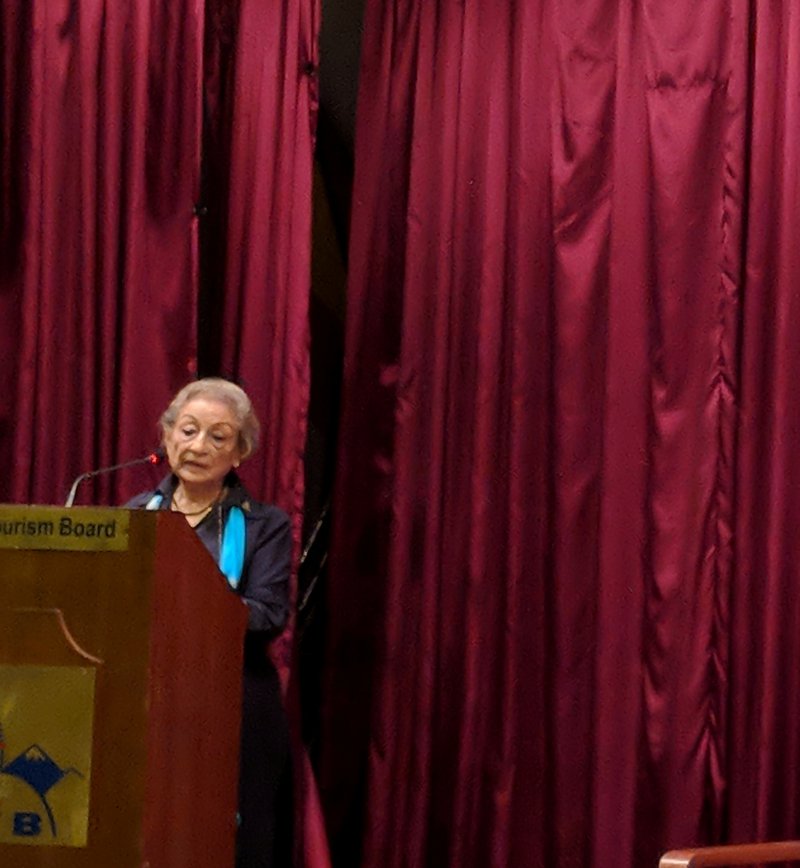 Supported by Nepal Tourism Board and organized by Nepal Heritage Society, president Shrestha said Nepal has many intangible heritages which are more valuable and important. One can see tangible things like Mt. Everest, Himalayas and temples. However, equally important intangible things like culture, festivals and practices.
"Nepal has many unique things like culture and festival. Our Guthi is one of the ancient ways of successful model for philanthropy, "said Shrestha. We need to work to revive them and I have been fighting for last 45 years to revive Guthi," said Shrestha.
She called all concerned authorities to restore all the palaces including Rana Palaces in its old shape. "Of course cracked some of Rana Palaces but it should not be demolished," said Shrestha.
Tourism and Cultural Heritage Go Side By Side
Giving opening statement vice president Pratima Pande said that the tourism and cultural heritage go side by side.
"The government of Nepal and the Tourism Ministry and Board have announced the initiative Visit Nepal 2020, Life Time Experiences, so the whole nation will be preparing to welcome maximum tourists from around the world which will benefit Nepal greatly," said Pande.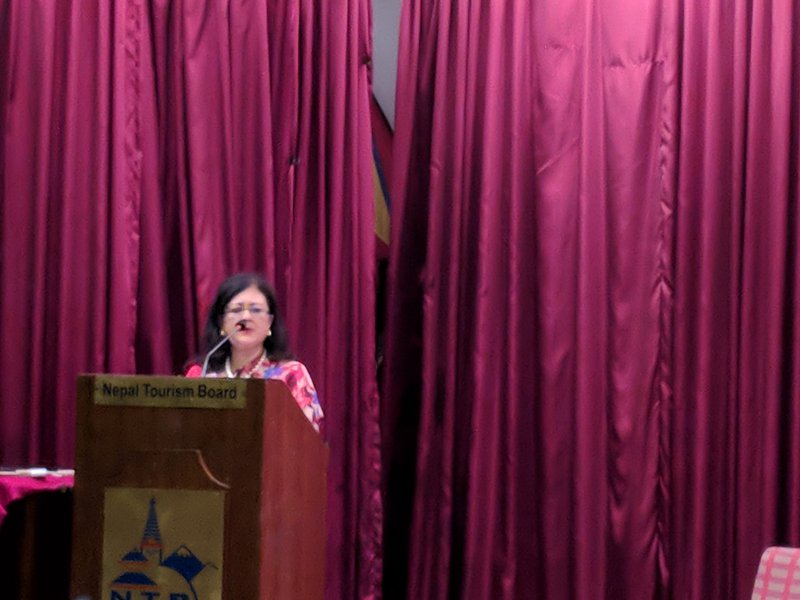 "Tourism and cultural heritage go side by side. Millions of tourists come to Nepal to experience our beautiful temples and monuments, our mountains and our wildlife and to see our living culture and customs and to meet the Nepali people," said Pande.
Addressing as a chief guest deputy mayor of Kathmandu Metropolitan City Hari Prabha Khadgi, who also launched Heritage Journal, expressed her commitment for the preservation of the heritage sites of Kathmandu. "Our heritages are unique and valuable. All of us need to work together to preserve them. KMC has been working to restore our heritage sites destroyed by earthquake," said Khadgi Shrestha.
She also inaugurated the art exhibition of artists Chin Kazi Tamrakar and Mr. David Douglas.
Senior marketing director of Nepal Tourism Board Nandani Lahi Thapa expressed happiness to support this kind of program which helps to revive the heritages of Nepal. "Nepal Tourism Board gives high priority to the heritage in international marketing," said Thapa. She also said that digital transformation has had the global tourism marketing as one can book hotel from any parts of the world through online."
The program began with a presentation by Professor Dr. Bina Poudyal, former head of the Department of Culture T.U on sun and moon images of Nepal.
Attended by large numbers of people from different walks of life including Kathmandu based head of diplomatic missions, vice president Professor Suvarna Shakya delivered a vote of thanks.