Ram Chandra Paudel, the incoming president, has already made clear to whom he is to by beginning his meeting with Maoist leader and Prime Minister Pushpa Kamal Dahal, NC Leader Sher Bahadur Deuba, and CPN-US Leader Madhav Kumar Nepal.
President-elect Paudel will have plenty of time to put an end to partisan politics after the election results are announced. He was elected through an electoral process that was violently divided along partisan lines.
The message would have spread differently if he had visited K.P. Sharma Oli, the leader of the largest opposition party, and people who did not initially vote for him. President-elect Paudel, however, squandered his first opportunity to elevate his position as a leader above politics.
At a time when the question of the president's objectivity is being discussed, newly elected president Paudel, who was a candidate for eight political parties, has the opportunity to establish the institution as a constitutional body beyond politics.
The two previous presidents, Ram Baran Yadav and Bidhya Devi Bhandari, received harsh criticism for acting political while in office. Even though the position of president is largely ceremonial, several constitutional requirements still give it significance during a pivotal political period.
Ram Baran Yadav demonstrated his unrestricted power as president by designating the Chief Justice as the head of the cabinet to conduct the elections and by returning the Chief of Army Staff after he disobeyed the prime minister's order.
Similar to this, President Bhandari demonstrated the power of the office by supporting the dissolution of the House on both occasions and refusing to sign the citizenship measure passed by both Houses.
President-elect Paudel has hinted that his job won't be all that different from the two previous presidents' contentious duties.
Rastriya Prajatantra Party (RPP) and Nepal Majdoor Kisan Party, two political parties, agreed to abstain from voting for either candidate during the election, claiming that doing so represented their respective political parties and ideas.
President-elect Paudel met with Prime Minister Dahal "Prachanda," NC leader Deuba, and CPN-US head Nepal at the latter's home and defended their positions.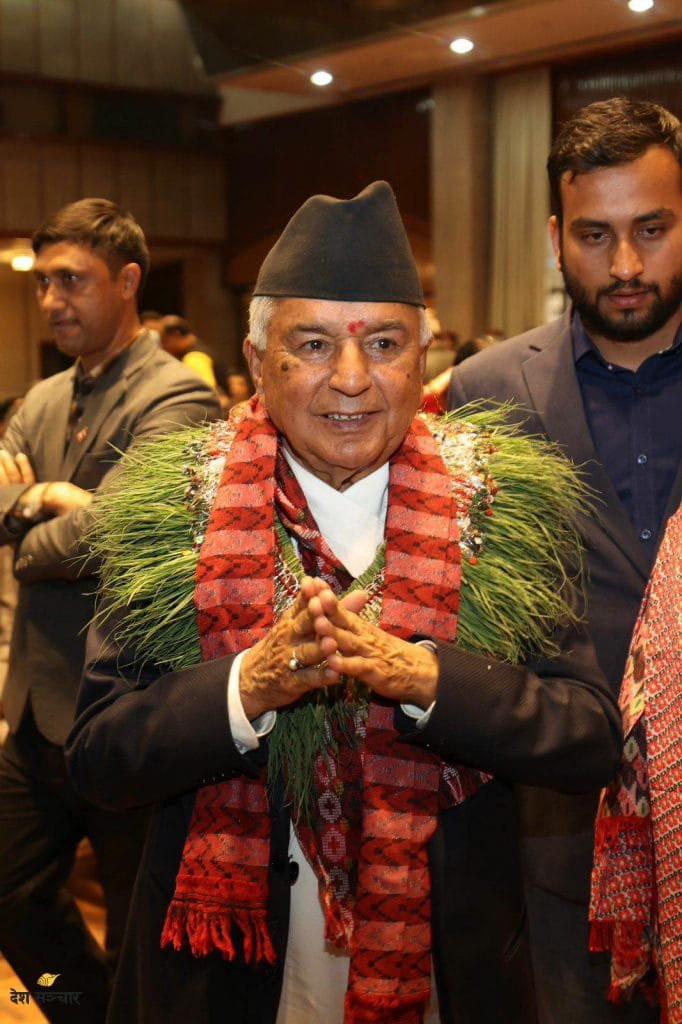 In the course of their meeting, Prime Minister Prachanda—who is also the head of the CPN (Maoist Centre)—was thanked by President-elect Paudel and received his congratulations as well as the Prime Minister's best wishes for a fruitful term in office.
Paudel also met with Madhav Kumar Nepal, chair of the CPN (Unified Socialist), and Sher Bahadur Deuba, president of the Nepali Congress and a former prime minister. Deuba's residence in Dhumbarahi and Nepal's residence in Koteshwar were both visited by President-elect Paudel.
"President-elect Paudel must uphold the constitutional tasks assigned to the president after the elections. He is now a national leader rather than the leader of any one political party, according to constitutional attorney Bhimarjun Acharya. "President must conduct himself in accordance with the Constitution."
the choice of a president
The elections this year were exceptional. Paudel and Nembang both served as House of Representatives speakers in the past. Paudel, a prominent member of the Nepali Congress, is Nepal's third president. He won the presidential election on Thursday by defeating his opponent Subas Chandra Nemwang of the CPN UML (March 9, 2023).
The president-elect Paudel received 33,802 votes, according to the election commission, while Nemwang received 15,518 votes.
The President is elected by an electoral college consisting of the members of the Federal Parliament (House of Representatives and the National Assembly) and the Provincial Assembly. A total of 313 members of the Federal Parliament and 518 Provincial Assembly members took part in the vote today.
The vote weightage of a Federal MP is 79 and that of a member of the Provincial Assembly is 48.
Former Speaker of the House of Representatives, Paudel was a common candidate of CPN (Maoist Center), CPN (Unified Socialist), Janata Samajwadi Party Nepal, Loktantrik Samajbadi Party Nepal, Janmat Party, Nagarik Unmukti Party, Rashtriya Janamorcha and Nepal Samajbadi Party along with his party, the Nepali Congress.
Also a former Speaker and Chairperson of the Constituent Assembly, Nemwang represented the CPN-UML. The term of office of the President is five years and he/she can be elected for not more than two terms, as per the constitutional provision.
Strength And Weakness
Despite being a senior leader in the party and being well-known for it, he does not have a sizable following in the district congress. He got his start in politics in Kathmandu as a student with a communist lean, eventually joining Nepali Congress at the district level.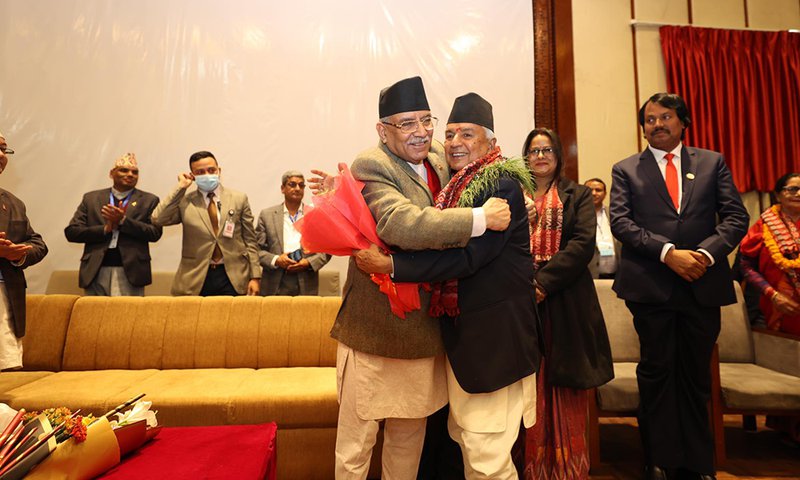 Despite his high standing, he is regarded as the leader of the faint-hearted. Paudel is constantly angry toward his opponent, and he never made any attempts to develop newcomers. For instance, his animosity toward Govinda Raj Joshi, a former political associate of his, has grown to the point that the two of them are no longer friends.
Paudel appears straightforward, but he is a highly shady politician. He ran for prime minister 17 times, but never came out on top. He engaged in tandem play.
Paudel is a notorious political crook despite his unassuming appearance. He ran for prime minister 17 times, but never came out on top. With Girija Prasad Koirala and Krishna Prasad Bhattarai, he performed. Although identifying himself as Bhattarai's replacement, he supported Koirala in the recent election.
The founder of the Nepali Congress, Bhattarai, frequently referred to him as a cunning politician. Despite his reputation as being anti-Deuba, Paudel was able to get Deuba's full support in order to become Nepal's president. Deuba supported Paudel in the presidential election despite having a close political connection with Krishna Prasad Sitaula.
Paudel has a long political history and has always been renowned for his fiery temper. He has no problem making decisions based on his impulsive nature. Such choices can occasionally be destructive to the nation.
According to reports, Paudel was a crucial figure in severing the bonds between the three founders, Krishna Ganesh Man Singh, Prasad Bhattarai, and Girija Prasad Koirala, towards the latter stages of his career.
Paudel, who is thought to be close to Bhattarai, changed his mind and supported Koirala. When the party legally split, he supported Koirala even though he had encouraged Deuba to do so.
For the sake of achieving political success, Paudel ruined the political careers of several of his younger opponents and colleagues, most notably Govinda Raj Joshi.
Girija Prasad Koirala supported Paudel in his final campaign despite having disliked him throughout his whole political career. Deuba always thought that Paudel had deceived him, but he also supported Paudel at the expense of his close political ally Krishna Prasad Sitaula during Paudel's final political campaign.
Who is Paudel?
Senior leader of the Nepali Congress and former Speaker Paudel has been elected President through a vote.
He was born to the parents- Hrishi Maya and Durga Prasad Paudel at Mirlung Bahunpokhara of Tanahun district (presently Vyas Municipality -8, Risti) on 14 October 1944. Paudel currently resides at Boharatar, Balaju Height in Kathmandu.
The President-elect holds a MA degree from Tribhuvan University in 1970, and earned Bachelor's in Sanskrit (Shastri) from Valmiki Vidyapeeth, Kathmandu in 1967. Similarly, his school education (SLC) was completed from Nandiratri Secondary School, Naxal, Kathmandu in 1963 and IA from Saraswoti College, Kathmandu in 1966.
The president-elect has had a very significant social and political career. He was the founder secretary of the Himalayan Chhatra Sangh; chairperson, secretary and executive member of Nepal Students' Union from 1960 to 1967. He involved in the Student Union campaign as the general secretary of the Nepal Sanskrit Students' Association and participated in the Kathmandu Conference in 1962.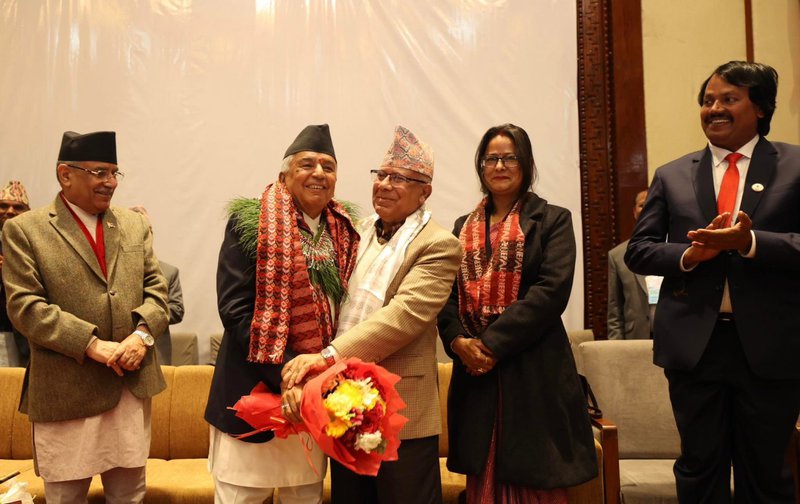 Paudel was founder president of the Gandaki Chhatra Sangh in 1966. Paudel also served as founder general secretary of the Democratic Socialist Youth League in 1967.
Paudel had active involvement in the Jayatu Sanskrit am Aandolan, a campaign for truth, social justice, and cultural reform; played a lead role in students' movement through Nandiratri Students' Union; Ranipokhari Madhyamik Bidhyalaya's Students' Union and others from 1985 to 1967.
He was inspired to join the democratic movement since an early age of 15 against coup d'état that dissolved the first popularly elected parliament and jailed the leaders including Prime Minister BP Koirala on 15 December 1960.
Associated with the Armed Insurrection Movement for the restoration of democracy and siege of Bharatpur/Chitwan in 1961, he initiated Free Students' Movement in 1962, and was elected president of the Saraswati College Student Union in 1966; elected as a founder president of the Gandaki Student Committee in 1966; and elected as the general secretary of the Democratic Socialist Youths League (DSYL) in 1967.
Leader Paudel was elected as a Member of Parliament from Tanahun constituency no 1 in 1991 and served as the Minister for Local Development and Agriculture from May 29, 1991 to 1994.
For the second time, he was elected as a Member of Parliament from Tanahun constituency no 2 in 1994 and elected the Speaker of House of Representatives in 1994 and served until 1998.
He became the Deputy Prime Minister and Home Minister since 1999 to 2002. Moreover, he was named the coordinator of Peace Secretariat that included representatives from top political parties from 2006 to 2007 and served as Minister for Peace and Reconstruction from 2007 to 2008.
Elected as the general secretary of the Nepali Congress in 2006 and the vice-president in 2007, he again became Member of Constituent Assembly from Tanahun constituency no 2 in 2008.
Paudel's political career continued to rise, as he was elected as a parliamentary party leader of Nepali Congress in 2008. He became vice president of Nepali Congress after being elected as central working committee member of the party from the 12th general convention of the party in 2009.
The President-elect is known as a socialist thinker and experimenter. Down-to-earth, with high thoughts, Paudel is a leader of a clean image. He is an eloquent speaker and ardent advocate of democratic socialism.
The challenge before the president election now is to establish the credibility of ceremonial head of the state as a guardian of nation and unifying forces irrespective of political parties and political ideology.