The Terai region's demand for electricity has surged by more than 100% this sweltering summer, according to Kulman Ghising, Managing Director of the Nepal Electricity Authority (NEA). Despite installing new transformers and improving in distribution systems, NEA's distribution system had severe breaks at a time when more homes are utilizing fans and air conditioning.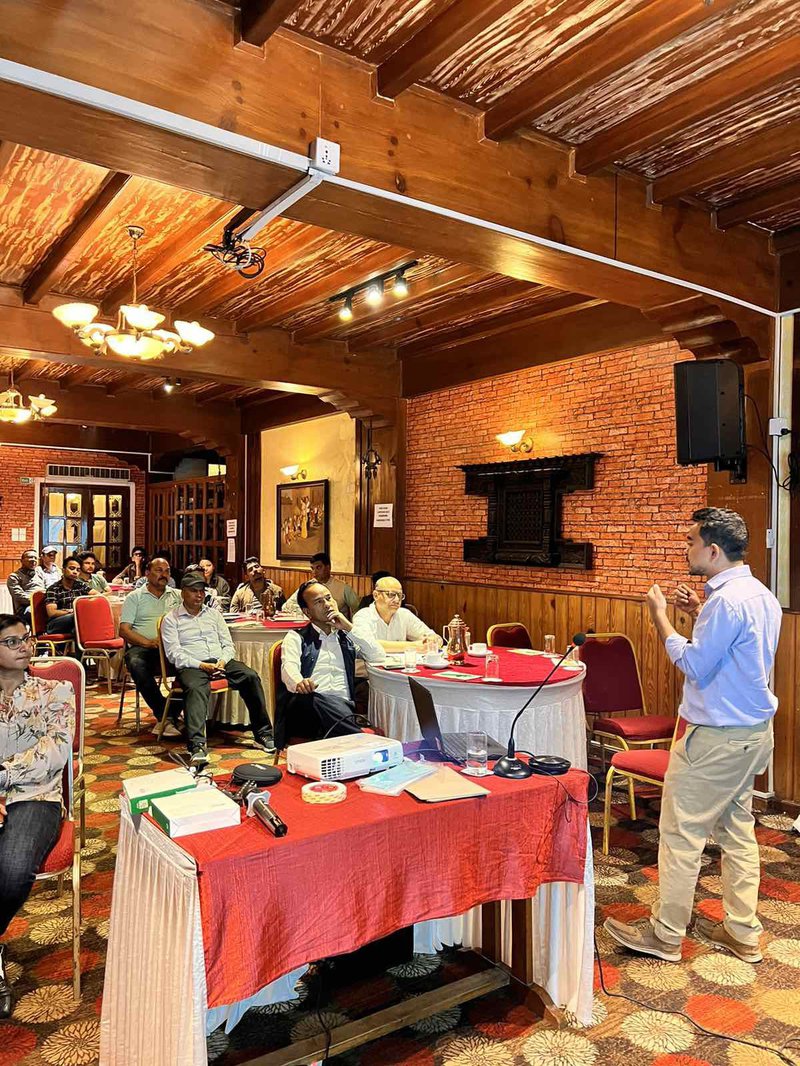 Ghising's assertion highlighted the expanding patterns of rising electricity demand at the home level as a result of their buildings' disregard for the concept of energy efficiency in construction. This year's household energy consumption phenomenon is just the tip of the iceberg.
With the number of new constructions increasing, the demands for electricity are likely to increase heating and cooling home in the near future. As there is currently no energy efficient building codes or policies at all levels, the future of energy supply is bleak threatening Nepal's commitment for zero emission by 2045? .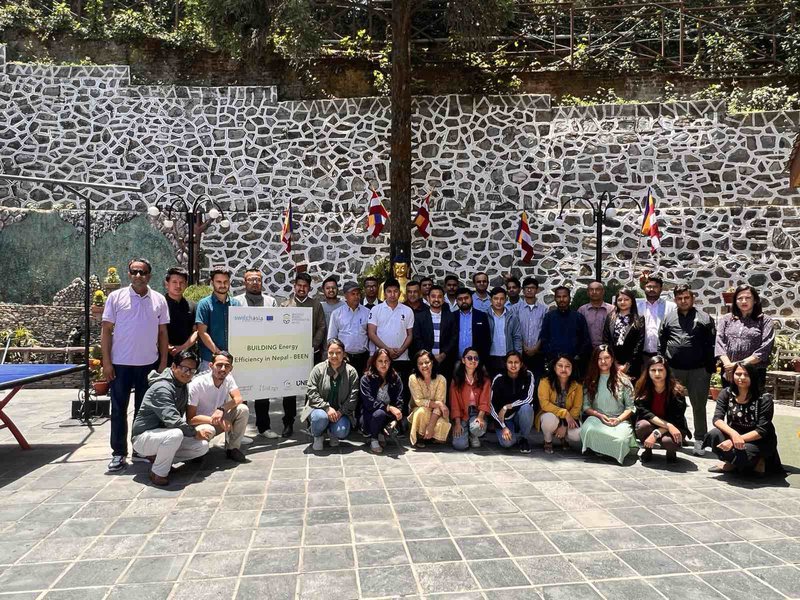 At a time when the issue of energy efficiency in building construction is receiving low priority at policy levels, Building Energy Efficiency in Nepal (BEEN), established a year ago and focusing on energy-efficient buildings, has started to offer technical support in all different sectors, including building materials, design, research, and policy level at federal and local governments.
Launched by European Ambassador to Nepal Nona Deprez, BEEN- a European Union-funded project under Switch Asia, aims to support national and sub-national governments in policy, training, and building materials to create energy-efficient buildings.
In the present context, BEEN which has been working with different stakeholders including the governments and the private sector at different level of building construction, come as a boon.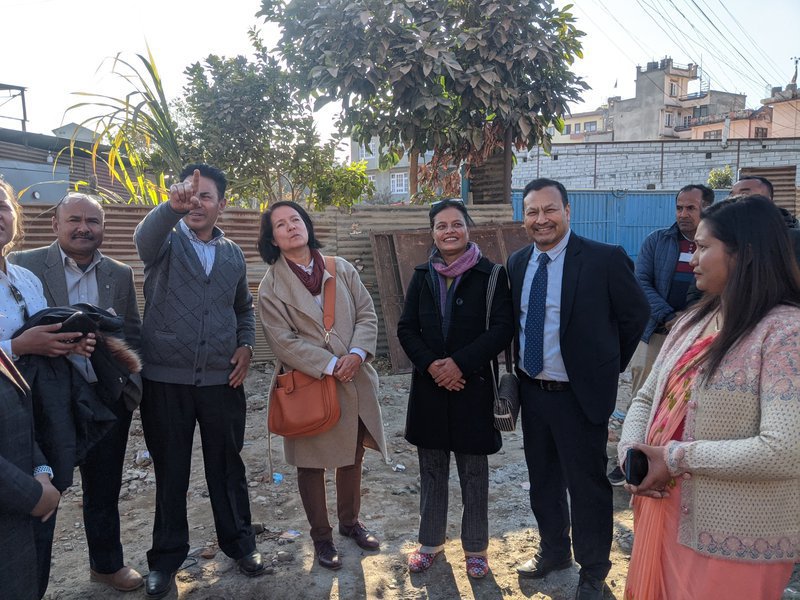 The goal of BEEN is to identify affordable and energy-efficient building design options for Nepal. The design of energy-efficient buildings is a complex process involving many interrelated design criteria. BEEN also seeks to reduce operational energy consumption by at least 25% and energy embodied in materials by 10% by improving the building or retrofitting of at least 200 buildings in 60 municipalities and advising these on policies.
The Scenario
Gajendra Maharjan, Mayor of Godawari Municipality, admits without hesitation that his municipality lacks an energy-efficient building code. "Our municipality doesn't even have a building code, let alone one for energy efficiency," Maharjan explained.
Godawari Municipality, which borders Lalitpur Metropolitan City (LMC), is one of Kathmandu Valley's fastest-growing urban areas, with over 500 building designs approved for construction each year.
Godawari is not the only municipality that lacks a building code; other municipalities also lack one. Valley's two largest Municipal Cities Kathmandu Metropolitan and LMC also lack an energy-efficient building code."We are in the process of making it with the help of some organizations," said LMC Mayor Chiribabu Maharjan.
Governments at all levels, including the federal level, lack an energy-efficient building code. According to reports, the Ministry of Urban Development is creating a new building code that will include green and energy-efficient regulations.
Many larger public buildings, including the Federal Parliament Building, one of the largest currently under construction, lack these features due to a lack of energy-efficient building rules. The harm has already been done as new buildings are being constructed without following these codes.
Nepal is one of the world's fastest urbanizing developing countries, with over 100,000 new buildings added each year. Kathmandu Valley is the fastest urbanizing city, with over 40,000 new buildings added each year. According to a Ministry of Urban Development study, it is estimated that 1 million homes will be built in Nepal over the next decade, with over 400,000 added in the valley. Apart from private residential houses, energy-intensive large new building stocks in the tourism, public, education, and commercial sectors are expected.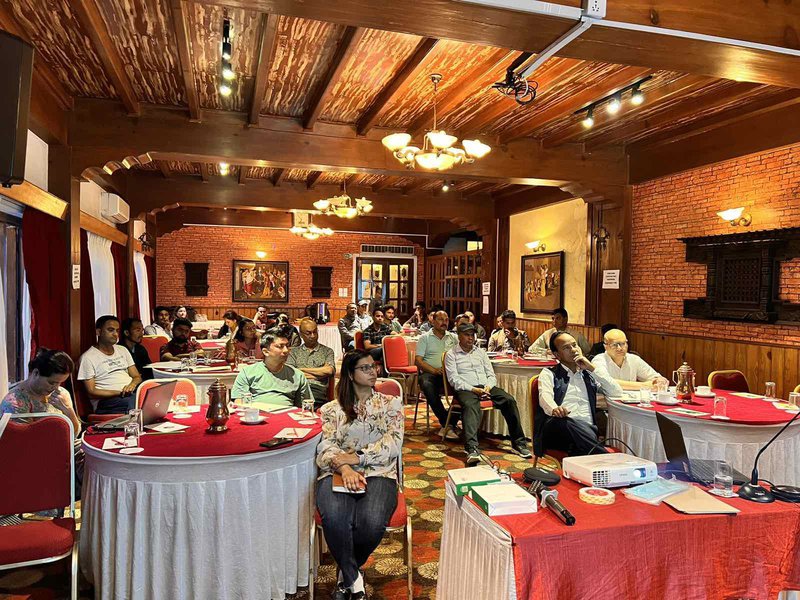 Despite expressing an international commitment to achieve zero emissions by 2045 through Nationally Determined Contributions (NDCs), Nepal's Federal, Provincial, and Sub-national governments have yet to develop a broader policy to make it a reality. Given that buildings will be a major energy consumer, achieving the zero-emission target will require addressing the sector.
Following the launch of the project, BEEN has been organizing various programs at different levels to support the formulation of policies and their implementation, as well as capacity building at the local level. Similarly, the project is also launching programs to generate awareness about energy efficient buildings.
The project will encompass 60 municipalities in the four bioclimatic zones of Bagmati, Lumbini, and Gandaki Provinces and it is expected to bring about significant changes in building design, construction materials, and policy within four years.
"Since the inception of the project, we have been organizing various kinds of stakeholders meeting in the project areas and discussing the issues with technical staffs and political leadership at the local level to apply building codes emphasizing low carbon and climate resilient settlements," said Suyesh Prajapati, BEEN team leader and Program Director at MinErgy. "We have been receiving a good response in the programs and meeting."
Lack of Policy
The current building designs in Nepal are extremely energy-intensive. A lot of energy will be used to make building materials such as brick. The overall operational energy requirement in such buildings will be higher. Furthermore, the use of building materials with high embodied energy contributes to the building sector's increased carbon footprint in Nepal.
While structural stability of buildings has received greater attention in Nepal since the 2015 earthquake, consideration of climate responsiveness and energy efficiency is lacking in most new building designs." Notably, none of the governments have energy efficiency building codes," said Usha Maskey Manandhar, Advisor - Policy, Governance, and GESI Integration MinErgy - BEEN. "We've been collaborating with sub-national and federal governments to hold joint awareness campaigns and provide assistance in capacitating them. Along with the policy, we are working to promote environmentally friendly brick, such as hollow brick."
"Energy efficiency issues must be addressed by incorporating passive strategies to design climate-responsive buildings as well as the use of energy-efficient space heating and cooling systems."
Similarly, materials with low energy and resource efficiency during production and use should be prioritized. "The integration of renewable energy measures in building design and operation must be encouraged in order to further reduce the carbon footprint of buildings," said Prajapati, team leader.
Nepal has already expressed its international commitment to achieve zero emissions by 2045 through the NDC and building energy-efficient buildings is a critical sector. However, the Nepalese government lacks specific laws, bylaws, guidelines, and codes to ensure energy-efficient buildings.
The existing building code, regulations and guidelines applied in the country does not address the issue of thermal comfort based on ecological zones. This could be the reason contemporary buildings constructed in accordance with the design code perform poorly in terms of the indoor thermal comfort of various regions.
Each of the three ecological zones has a unique climate and set of requirements for the design of building and construction materials. Previously each ecological region had its own set of structures, materials, and designs. Now brick, cement, and concrete are now frequently used materials. In every ecological region, houses are designed with the same height and width.
Buildings that are energy efficient can be constructed with minimal changes to the materials and designs and with no big additional financial outlay. However, the general public believes that it costs more money to build energy-efficient buildings. Even higher-level officials are negatively impacted by the cost issue in the absence of specific studies and modality tests.
Since the buildings in Mustang, Kapilvastu, and Kathmandu have been using similar types of materials and designs that undermine thermal performance and impede home staying comfortable. overheating for more than six months in the Himalaya and under-heating for longer than four months were the two main issues in Kathmandu's buildings. Both thermal performance and active energy consumption need to be improved," according to Prajapati.
To optimize the design parameters such as window-to-wall ratio, glazing material, shading devices, glazing type, and insulation levels were changed. Additionally, Nepal's bioclimatic zoning was consolidated, resulting in five zones based on elevation that could be used to implement building energy regulations in the future.
BEEN has been collaborating with local governments and related associations, creating passive design guidelines, design tools, technical standards and manuals, as well as training programs. This has enabled building sector's entire value chain to use the project's measures, aiding building-MSMEs in creating pertinent communications and promoting energy-efficient and renewable building technologies.
"We are making efforts to implement policy interventions through local multi-stakeholder consensus processes, providing standards advisory and favorable policies establish an environment that is conducive to builders' and owners' stepping up their efforts, while also providing MSMEs with policy incentives to keep providing their services," said Prajapati.
"The project has already begun educating the public and municipality officials about energy efficiency methods and municipal policies (guidelines and any bylaws) on energy-efficient building practices. As the deadline is approaching, numerous organizations are working to develop energy efficient and green building construction. We are in contact with the World Bank's Green Project to discuss potential areas for collaboration," added Prajapati.
The World Bank is supporting the federal level, and BEEN is working with elected Palika leaders and technical officials. "We have already begun capacity-building and awareness-raising initiatives. To ensure our programs are based on an authentic and data-based baseline survey, we are conducting research and studies to gather data. Based on that data, we are launching several programs at the sub-national level, "said Manandhar.
The Federal Government has an important role to play in the development of policies and guidelines and in ensuring they are properly implemented. There are a number of institutions at the federal, provincial, and local levels that can develop and carry out the policies to fulfill Nepal's obligations to other countries.
For instance, the Department of Urban Development and Building Construction (DUBC) within the Ministry of Urban Development is solely responsible for issuing building-related guidelines, codes, and regulations.
The authorities and powers related to building construction, including the creation of laws, bylaws, guidelines, and codes, are subject to the provisions of the Constitution of Nepal.
The Federal Government still has some prerogative rights despite some ambiguity. The federal government's authority includes national and international environmental management, national forest policies, carbon services, land use policies, human settlement development policies, tourism policies, and environment adaptation, according to Schedule-5 (Relating to clause (1) of Article 57 and Article 109) List of Federal Powers.
Additionally, the federal government continues to have authority over any matter that is not mentioned in the lists of federal, provincial, local, or concurrent powers, as well as any matter that is not mentioned in this Constitution or federal laws.
Town planning and local-level development projects are the responsibility of local-level government, according to Schedule-8 (Relating to clause (4) list. These particular constitutional rights are inalienable.
As a line ministry of sub-national governments, the Ministry of Federal Affairs and General Administration (MoFAGA) is the federal agency responsible for providing operational-level support to the Local Governments, providing model laws, guidelines, policies and programs, budgets, and gazettes. At all local levels, MoFAGA appoints executive officers.
The MoFAGA's spokesperson, Kamal Prasad Bhattarai, stated that local governments are responsible for determining the types of design they require. "However, he said they still have to abide by decisions made regarding certain matters, such as Nepal's stance on climate change."
MoFAGA is pleased with the start-up work and ongoing projects of BEEN. It has already had some training and discussions with Palikas about building regulations," said Pralhad Kumar Karki, Undersecretary of the Ministry .The project is assisting Palikas in developing the new policy.
BEEN is a small grant project supported by the European Union that aims to conduct research and disseminate information on the building of energy-efficient structures to Nepal's three main governments and the private sector. The 60 local levels of the Lumbini, Gandaki, and Bagmati Provinces, as well as the various ecological zones from Mustang to Butwal and Kathmandu, have been involved in the project, 'said Karki.
This is a pioneering project of its kind that aims to disseminate fundamental information about building, policies, and material usage that promote energy efficiency.
The Ministry's advisory group consists of representatives from the Ministry of Urban Development and other related ministries. Its responsibility is to provide the project with advice. The Ministry of Urban Development is also in charge of assisting the project with any technical issues.
"BEEN and the Engineering Division of Local Level Palikas are closely collaborating," said Karki "The project is expected to result in significant policy changes and advancements in private sector technology. It will provide Information on the use of energy in building construction. Additionally, the ministry anticipates improved technical municipal units responsible for approving building codes and increased awareness among elected officials."
The Ministry of Urban Development, the Ministry plays a minor role in the publication of any building-related policies and codes. "Local governments are responsible for deciding what types of buildings and building designs they prefer", they said.
Though they are not required to comment on building codes, the Ministries of Energy, Water Resources, and Irrigation have greater influence over energy policies and regulations regarding energy generation, transmission, and distribution.
In recognition of the significance of promoting energy efficiency issues, the Ministry has been implementing the Nepal Energy Efficiency Program (NEEP) 2010–2017. Through the Alternative Energy Promotion Center (AEPC), the Ministry is currently putting NEEP into practice.
"As a nodal organization for implementing energy efficiency, AEPC has been standardizing different heating, cooling, and lighting products to reduce energy consumption at the same level. We recommend LED-SFL lamps at all levels instead of conventional lamps, "stated Subha Laxmi Shrestha, Assistant Director, Energy Efficiency and Outreach Management (AEPC). "Furthermore they are standardizing fans and air conditioners for energy efficiency."
Experts have emphasized that energy efficiency issues for private buildings must be incorporated into the building code. "Nothing can be done after a building is built for at least another 50 to 100 years, "explains Om Rajopadhya, a policy expert with the BEEN Project.
The new buildings currently being built will use a significant amount of energy, particularly for heating and cooling. "National Building Guidelines are essential, and that is the most important thing," Rajopadhya adds.
The Ministry of Urban Development can now include energy efficiency features in public building construction. However, the federal government has not yet finalized the building and building code policy draft, despite it being in the process of creation.
Incorporating the National Building Guidelines into bylaws and buildings at sub-national government levels is essential, according to Upadhyaya, who spent his entire career in the Ministry of Urban Development.
Sanjay Uprety, an associate professor at the Engineering College in Pulchwok explains that the Ministry of Urban Development and DUBC must implement an energy audit during the building of public structures including the use of hollow brick, which was present in the past.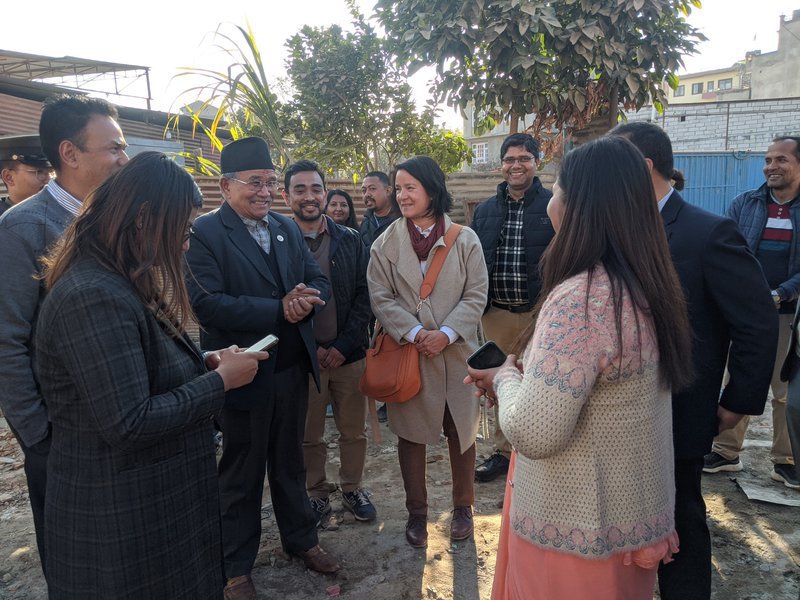 The biggest problem, according to Associate Professor Uprety, is a lack of knowledge about energy efficiency in building design. Not just among privately owned homeowners and locally elected officials; but even at the federal level. In response to this, the Institute of Engineering began offering the Master Level course last year and they are now also incorporating an energy-efficient building curriculum at bachelor level
The current work of the BEEN project is critical, as it will help change the current situation and support Nepal's goal of having zero emissions by 2045 when there are currently few regulations governing energy-efficient construction.