As heavy rains were recorded in various districts of Nepal, the Department of Hydrology and Meteorology issued an advisory advising people to seek shelter in a safe location.
Heavy rain has been recorded in Makwanpur, Makwanpur Gadhi, Hetauda Rain Measuring Station, and neighboring areas in the previous three hours. Those who live near the ocean or in flood-prone areas should exercise caution until midday, as the small rivers of the district, such as the Karra and Samri rivers, will rise and cause flash floods.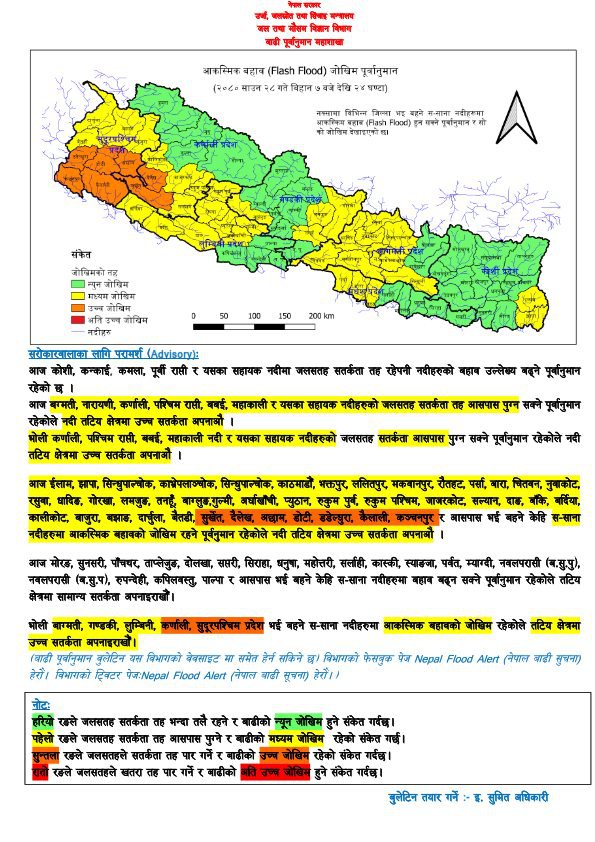 Banke's Mankhola Belgaon center's water level is nearing the alert level and rising. Be on high alert in the Mankhola coastline area and flooded Hocha areas until tomorrow morning. Bank of the District Administration Office
The water level in the Bagmati, Narayani, Karnali, Paschim Rapti, Babai, Mahakali, and their tributaries is projected to reach the alert level today, therefore please exercise extreme caution in coastal areas.
According to Nepal Flood Alert, there is also a risk of abrupt floods in the districts highlighted on the map; therefore, we should exercise extreme caution in coastal areas.