Writing an autobiography is not easy, yet the readers look for this genre for it sheds significant light into the contemporary issues and experiences from the perspectives of a particular individual. Known for writing poems, short stories and essays, Devendra Pratap Shah has ventured beyond these works to narrate his or her own experience to the public.
As in the autobiography Confession, by John Jacques Rousseau, Shah shares his personal bitter experiences. The book is so interesting that it can be read in a relentless stretch as one would read late Bal Krishna Sama's autobiography Mero Kabitako Aaradhana.
Rich in Nepali vocabulary, Shah's description of how he handled events and jobs is interesting and lively. When readers start the book, they easily get involved in the events as a party.

His book also shows how difficult it is for an honest manager in Nepal to work. He has to face all out assaults from the media, state agencies and trade unions. As the chief of Agriculture Development Bank, he had a bitter experience with the media. His book chapter, Press, Me: Love and Hate, deals with that aspect.
In this chapter, he has shared how the media were insensitive towards the integrity, freedom and character of individuals. He has explained how the media launch disinformation and deformation campaign against the individual holding high managerial positions. As there is a very nominal punishment and compensation  for defamation and character assassination, many individuals like Shah had no option rather than to live with the awkward situation. The description of an advice of his junior highlights an unpleasant plight. 
The autobiography is rich in all forms. Along with the reforms in the Agriculture Development Bank, he has also described his visit to different parts of the country.
Shah is open and transparent and he does not hesitate to share his own experiences, even his bitter experiences. He skillfully intermingles his personal information with his job and work.
Beginning with a beautiful setting of his village Maidi, he made a march to the banking career without losing his passion for literature. A well known literary personality, he chooses words for describing events that are very appropriate and interesting.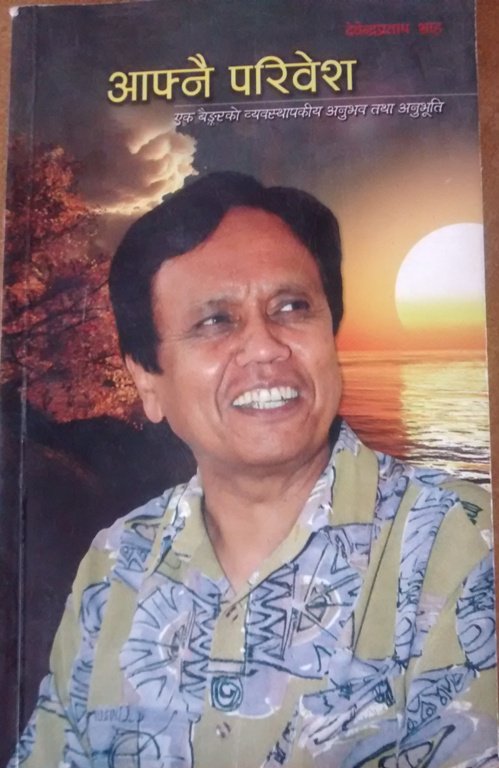 Name of the book: Aaphnai Parivesh- A Banker's Managerial experience and feelings

Written by Devendera Prtap Shah

Published by Ishwori Shah

Distributor Narayan Lal Shrestha 98511-74073

Price: Rs.350.00

Pages: 282

Serving more than three decades in the banking sector, Shah, who is now Chief Executive Officer of Nepal Bank Ltd, is a man of rich experience and knowledge.
Spending his entire his career in the Agriculture Development Bank, a prime development bank of Nepal, Shah retired after as a CEO of that bank. In his book Aaphnai Parivesh, Shah shares his own experiences related to Agriculture Development Bank.
Born in Maidi Village of Dhading district, about 70 kilometers west of Kathmandu, Shah's journey to the banking sector has many interesting episodes. Brother of late Bishnu Pratap Shah, a well known administrator and chief election commissioner of Nepal, Shah joined Agriculture Development Bank in 1971 just after completing his graduation in  Commerce.
From the beginning till the end, Shah's writing has the power to lure every reader. This book will be particularly useful to the students of management who want to pursue their career in the banking sector. It is also a great part in the history of  Nepal's autobiographical writing.