At a time when many historical monuments of Kathmandu and Bhaktapur durbar squares are yet to be restored and opened for public, the reconstruction of Patan's Mulchowk and Seeman Gallery has been completed, thanks o the efforts of KVPT.
The credit of completing the reconstruction goes to the local community and different stakeholders, under the leadership given by a KVPT team, led by Rohit Ranjitkar. Coordinating with the local community and government agencies, the KVPT team has completed the reconstruction of the most precious sites of Patan Durbar Square.
The generous financial support given by Nepal Investment Bank and its chairman Prthivi Bahadur Pande, Pratima Pande and Sophie Pande, and their fund-raising drive, have been remarkable. 
Coming a long way from New York, Eric Theophile, co-founder of KVPT, who has contributed his entire life for the restoration of the heritage of Kathmandu Valley, thanked Prithivi Bahadur Pande and Pratima Pande for their announcement to match dollar for dollar and rupees for rupees in raising the funds. He also thanked Sophie Pande for her strong support in the fund raising drive.
The KVPT organized a preview tour of Seeman Gallery Architectural drawings at Patan Museum. In a function, the Trust also announced the new earthquake response campaign with donors' names.
Eric Theophile, co-founder KVPT, announced the names in a function. They include Sulabh Agrawal, Daya Foundation, Future of International Exchange Association Japan, Nepal Investment Bank Ltd, Manju and Jharendra SJB Rana, Prithivi B. Pande and Pratima Pande, Siddhant Pandey, Prabhakar SJB Rana, Siddhartha SJB Rana and Suchotechnology, Japan.
At the function attended by diplomats from various countries, art lovers, government officials, heritage lovers and local and international conservationists, Eric Theophile said that this was a great moment as KVPT was able to complete the renovation of the project before the schedule.
Honorary life member of KVPT Kanak Mani Dixit said that KVPT has completed the work of reconstruction of one of very important heritage sites of Kathmandu. He said that Nepal's historical sites, including the temples, are the living heritage where people interact daily through worshipping, festivals and spiritual motives.
During the program, Pratima Pande, executive member of KVPT, Director General of Department of Archeology Bhesh Narayan Dahal and Executive Director of KVPT Rohit Raj Ranjit also highlighted the significance of the program.
Along with Japanese ambassador Masashi Ogawa, the newly arrived German Ambassador to Nepal, renowned German archaeologist and senior advisor of KVPT Neils Gutshow and people from various walks of life were present at the program.
The completion of reconstruction of Mulchwok is a first major achievement Nepal has made so far in bringing Nepal's heritage sites back on track.
"Completion Is A Big Achievement"
Pratima Pande Executive Board Member of KVPT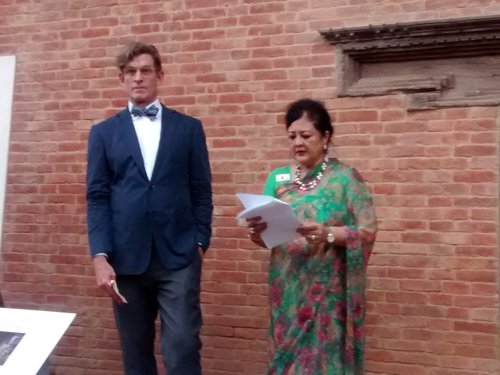 It is wonderful to see you all here after our last program on World Monuments Watch Days, which brought awareness of all heritage lovers to our work at reconstruction and fundraising for the KVPT's ongoing Temple Restoration Projects.
Thanks to the World Monuments Watch Day Program, we have had positive responses locally to our fund raising initiative and we have been able to raise some sums of money. Many institutions and individuals are donating for the rebuilding of the heritage sites damaged by the earthquakes.
The KVPT board would like to thank all the people who have donated so generously to help in the rebuilding of our precious monuments destroyed by the earthquakes. The board would like to thank all for their support and love of our heritage sites in the Patan Durbar Square.
I would like to thank Rohit Ranjitkar and his team of builders and craftsmen who are working painstakingly to bring our temples and monuments back to their splendor and glory. Finally, it is so wonderful to have Eric Theophile, co-founder of KVPT and Neils Gutshow, senior advisor, with us today to motivate, encourage and lead the KVPT, which is doing such a wonderful work in heritage conservation and restoration for Nepal. Gutshow, senior advisor, is with us today to motivate, encourage and lead the KVPT, which is doing such a wonderful work in heritage conservation and restoration for Nepal.
 "Department Needs Close Collaboration"
Bhesh Narayan Dahal, Director General of Department Of Archeology
On behalf of the Department of Archeology, I would welcome all of you to this special galleries preview organized by the Department's partners for many years standing, the Kathmandu Valley Preservation Trust (KVPT). The work of KVPT provides a positive example of the overwhelming challenges faced by our society since the earthquakes of 2015.
These two and half years have been especially challenging for our Department while the human casualties and injuries and material losses from the earthquakes were tragic beyond description, the medium-to-long-term task of our department has been the area of architectural and cultural heritage. Our focus has been in the repair, rebuilding of many of these seven hundred historical buildings and monuments lost in the quake.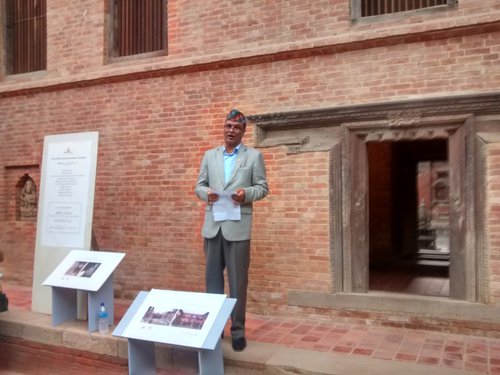 The historical structures of Kathmandu Valley not only define our national heritage but we have been recognized as important to all humankind. Among the built heritage, of the Valley, the Patan Durbar and plaza provide one of the finest preserved sites. I applaud the local community, including the youth, the Lalitpur Metropolitan, Lalitpur Chamber of Commerce, Mangal Tole Sudhar Sangh, the security forces and others who contributed to protecting Patan Durbar Square area after the earthquake. The Department of Archeology is proud to work with you now for protection of our heritage.
The work of KVPT provides a positive example of the overwhelming challenges faced by our society since the earthquake 2015. Let me offer a few words about the KVPT, which has been collaborating with the Department of Archaeology since 1991. The trust is a unique example of an international private charity in Nepal, with a specific mission which is to safeguard the Valley's architectural heritage. The KVPT raises funds and implements projects on a turn-key basis, always in coordination with the Department. Their team of Nepalese professionals has preserved more than 60 monuments, many of them around here in Patan.
KVPT's Patan Durbar Earthquake Response Campaign is a model effort and I thank all those whose contribution has made so much of KVPT's work possible. I applaud both Nepali citizens and international friends who have stood behind the KVPT in its vital work of preservation of our architectural heritage. I urge all of you to continue to support the Trust because there is so much more we have left to do in response to the earthquake, here in Patan and all the Kathmandu Valley.
 "We Are Proud To Save All The Elements From The Rubble"
Rohit Raj Ranjitkar
I am very happy to welcome you all to our site on the soft opening of galleries of Sundari Chok where we have been working since 2006 as Patan Durbar Campaign. The whole building was in a much-deteriorated condition, when we started working here, as it had been 'not in use', as well as with 'no maintenance' for a few decades.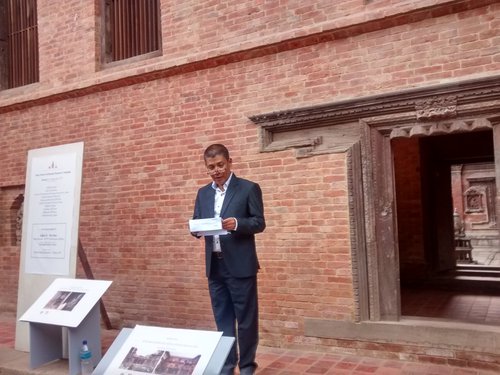 Three wings of the chowks were completed before the earthquake, which was intact in the earthquake. However, the unrestored east wing, which collapsed in the earthquake, was rebuilt a few months ago with support from WMF, NIBL, Prithivi Bahadur Pande and German Embassy. The reconstruction of Seemann Gallery was supported by Yogeshwor Amatya.
The KVPT and Department of Archeology Coordinated the security aspect, rescuing artifacts and cleanup efforts in Patan Durbar Square immediately after the earthquakes, with Mangal Tole Sudhar Samiti, Patan Museum, LSMC and local residents and community. Remnants of the fallen monuments in the Patan Durbar Square were secured with the help of hundreds of volunteers, local stakeholders, the Nepal Army, the Armed Police and Nepal Police. All valuable historic building components were secured within the first ten days after the earthquake and stored in the Patan Museum compound. They were documented and sent into storage with labeling. Among these thousands of rescued pieces are intricately carved wooden elopements from the tired temples that collapsed in the square.
We are proud that we were able to save all the elements from the rubble, even small pieces of carved elements. Of course, some of the elements were not reusable, but they will serve as evidence in references to make new replicas. Since the earthquake, we have been repairing all those carved elements from completely collapsed as preparation for rebuilding. We have almost completed repairs of all those carved elements and already some of the temples, under rebuilding process, incorporated those elements.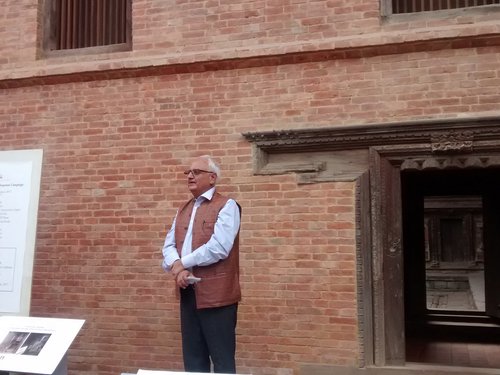 Restoration of the monuments, which partially or fully collapsed, such as Char Narayan, Harishankar, Visveshvara and around 15 other monuments in Patan Darbar are to be restored or rebuilt with 4 additional temples in Kathmandu Darbar Square. This is what we like to call earthquake response campaign of the projects in Patan and two projects in Kathmandu have already been completed and some expected to complete at the end of this year.
We are planning to complete the restoration and rebuilding of all the monuments in next 3-4 years, bringing the Patan Durbar Square back to its former glory, how it was before the earthquake, in an even better, more historically accurate yet safer form.