As soon as I arrived in Nepal, I began to notice the fervor for festivals in Nepal. I heard about the cow festival and the festival of respecting brothers by sisters. Soon enough, I was actively participating in the Teej festival, which I prefer to call a red festival.
In the festival, women in red worship the lord Shiva, and Parbati. There was also an occasion to celebrate the birth anniversary of Ganesha, a son of Siva and Parbati. I had read a lot about different countries, cultures and religions, but I had rarely heard of the festival of women.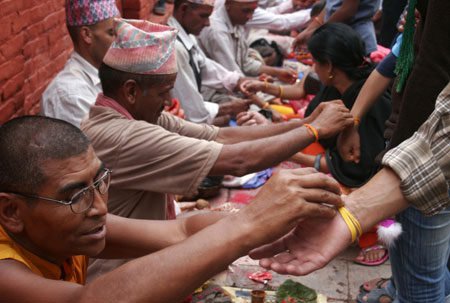 A week after the red festival, I also saw women dancing in Nepal's main city, celebrating their another occasion, the Gaura Festival. Looking at the festivals coming every week, Nepal seems to be a country of festivals of different religions and cultures.
Teej Festival
Teej is the most popular festival celebrated mainly by women but even by girls in Nepal in the monsoon season. Women worship the Gods, in particular Goddess Parbati and Lord Shiva. Shiva is one of the trinity of the most important Hindu Gods, the destroyer of evil and transformer. He creates and protects the universe and every living being. In the course of the festival, women dance, fast and pray for a long life of their husband, for a strong and intact union between them, eventually for divine future husband of their daughter and unbound girls.
During the festival, the weather is a less important aspect. It doesn't matter whether it's windy, rainy, stormy or incredibly hot. In each case, you see crowds of women in red, undisturbed and vigorously dancing. For the festival, red is the typical dress. Red color represents wedding, the marriage. Colors which accompany red are green and yellow. Even these have their own significance. Celebration takes place in the monsoon period of the year, which makes crops to grow and entire Nepal is covered in green.
On this day, preparations start relatively early. Every detail must be perfect! Women put on make-up, do the hair, wear bangles and attach tikka between the eyebrows. Married women wear red, unmarried can choose the color they prefer. Then comes the most important part of the outfit, kurta.
That way, we are prepared to go to the temple to hand in gifts to Shiva and take blessings in return. For this reason, we carry plate with apples, bananas, typical coloring, milk, flowers, incense and small amount of money.
There is a long queue before the temple consisting of glaring kurtas. Every woman waits for her turn to pray inside and devote her offering. After reaching the temple, I put the milk into a special vessel, which flows to Shiva's statue, and the rest of the sculptures around. Everywhere are flowers, rice, and pigment and sun rays. Next to the temple is an open space where there is an assembly of dancing people, who already finished their prayers. Besides dancing, they laugh, talk, make rituals, put tikka from priest and take photos. As blessings the rice in red vermilion powder is placed on our forehead by older women, accompanied with money. Before leaving, I light fragrant stick, make a wish and let it burn next to the temple. At home, we eat apples and banana, eventually yoghurt and tea to at least gently reassure our grumbling stomach.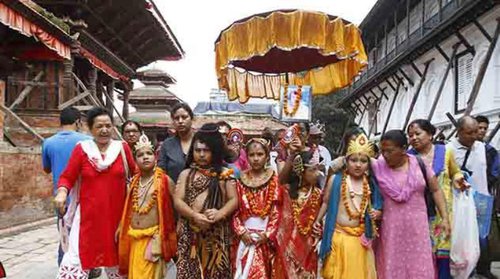 After a brief break it's time for dancing. Our path leads to another temple in which a big Teej celebration takes place every year. It's very crowdy there, people dance and do not perceive anything else. The place is blazing with energy and determination. Even rain, which suddenly starts, cannot stop us. Some people leave earlier, some of them stay all day. We rest, talk and in the evening, we finally deserve big ration of Dal Bhat. The music plays again until midnight, cheerfully, blithely and defiantly.
And why fasting?
Based on the legend, Parbati was daughter of King Himavat and Queen Mena. She was destined to marry God Shiva. The path to enthrall his heart wasn't easy. She realized penance and devotion were the only way. She meditated, without any drop of water neither food. After a few days, Shiva recognized she was reincarnated Goddess and married her. According to this love story, women fast, hoping for a divine husband as Parbati got.
The festival lasts for four days, but only three of them are the very specific ones. I had the amazing opportunity to experience and share the old custom with my Nepali host family who explained to me all the rituals on every single day. It helped me a lot to understand the culture, deeper meaning and purpose of doing so.
The first day is called Dar Khane Din, in which rice pudding is compulsory as a special food. This day is significant mostly for married women who are invited to visit their maternal home by their brothers and to observe the tradition. Because parents of my family are far away, we stayed at home and spent the day with others. We cook food with neighbors for dinner all together, preparing huge amount of Dal Bhat and rice pudding. As a tradition, sister of my host father was invited for the dinner.
Laughing, smell of rice and vegetables fill the house very quickly. On this day a lot of food is prepared, as a presage of fasting the next, so everyone has to gather strength. For dancing, smiling and celebrating it is much more important than usually! We sit next to each other, eat delicious and typical food with hands and most importantly we converse. After dinner children dance and adults move to the living room to digest. Sometimes it's a very difficult task, today's food is greasier overall. Nepali believe just oily dishes can satisfy them enough for a long time so afterwards it's not that hard to keep up fasting the day after.
In the evening all neighborhood unites. Everyone meets on the corner, brings food, drinks and music. Very loud festival music accompanies celebrating women and girls, others sit and encourage them. Around eleven is time to eat rice pudding, rejoicing is grueling. This day is long, the celebration continues until late at night. After midnight, the music stops and people go home to have some deserved rest.
The main day of Teej is the second day. It's a fasting day. Just for women. In some families it's taken as very rigid and strict, which means spending entire day by dancing, singing without any food and furthermore without any drop of water! This day is dedicated just to festivity, except of the obligation to twice a day arrive home to cook food for husband.
However, more and more women perceive fasting in a more relaxed way. They can drink water, tea or milk and eat very light food, which includes fruits, vegetables, anything without salt.