Although he was born in Switzerland, Europe, Toni Hagen spent his entire life working and promoting Nepal. Late Hagen contributed to all sectors of Nepal. His contribution exposed Nepal to the globe.
Not only this, he also suggested a model of development to Nepal. Unlike the western model of big industries and highways, what he proposed was having small industries and small power projects as well as ropeways for Nepal's transport system.
As Nepal's road transport has been creating a lot of landslides and natural disasters, Hagen's five decades old vision of a ropeway for transportation has proved more environmental friendly.
When he first visited Neal in 1950 as a part of Technical Assistance Team sent by the Swiss Government to help with the tentative steps at government at introducing western style development, Nepal was under the Rana rule and isolated from the rest of the world.
However, late Hagen fell in love with the nature of Nepal. He was the first foreigner to complete trekking all parts of Nepal.  "As the geologist in the Swiss Team, Hagen was allowed to go around the countryside, an experience that whittled his desire to see more of this unknown land. This is where he began a relationship with a country that grew into a close friendship over half a century," said Dr. P.K. Jha, president of Toni Hagen Foundation.
Toni Hagen Foundation, in celebrating the birth centenary of late Toni Hagen, organised a program in which various speakers highlighted the role played by Hagen in Nepal's development.
Collecting a large number of photographs of Nepal in the various stages and publishing a number of books, Hagen contributed a lot to understand Nepal's diverse geography. One could see that at a photo exhibition organized in Kathmandu on the occasion.
Swiss Ambassador Jorg Frieden and Katryn Hagen and daughter of Swiss geologist Toni Hagen inaugurated the photo exhibition of Toni Hagen, showcasing the pictures taken 60 years ago.
Organized by Nepal Heritage Society, on the occasion of the 38th World Tourism Day and World Heritage Day, the Exhibition of Rare Photographs of 1950s of Nepal taken by Dr.Toni Hagen was the first of its kind with all rare photographs of Nepal.
Displayed at the gallery of Nepal Ar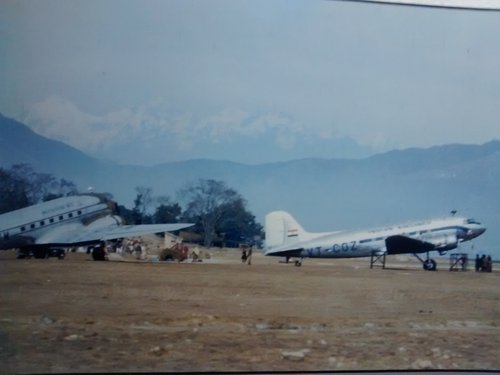 t Council, the photographs are the testimony to show why Nepal was known as Shangri-La. Supported by Nepal Investment Bank and Dwarika Group of Hotels and Resorts, the event displayed photographs provided by Dr. Katrin Hagen, the daughter of Toni Hagen.
Speaking at the inaugural program, Swiss Ambassador to Nepal Jorg Frieden highlighted the role played by Hagen in Nepal's overall development. Director General of Department of Archeology Bhesh Narayan Dahal said that Toni Hagen's contribution to Nepal will be remembered forever.
The Director General of the Department of Tourism spoke about the importance of the photographs in promoting tourism. President of Nepal Heritage Society Ambika Shrestha said that this is a great occasion to promote Nepal's heritage through the photographs taken by Hagen. "The photographs displayed at the exhibition are a reminder of Nepal's past. We are very thankful to Dr. Katryn Hagen, daughter of Toni Hagen, who has provided the photos."