Since I arrived in April to assume the ambassadorial position, this is the first auspicious national day celebration in Nepal. Thus, I take this day as a very important national day program for me. Following the reception, we are hosting a special Korean musical program. This music concert will bring Korean modern and traditional music in one place.
Although Nepal and Korea are geographically far away, the relationship between people of Korea and Nepal is very close. Known as a roof the world with Himalayas and birthplace of Shakya Muni, large numbers of Koreans have been visiting Nepal. Since honorable President of Republic of Korea Moon Jae-in visited twice to Nepal, my understanding is that honorable president also had a deeply cordial feeling towards Nepal. During his last visit, he involved himself in the reconstruction program in earthquake affected areas showing solidarity with Nepalese who were in a difficult situation and walk together with the Nepali people.
Korea and Nepal established diplomatic relations in 1974. Since the establishment of the diplomatic relations, our bilateral relations have further developed and strengthened. I would like to inform you that as per the economic capability, Korea has been offering its support to Nepal's hydropower development. Instead of mobile phone, car and electric and electronic products, our business group will involve it more on hydropower and tourism, which will be foundation for future economic development.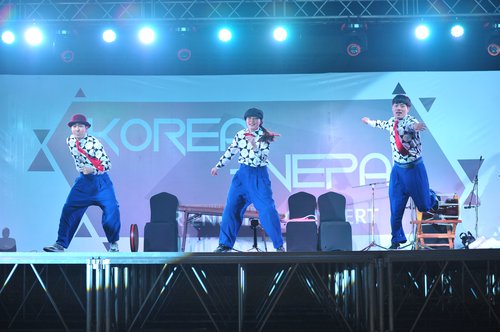 As a foundation of people to people relations, the employment permits system has improved day by day. Nepalese working in Korea are sending positive messages proving themselves as hardworking compared to workers from other parts of the world. These Nepali workers have major contributions in the economic development of both the countries. Nepalese workers, who returned from Korea, have been playing a very important role to strengthen the relations at the people to people level. The existing friendly relations between the two countries are not limited to economic exchange only. Nepal is one of the priority countries for Korea's ODA. To share our development experiences, we have been launching various programs in education, agriculture and health, giving them priority.
Republic of Korea is hosting the winter Olympics with a slogan of Passion connected in Korean city Pyeongchang the 2018 February. I hope that this Olympic will bring peace not only in Korean Peninsula but also in the world. I hope that many Nepalis will come to see the Pyeongchang Olympic since it is going to be most secure Olympic than others. I am confident that Korea Nepal friendly relations will further strengthen in the coming days. I wish for further development and prosperity of Korea Nepal relations.
(Youngsik Park is the Ambassador of the Republic of Korea to Nepal. Excerpts of the statement delivered at Korean National Day reception.)