Ten explosions, but a hundred election rallies. There is no sign that the current violence will disturb the forthcoming polls. Given the indications, the voters' turnout is also likely to be the same as in the past.
With two alliances, United Leftist Alliance and Democratic Alliance, vying for seats in the polls, with grand claims to secure a majority, a recent survey by one of the prestigious agencies has shown that the parties will run short of the majority.
There will be hung parliaments in a large number of provinces. The initial poll study has ample reasons to cite. For one, with the complicated electoral law, securing the majority by any two or three-party alliance is virtually impossible.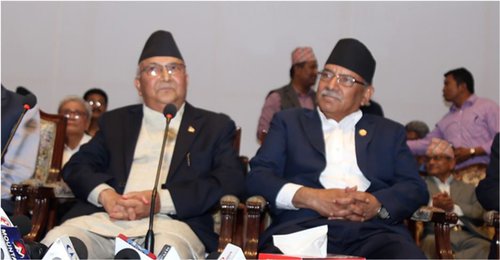 In traveling a few districts, one can see that there is no political wave in favor of this or that party. As the elections are going to be held for the provincial legislature as well, voters may find a lot of difficulties to choose the parties and candidates.
However, the leaders of both the alliances have been claiming that the wave is in their favor. Prime Minister Sher Bahadur Deuba, who has been canvassing in far-western region, or Province 7 and 6, declared that his alliance will secure a two-thirds majority.
Leading the front in eastern Nepal, CPN-UML leaders even warned police and other government officials not to take any decision that will hamper their prospects in the elections. "We are coming to power following the elections. We will take the necessary action against police and officials who do not favor us," said Oli. 
Almost every day leaders are on a nationwide tour addressing mass meetings, but the rebel groups are exploding various kinds of IED, mostly used during the violent Maoist war. Almost half a dozen of workers of the left and democratic alliances were injured. As only a few days are away before the polls, the underground rebel group has been making every effort to terrorize the voters.
Maoist Center Is in Setback
Following the death of a Maoist Center leader Prakash Dahal, the only son of the party's chief, Prachanda, the entire motion of election campaigns has slowed down. Prachanda is yet to recover from the loss of the son and start his campaign.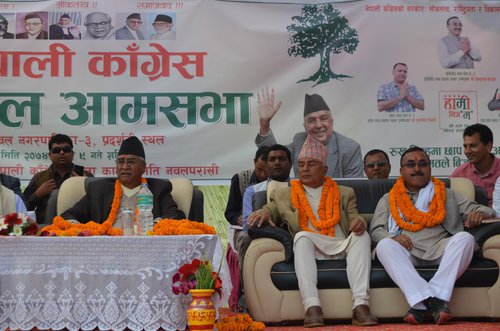 Aligned with CPN-UML, Maoist-Center has a great advantage. However, defections of its hardcore workers to rebel camps and family trouble of Prachanda will have definite impacts on the performance of the Maoist Center.
"Our party will accelerate its campaign pace launching nationwide program," said Pampha Bhushal, spokesperson, and candidate of No 3 of Lalitpur District.
Confident EC
Although there are sporadic events of an explosion, Election Commission has not lost its nerve. The Commission has said minor untoward incidents that have occurred sporadically could not be made a basis to assert that the entire security arrangement is weak.
High-level election security committee coordinator Sudhir Kumar Saha informed that the meeting held among security agencies and top government officials has made a thorough review of election security and decided to take action against anyone, group and forces, involved in a frustrating election.
The Election Commissioner Saha said, "We've ample security forces, resources and effective channel of communication. We're sure about the peaceful election. One can't say election security is weak in view of some minor incidents."
According to him, coordination and cooperation among political parties, candidates, voters and other stakeholders would be maintained smoothly. Some 272,000 security persons have been mobilized.
Costly Elections
At a time when there is a big rush for tickets for first past the post system, CPN-UML leader Yubaraj Gyawali and Raghuji Panta publicly declined to contest the elections.
Gyawali and Panta declined the offer not because they are physically handicapped or unpopular among the cadres, but because they are unable to manage the huge amount of money required to contest the elections.
Gyawali said in a public function that he is unable to manage the money to contest the elections. Surrounded by the rich men like contractors and businessmen, these leaders offer an example of how the elections show no room for ideology.
The campaign launched for the first phase showed that this is one of the most expensive elections so far held in Nepal. Even EC set the ceiling of 2.5 million rupees for members of National Parliament.
Despite forming a committee of secretaries and joint secretaries under the leadership of EC Secretary Begendra Sharma Paudel to monitor election expenditure, political parties continue to spend an excessive amount of money in elections campaigns.
Chief Elections Commissioner Ayodhi Prasad Yadav has already expressed worries over the recent election expenditure. "The Commission is worried about the money political parties and candidates were spending on election campaigns," said Yadav.
"Political parties and candidates had changed their parties' 'manifestoes' into 'moneyfestoes' by spending on campaigning way above the ceiling fixed by the poll panel," said Chief Election Commissioner Yadav.
The poll panel had allowed candidates for parliamentary elections to spend up to Rs 2.5 million and candidates for provincial assembly elections to spend up to Rs 1.5 million but no candidate was adhering to the ceiling. As per this the candidates will spend over Rs. 10 billion
"We are worried about the poll expenditure," said Yadav, adding that the EC had enforced several rules to provide equal opportunities to all candidates.
Some candidates had taken loan and others had sold properties to meet poll expenditure. He warned that the EC could send candidates to jail if it found anybody violating poll expenditure ceiling.
Department of Money Laundering Investigation, Inland Revenue Department, and Nepal Rastra Bank should also take an initiative to curb huge poll expenditure.
Third Party
Although Bibeksheel-Sajha has made some efforts to emerge as an alternative to two parties, they are yet to make a great presence. Bibeksheel-Sajha's candidates are launching their house to house campaigns and campaigns on social media, but they are yet to show a big jump.
Except for Rabindra Mishra, a former journalist, no other candidates are leading the campaign. With money, muscle and cadres, two traditional parties, of communists and Congress, still have the upper hand.
Election without Agenda
There is not much to the hype, this is an election party is contesting agenda. Tired of listening to the rosy words of political leaders, people are yet to come out en masse in support of any party.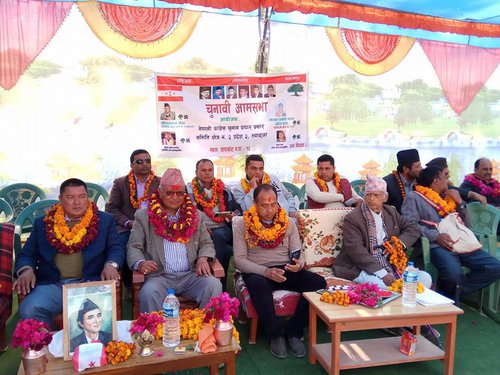 Except selling a dream, no political party has shown their economic and social agenda to transform the country. Joining Nepali Congress just before the elections, Forbes billionaire and Nepal's renowned industrialist Binod Kumar Chaudhary has vowed to bring change in the economic policy of Nepal. Chaudhary said that his candidacy is for the country's economic prosperity and all-round development.
Visiting various parts of Nepal and meeting people, what one can draw in conclusion is that the forthcoming elections will bring a hung parliament with an economic recession.