The Ambassador of Japan to Nepal Masashi Ogawa, handed over a community center, a set of furniture, computers, and visual audio equipment to Prakash Man Singh, the President of the Ganesh Man Singh Foundation at a function held at the Viswo Shanti Vihar, Baneshwor.
The project for building a community center in Baneshwor was funded under the Grant Assistance for Grassroots Human Security Projects (GGP) of the Japanese Government for FY2016. Baneshwor is a residential area that is home to people from ethnic groups and social classes, including a large population of people who have come to Kathmandu to work or study.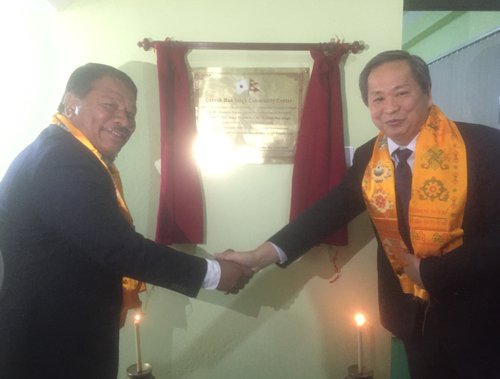 The newly built community center will provide trainings related to income generation and awareness programs and those on public health and government services to support youth and people without jobs, particularly women. The Kathmandu Municipality supported the construction of the ground and first floors to serve as learning center, while the Japanese Embassy supported the addition of two more floors on the building.
The Embassy of Japan in Nepal expects that this project will benefit the unemployed youth and women of the Baneshwor area and will also enhance the cordial friendship between Japan and Nepal.