With the increase of tourists, the demand of various foods has also increased in Kathmandu. Different hotel outlets are offering different kinds of food.
Against that backdrop, known for its Italian taste, Radisson Hotel, Kathmandu, has re-launched Olive Garden, the Italian cuisine restaurant, with a specialty, new Italian menu. The outlet with elegant decor and Italian dining feels like a garden with sharp linens and bright pops of color.
"The new menu covers a wide range of Italian dishes, the entire Italian courses menu. Guests can feel the little Italy at Olive garden. The exclusive ambiance with the authentic Italian menu will provide guests a memorable, fine dining experience at Radisson Hotel Kathmandu," said Anu Parajuli, Assistant Manager, Sales & Marketing.
Executive chef Utpal Kumar Mondal described the Italian cuisine as being one of the healthiest cuisines in the world as the use of extra virgin olive oil, cheese, herbs and wheat flour is compulsory; the people all around the world can easily adapt to the Italian taste. Furthermore, he mentioned that it is very necessary for the Italian restaurant to present the authentic Italian taste, which can be found at Olive Garden.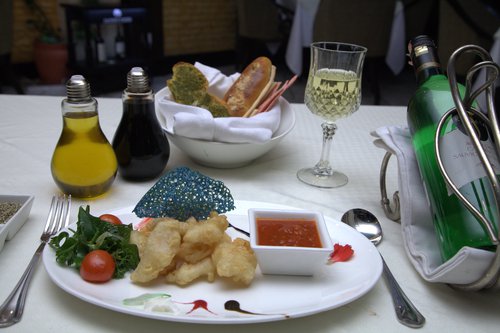 Olive Garden has been one of the finest Italian restaurants in town. To retain their loyal customers and attract new customers, the management has brought changes in the menu with more varieties into the art of Italian culinary.
One can discuss business with clients, while savoring the Italian dishes, enjoying birthdays, family gatherings or romantic meals - complete with lasagna or a chocolate truffle torte for dessert. Olive Garden is the specialty restaurant of Radisson Hotel Kathmandu, which opens from 18:30- 22:30 every day.