The United Nations Capital Development Fund's (UNCDF) MM4P program and Tootle signed a grant and technical assistance agreement to pilot the innovation project 'Doorstep Delivery of Financial Services (Roving Agents) and Driving Adoption of Electronic Payments through Delivery Service Use-Case' in Kathmandu, Nepal.
The United Nations Capital Development Fund's (UNCDF) MM4P program and Tootle launched a new project to provide doorstep delivery of financial services 

Kathmandu Valley is the fastest growing urban agglomeration in South Asia . The rapid urbanization has resulted in an influx of migrants as well as traffic congestion and air pollution. Tootle launched a motorbike ride-share service in 2017, that allows those seeking rides to connect with motorbike owners interested in taking a passenger and earning additional income.
According to a press release issued by United Nations Information Center, UNCDF is providing a grant and technical support for Tootle to use its ride-share business to offer doorstep delivery of both financial and non-financial services. Riders can pay in cash or with their Tootle balance.  The Tootle app allows riders to top up their Tootle Balance using e-Sewa, a digital wallet.  The project is to help Tootle drivers expand their business while expanding the availability and use of digital finance in partnership with digital financial service providers.  Soon, residents will be able to get food, packages delivered and cash in and cash out of their digital accounts in the first of its kind pilot.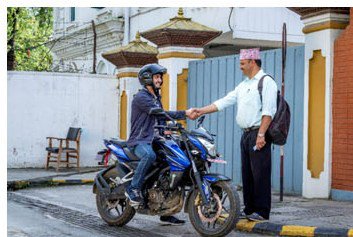 "We hope the support to Tootle will be a triple success – customers can get financial services at their doorstep, drivers can make more money, and Tootle can build its business" noted Sixit Bhatta, Co- founder and CEO of Tootle and Abhay Pareek, UNCDF Digital Finance Expert based in Kathmandu. 
 The project is part of UNCDF's goal to improve people's lives to make financial services more accessible and relevant for Nepal. Since 2013, UNCDF has worked with a range of companies, the government and international organizations to build digital finance in Nepal.  UNCDF uses grants and technical expertise to help companies test and scale up financial inclusion initiatives that use partnerships to reach low-income people.
  About MM4P
The MM4P program launched in 2012 because UN Capital Development Fund (UNCDF) saw that the gains in digital financial services (DFS) were not reaching the least developed countries (LDCs). MM4P was created to demonstrate how the correct mix of financial, technical and policy support can build a robust DFS ecosystem that reaches low-income people in LDCs. In doing so, it has helped accelerate growth in several countries, identified some of the levers to help markets develop and supported efforts to reach the last mile.
About UNCDF

UNCDF is the UN's capital investment agency for the world's 48 least developed countries (LDCs). With its capital mandate and instruments, UNCDF offers "last mile" finance models that unlock public and private resources, especially at the domestic level, to reduce poverty and support local economic development. This last mile is where available resources for development are scarcest; where market failures are most pronounced; and where benefits from national growth tend to leave people excluded
About TOOTLE
Tootle is a software application that serves as a means to find motorcycle based services provided by third parties (Tootle partners). Tootle is a ride sharing service which aims to pioneer in the sharing economy which is an emerging concept in Nepal