The Supreme Court (SC) decided to record the statement of Kantipur Publications on a contempt of court case on Sunday.
Kantipur Publications members, who were summoned by the Supreme Court to appear in person before the court within 72 hours of receiving the order on a contempt of court case, had reached the apex court to record their statement at 2 pm today. But the apex court decided to postpone the court proceedings for 10 am on Sunday citing lack of time.
SC spokesperson Narayan Panthi said the statement will be recorded on Sunday as the court remains open for only half day on Friday. Publisher of Kantipur Kailash Shiroyia, Director Swashtika Siroyia, Editor Sudhir Sharma and reporter Krishna Gyawali appeared before the court.
Kantipur Media Group Chairman and Managing Director Kailash Sirohiya said he, along with other members of the publications, came to the court to honor the court summon. "We are here [court] to honor the court order. And we are ready to take any decision for press freedom," he said.
Kantipur daily editor Sudheer Sharma thanked everyone for showing up at the court to express their solidarity against the contempt of court case.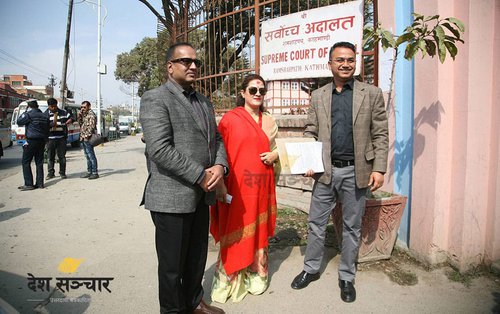 The Supreme Court on Wednesday had issued a summon notice to Kantipur on a contempt of court case. In the notice, the apex court had ordered Chairman and Managing Director of Kantipur Publications Kailash Sirohiya, Director Swastika Sirohiya, Kantipur daily Editor-in-Chief Sudheer Sharma and journalist Krishna Gyawali to appear in person before the court within 72 hours of receiving the order.

A single bench of Chief Justice Parajuli issued the interim order on February 25 directing the Press Council to probe the news reports published by Kantipur daily that highlighted discrepancies in his birth date mentioned in his official documents.